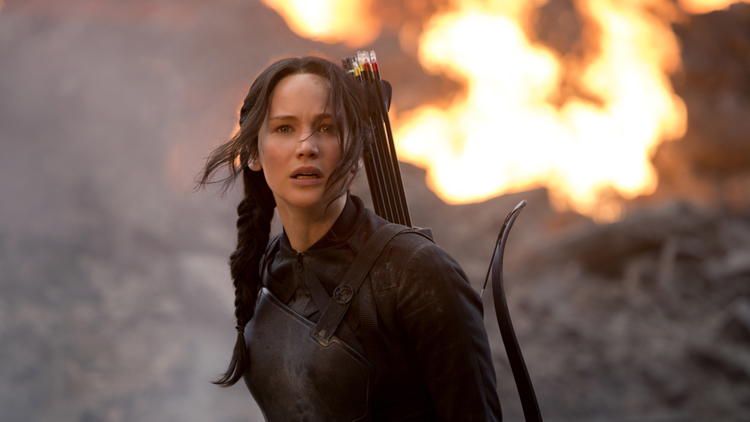 Way back in 2015, we were solemnly informed that a musical version of 'The Hunger Games' was going to make its debut at a revolving theatre in Wembley Park the following year. 
Reader, it's 2023 and there is no 'Hunger Games' musical and there is no revolving theatre in Wembley Park. And any last fans fervently holding out for this are going to have to acknowledge it's not in fact happening, as a new, non-musical stage adaptation of Suzanne Collins's 2008 dystopian novel – about a future in which the populace is exploited, downtrodden, and only given the chance to better themselves via the medium of gladiatorial combat, aka the titular Games – is heading to London next autumn.
Fully endorsed by Collins, and adapted from both her novel and the enormo-smash Jennifer Lawrence-starring 2012 film (pictured), the stage version of 'The Hunger Games' will be written by top playwright Conor McPherson and helmed by West End director Matthew Dunster, who is a dab hand at casting celebrity talent.
There is, uh, not a lot of information beyond that: apparently it's coming to London in autumn 2023, but there's no word yet on precise dates, casting, or indeed where exactly it'll run (so potentially a revolving theatre in Wembley, though more likely to be the West End). Still, with the creative talent announced it seems considerably more likely to actually happen than the last 'Hunger Games' show we were promised, and caps a busy period for non-musical adaptations of beloved screen properties, with 'Stranger Things' prequel 'The First Shadow' opening this Christmas and a lavish Steve Coogan-starring adaptation of 'Dr Strangelove' also due next autumn.
The best new London theatre shows to book for in 2023 and 2024.
Plans have been revealed for a massive glow-up of The Strand.
Stay in the loop: sign up for our free Time Out London newsletter for the best of the city, straight to your inbox.