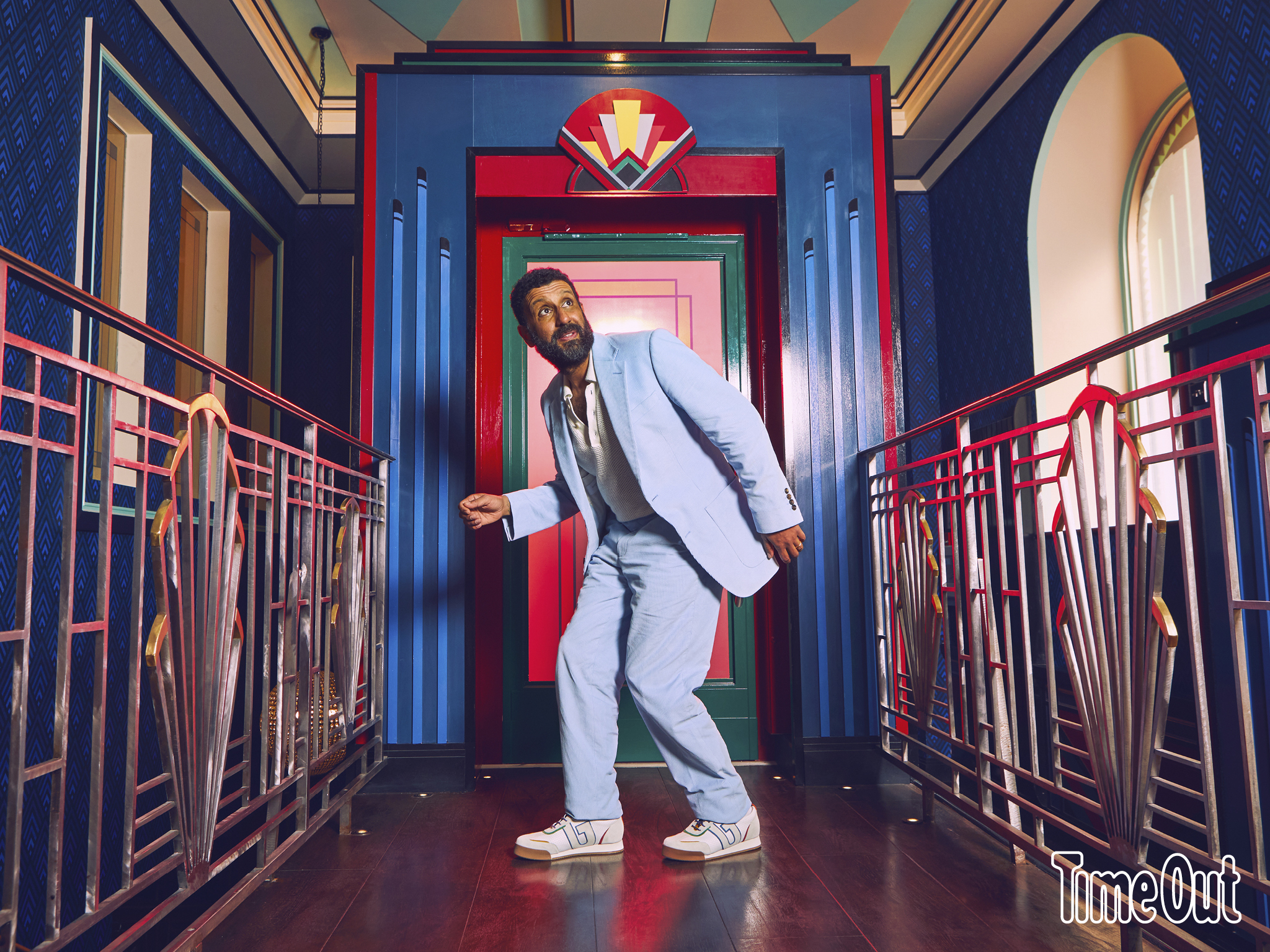 'Rubber dinghy rapids, bro!'
This is the line that followed Adeel Akhtar around at the start of his career. People would regularly stop him on the street and shout it at him, enthusiastically. It's one of those lines that if you know, you know. But if you don't know, it's from the 2010 cult classic 'Four Lions', a satirical film about a hapless group of Muslim extremists in Sheffield who decide to become suicide bombers (Akhtar's character ends up accidentally blowing himself up in a field of sheep). Directed by Chris Morris, and starring Riz Ahmed and Kayvan Novak (whose character actually says the line about the Alton Towers ride), it was Akhtar's breakthrough film. More than ten years after its release, strangers still stop him on the street to talk about it.
'That's where it all started,' he says about his big break.
If that's where it started, it's safe to say it's showing no signs of stopping. Akhtar has built up a varied and compelling career across screens both big and small. When we speak over Zoom, he's in Manchester filming 'Fool Me Once', a new eight-part Netflix thriller based on a Harlan Coben novel. He warns me that his wife and kids are in the room next door, and have just eaten a load of chocolate brownies and ice cream. 'They might run in at any moment.' I brace myself for a 'BBC Dad'-style interruption, but it never comes.
Akhtar started his acting career 'later than most' at 30 years old when he got the role in 'Four Lions'. Before that, he'd been on a completely different trajectory. His parents met when they were both working at Heathrow Airport. 'My dad was one of the first five Black immigration officers in the country. Whenever [my mum] walked past him when they were stamping the stamps, he would pretend that he had a question,' he says. 'They found each other at a time when it was a little bit hairy to be an Asian person. They gave each other support through a lot of that.' Born in Hounslow and raised in Buckinghamshire, Akhtar experienced 'the type of Asian upbringing where you definitely listen to your dad', he says. 'When I was 18, my dad essentially filled my UCAS form out for me, and was like: "You're doing law".' But his mum knew he loved acting, so would sneak him off to the National Youth Theatre. 'I had that fire lit,' he says. 'And then I did my law degree, and I hated it.' When an opportunity came up to go to drama school in New York, he took it, leaving his law degree behind. 'It felt like a weighty decision. For the first time, I was saying to my old man: "I'm not going to listen to you".'
It was a decision that paid off. Now 42 years old, Akhtar has an ever-growing list of credits on his CV. He starred in 'Ali & Ava', the British indie hit set in Bradford (his performance won him a BIFA for best actor), and he's had roles in much-loved TV shows like 'Utopia', 'Unforgotten' and 'Sherwood'. He's also been in a run of big-budget Netflix projects – 'Enola Holmes', 'Murder Mystery' with Adam Sandler and Jennifer Aniston, and 'Sweet Tooth', a fantasy drama set in a post-apocalyptic world. In 2017, he became the first non-white person to win a best actor BAFTA for his role in 'Murdered By My Father'. He describes his progression in the acting world as a slow and steady burn: 'I think my career has been one of just sort of chipping away…' He's the kind of guy that, even if you don't know his name, you will recognise his face and go: Oh yeah, that guy. In fact, a large part of his appeal is his face – it's expressive and imbued with emotion. When we speak, he flits seamlessly between listening intently, with a furrowed brow, to throwing his head back as he chuckles. He is incredibly engaging and the roles he takes on are often that of an everyman dealing with life's struggles. It's because of this that people relate to him – they feel they know him somehow.
Dreaming big
We see his expressive face in action at the Time Out cover shoot at the art deco Garden Cinema in Covent Garden, as he nimbly vaults over its box office counter or goofs around with 3D glasses in its plushy red seats. It feels like a fitting spot to photograph Akhtar, who felt drawn to the big screen even as a young child. 'I remember cinema experiences as a kid and a little bit of me going: "I could do that".' The cinema was 'a place of potentiality' – somewhere he would sit, glued to the screen and think: 'There's an opportunity here that I can't fully get my head around'.
After going to drama school in New York, Akhtar moved back to London in 2006 and he's lived here ever since. In the days before his career took off, he would often go to the Prince Charles Cinema in Leicester Square. 'They used to do really cheap tickets and show old films. If you went to late screenings, it was all these waifs and strays – it was just a nice bunch of people watching an old Martin Scorsese film like "Taxi Driver".' In fact, Akhtar and his wife had their first cinema outing at the Prince Charles Cinema. 'It was a "Labyrinth" singalong. She and her mates were all massive "Labyrinth" fans and they knew all the words, including the dialogue – to the point where I wasn't sure if the relationship was going to work,' he laughs. 'It was like: this is too much and I'm not involved. It was like: "Guys? Nobody's trying to involve the new guy in the group!"'
These days, he spends more time on screen than in front of it ('Since I've had kids, it's been really hard to get out to the cinema') and his face is becoming even more recognisable thanks to his roles in shows like Netflix's 'Sweet Tooth'. They filmed the pilot in 2019 when there was 'no hint of coronavirus'. And then… things got a bit weird. That's because the show is about a global pandemic, but it's based on a graphic novel from 2009 and was in the works long before the Covid-19 pandemic. In the original edit of the pilot, his character goes to a pharmacy to find that all the cold and flu medicine is gone. 'I filmed the pilot and came back to the UK and then coronavirus hit. I went into my local pharmacy on Walworth Road [in south London, near his Camberwell home] – and it was the same thing,' he says. In the end, that scene got cut. 'The writers had to go back and take some of the sharp edges off the story because it was so on-the-nose. There were lots of weird parallels.' They worried that the show might not land, given the eerie overlap with real life. But it has been a hit, and season two is set to launch at the end of this month.
Facing the fear
The sleek, fantasy world of 'Sweet Tooth' feels a long way from the biting satire of 'Four Lions' – and it's proof of how the kind of work that comes Akhtar's way has changed over the years. 'When I first started, the idea of what I could do felt very narrow,' he says. 'But there have been lots of changes. People are playing roles that others wouldn't have expected them to play five years ago. For me, that's happened in the last few years.' What has been the impact of that? 'If somebody offers me a part which terrifies me, I'm probably going to do it. That fear and terror crystallises your focus. It makes you just go for it.'
And would he go for it, were Marvel or Warner Bros. to come calling?
'Right now I'm not gunning for anything more than what I'm doing,' he says. 'I'm not looking to put a superhero cape on anytime soon. I don't know if there's a market for a tiny Asian superhero.'
Akhtar says he's most drawn to British indie films, like 'Ali & Ava', which explores race and class against the backdrop of a love story set in Bradford. He played Ali, who was based on a real person. He and director Clio Barnard met up in an Elephant and Castle pub to talk about the film, and after a few pints, they started workshopping the character in the pub.
His roles in projects like 'Ali & Ava', 'Four Lions' and 'Utopia' are the ones that people always want to talk to him about. 'That's the stuff that I get into the most interesting chats about. These are the people who aren't just like: "Oh, you're on the telly, let's take a selfie". These are people who you can have a proper half an hour chat with. There's a throughline with all that stuff – these are British stories that resonate with people. They have an opinion on them because they feel connected to them in some way.'
It's easy to see how these chats with strangers might go on for so long. He gives extended, thoughtful answers to my questions and, at one point, he starts asking me about my career before he catches himself: 'I realise I can't ask you too many questions… if this was us meeting on the street, this would be me going: that's set me up for another question.' Does it take him ages to get anywhere if he's stopping for 30-minute chats all the time? Do people stop him on the tube? 'Where my career is pitched at the moment I'm lucky that I can just get into interesting conversations with people. People sort of recognise me and go: "Oh, it's that guy". It's almost like I could be a mate of a mate or something.'
Akhtar hasn't yet managed to take his kids to a singalong at the Prince Charles Cinema. But he does find joy in showing them other corners of the city. 'I love London because when you feel hopeless or pessimistic about the world, it's a constant reminder of how it works really well. We've got this little stretch [near us] called East Street Market on Walworth Road. It's a historic market and there are generations of stallholders and West African fruit sellers. Me and my son just walk up and down there as a reminder that it really does work.'
These are the pockets of London that Akhtar loves – places where he can get into meandering, insightful conversations with other Londoners. Because, as he says: 'People just get on with each other. People are good.'
Murder Mystery 2 is on Netflix now and Sweet Tooth Season 2 will be on Netflix from April 27.
Here are Londoners' favourite local cinemas. 
Photographer: Jess Hand @jesshandphotography
Creative Director: Bryan Mayes @bryanmayesdotcom
Senior Designer: Jamie Inglis @818FPV
Photo Editor: Laura Gallant @lauramgallant
Writer: Isabelle Aron
@izzyaron
Grooming: Sven Bayerbach @svenbayerbach at Carol Hayes Management @carolhayesmanagement using Boucle and Burt's Bees @burtsbees
Styling: Sam Carder @sam_victor
Styling assistant: Jude Shea @judeshea
Location: The Garden Cinema @thegardencinema
Look 1: Blue summer corduroy suit and white honeycomb polo all by @richardjamesofficial; white cotton socks by @burlingtonsocks; suede trainers by @grensonshoes
Look 2: Ecru denim jacket by @rmwilliams; printed shirt by @gant; trousers by @boss; yellow stitch khaki loafers by @drmartensofficial from @schuh
Look 3: Ultra violet fine knit polo by @johnsmedleyknitwear
Look 4: Multi coloured patchwork knit by @kenzo from @theofficialselfridges; carbo wool trousers by @smrdays from @mrporter; black leather loafers by @sebago_world