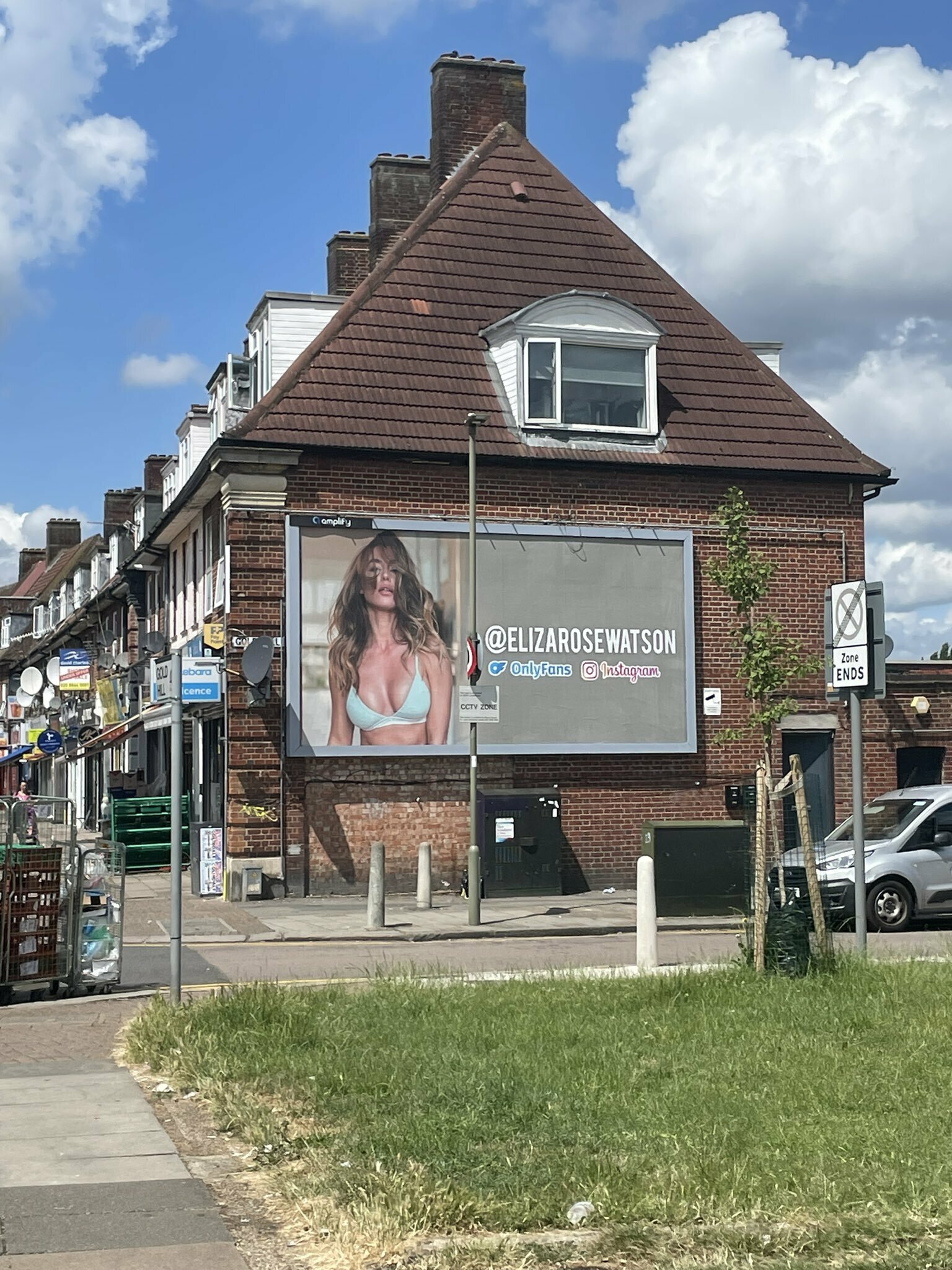 An OnlyFans model has put up huge, raunchy billboards around London, much to the dismay of some locals. Adverts with pictures of model and influencer Eliza Rose Watson posing in a bra have been spotted in Harrow, Edgware and Norwood. Watson is advertising her OnlyFans account – a site where subscribers pay users to access their homemade pornography – as well as her Instagram profile. 
One fuming Harrow resident has already vandalised one of the billboards, crossing out the words OnlyFans and writing 'keep porn off our streets'. But Watson has defended the posters, saying that children wouldn't understand what OnlyFans was and wouldn't know how to access it.  
'If a child was to see that – it is designed for adults. The picture is of a 34-year-old woman and the OnlyFans logo is there. It doesn't tell you how to access it. It doesn't give a website address, it's just there,' she said. 
'And if someone underage were to try and access that, as long as there's parental controls on their phone, which I assume there are, they're not going to be able to load OnlyFans. It just doesn't work.'
On her Instagram Watson describes herself as a 'recovered addict turned gym junkie'. The 34-year-old is said to be a millionaire from her modelling and sex work, making around £180,000 a month through the pornography platform. 
Despite the fact that the doesn't give instructions on how to access OnlyFans, locals are still unhappy. One Harrow resident told MyLondon: 'Harrow is a rural suburb of Greater London, not Soho or the Red Light District of Amsterdam… Regardless of what the intended audience may be, it is a matter of fact that pornographic services are being promoted to children in this instance.'
Edgware resident Martin Grays, 54, added: 'It's just not something they should advertise in public where families are walking past and kids are walking to and from school. It's just not right for me. I don't get why they have done it.'
The Advertising Standards Authority (ASA) confirmed two complaints have already been made about the arguably inappropriate billboards, with Harrow West MP Gareth Thomas also writing to the ASA. 
'I agree that the placing of this advert isn't appropriate given that young children will be walking past it on a daily basis,' Thomas said. 'I have written to the Advertising Standards Authority asking them to assess whether their criteria for such adverts is appropriate.'
Five new rainbow plaques have been announced for London.
Stormzy and Wilfried Zaha have gone and bought a football club.