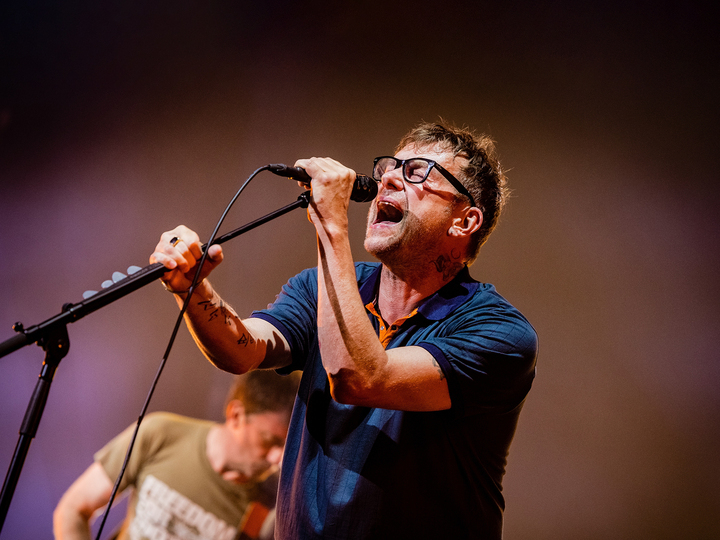 London's live music scene is absolutely buzzing this July (check out our comprehensive guide to the month's best music here) with plenty of gigs and festivals to look forward to. One major highlight is sure to be Blur's Wembley shows, which are taking place this weekend on July 8 and 9. 
Believe it or not, these icons of Britpop (and British music in general) have never before played Wembley Stadium. While these two ginormous shows could've been jeopardised by drummer Dave Rowntree sustaining a knee injury earlier this week, now they're back on track. Here is everything you need to know if you're headed to Wembley (or want to get yourself a ticket) this weekend. 
What time will Blur come on stage?
Blur are due to perform at 8.35pm on Saturday and 7.50pm on Sunday. 
What time do doors open for Blur at Wembley?
Doors open at 5pm on Saturday and 4.30pm on Sunday. 
What's the full setlist?
Based on their recent show in Amsterdam, we can expect to hear a setlist that sounds something like this. 
St. Charles Square
There's No Other Way
Popscene
Trouble in the Message Centre
Tracy Jacks
Chemical World
Beetlebum
Trimm Trabb
Villa Rosie
Colin Zeal
All Your Life
Coffee & TV
End of a Century
Stereotypes
Parklife
To the End
Sing
Advert
Song 2
This Is a Low
(ENCORE)
Girls & Boys
Tender
The Narcissist
The Universal
Who is supporting Blur at Wembley Stadium?
Blur are set to be supported by Jockstrap, Sleaford Mods and Self Esteem on Saturday evening, followed by The Selecter and Paul Weller on Sunday. 
Are there any tickets left?
Yes – but you'll have to be quick. Last-minute tickets are available on Ticketmaster here. 
What's Wembley Stadium's bag policy?
Each person attending the show is only allowed one bag, no bigger than an A4 piece of paper. Wembley is pretty strict with its bag policy, so check the specific dimensions here to avoid being denied entry to the stadium. 
Everyone is subject to security checks too, so make sure you leave plenty of time. 
What time does the Blur concert end?
The show ends at 10.45pm on Saturday and 10pm on Sunday. 
Final advice
Stay hydrated! This weekend is set to be an absolute scorcher and Wembley allows you to bring your own empty plastic bottle to refill. There are plenty of food and drink options available, but remember the stadium is cashless. 
RECOMMENDED:
???? The ultimate guide to Bruce Springsteen at London BST Hyde Park
???? The ultimate guide to The Weeknd at London Stadium