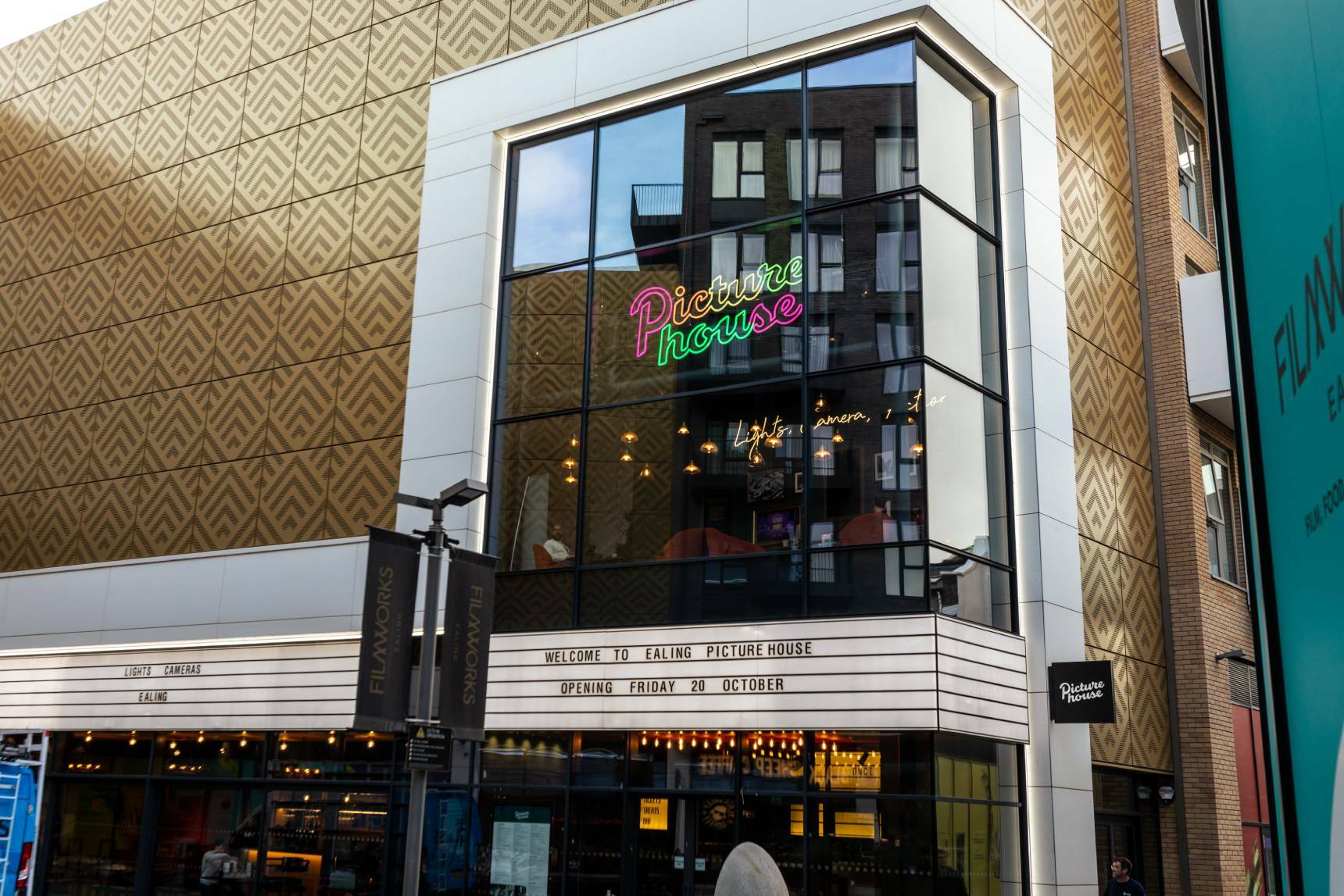 London's newest cinema, Ealing Picturehouse, is throwing open its doors for the first time this weekend and we have a taster of what to expect when you head inside this gleaming new eight-screen complex in W5.
Located in the new Filmworks development on Ealing Broadway, the cinema boasts 900 seats, a bar, café and a host of thoughtful touches. It's situated in the spot occupied by the Forum Cinema from 1934, which went on to become The ABC and later, a UCG. Some of the new cinema's light fittings are even reclaimed from the Forum. 
'Ealing Picturehouse has been a long time coming,' says Picturehouse MD Clare Binns, 'but we're thrilled that the moment is here and we can open our doors to this wonderful palace of film. To open in Ealing, which has such a rich history of film production, is so exciting.'
That history is reflected inside the cinema, with stills and behind-the-scenes photos of the classic Ealing Comedies that were filmed around the corner back in the post-War years, and plenty of reminders that this was once home turf for Gracie Fields, Googie Withers, Stanley Holloway and the like. There's even a screening of 'The Ladykillers' on Sunday, October 22 to get the ball rolling on a series of older classics.
Younger moviegoers will be excited to hear that the bathrooms are dedicated to individual filmmakers. Currently Greta Gerwig's dulcet tones are on the PA, which is handy for anyone keen to pick up screenwriting tips as the operate the hand dryer.
And the screens themselves are dedicated to film industry legends, including Ealing Studios supreme Michael Balcon and local boy Steve McQueen, who grew up in Ealing. Screen 6 is dedicated to Time Out's late founder Tony Elliott, a west Londoner himself. 
It's all part of a major renaissance for moviegoing in this most cinematic corner of town. Ealing Picturehouse joins the recently opened three-screen cinema and community hub Ealing Project, a stone's throw from the historical Ealing Studios.
Ealing Picturehouse's doors open on Friday October 20, and the first 1000 people to join its new membership scheme get their names up on the wall.

The 50 best cinemas in Britain and Ireland