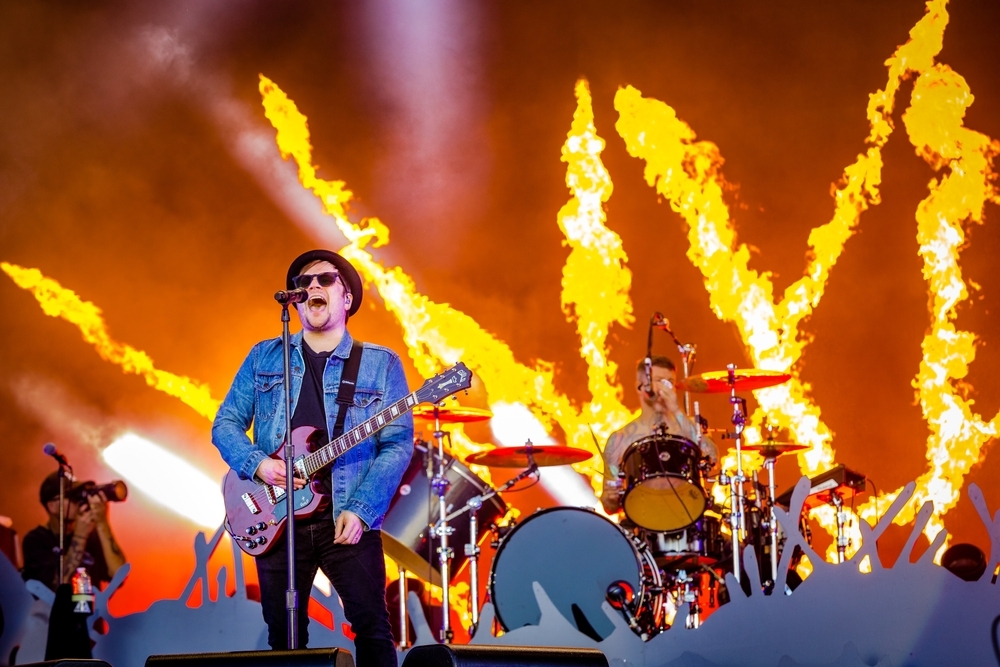 Noughties pop-punk nostalgists, this is what you've been waiting for. Following the release of their eighth studio album So Much (For) Stardust back in March, Fall Out Boy are back in London for two huge shows at the O2 Arena in Greenwich.
Patrick Stump, Pete Wentz, Andy Hurley and Joe Trohman's 'So Much For (Tour) Dust' has spanned the globe – and now it's London's turn. Support comes from PVRIS and nothing, nowhere. Here is everything you need to know about the shows, from doors and stage timings to setlists and ticket availability.
RECOMMENDED: How to get tickets for Bruce Springsteen's 2024 UK and Ireland tour. 
When are Fall Out Boy playing at London's O2 Arena?
Fall About Boy are playing the O2 on November 2 and 3.
When will the band come on stage?
The band hasn't confirmed exactly when they'll take to the stage. However, at a show in Birmingham on Tuesday, they came on at 8:50pm. Expect a similar time at both O2 gigs. 
What time do doors open?  
Doors open at 6:30pm for both shows.
Any news on the potential setlist?
According to Setlist.fm, this is what the band played earlier this week. Expect something similar, minus the probably-Halloween-inspired Misfits cover. 
Love From the Other Side
The Phoenix
Sugar, We're Goin Down
Uma Thurman
A Little Less Sixteen Candles, a Little More "Touch Me"
Dead on Arrival
Grand Theft Autumn / Where Is Your Boy
Calm Before the Storm
This Ain't a Scene, It's an Arms Race
Disloyal Order of Water Buffaloes
Heaven, Iowa
Bang the Doldrums
Headfirst Slide Into Cooperstown on a Bad Bet
Fake Out
I'm Like a Lawyer With the Way I'm Always Trying to Get You Off (Me & You)
Golden (Partial, Piano Medley)
Don't Stop Believin' (Journey cover)
Save Rock and Roll
Baby Annihilation
Enter Sandman (Metallica cover)
Dance, Dance
Hold Me Like a Grudge
Halloween (Misfits cover)
You're Crashing, but You're No Wave
My Songs Know What You Did in the Dark (Light Em Up)
Thnks fr th Mmrs
Centuries
Saturday 
How much are tickets to see Fall Out Boy?
The cheapest tickets start from around £50 and go up to £217.
Are there any tickets left?
There are plenty of tickets available for both dates. Check availability on AXS here.
Stay in the loop: sign up for our free Time Out London newsletter for the best of the city, straight to your inbox.