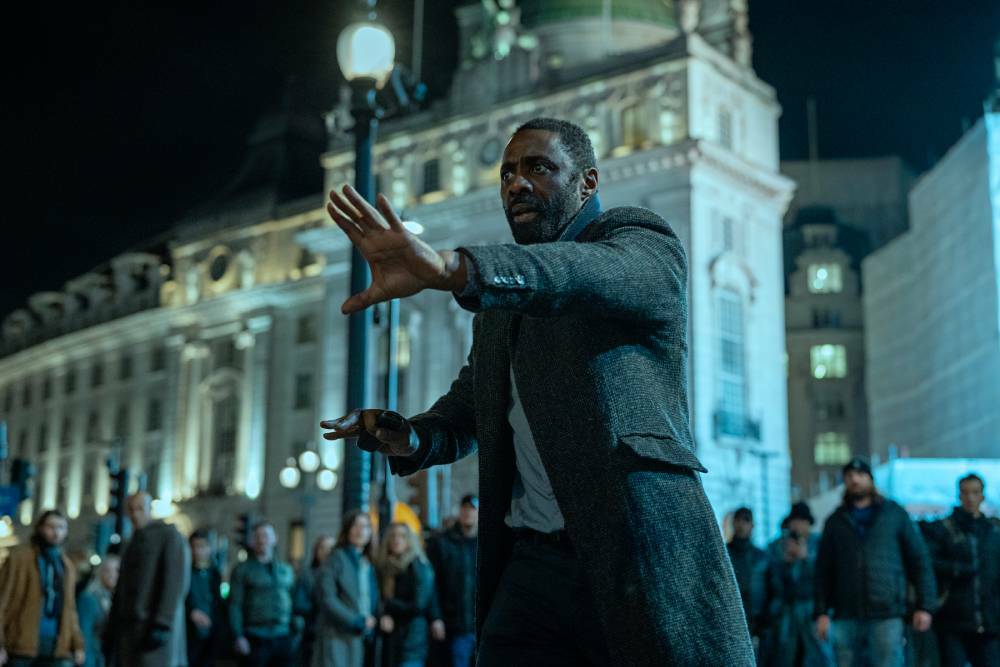 Anyone who's tried to get from that giant Boots to the statue of Eros without being mown down by a passing bus will have a healthy respect for the barely constrained chaos that is Piccadilly Circus. Each year, close to 100 million people pass through it. Imagine, then, trying to pull off a huge action sequence there – one involving falling bodies, crashing cars, panicked crowds and somewhere in the middle of it all, Idris Elba's John Luther looking unusually ruffled in his tweed overcoat, with Cynthia Erivo as his frantic superior officer.

That's the challenge that faced 'Luther: The Fallen Sun' director Jamie Payne in pulling off the hit Netflix film's centrepiece scene. The set-up? Serial killer David Robey (Andy Serkis) has cyber-blackmailed a number of ordinary Londoners into lining rooftop ledges surrounding Piccadilly Circus, preparing to fall to their deaths. Luther must somehow figure out the scheme and foil it, amid a small army of selfie-snapping tourists.

'It was a marathon,' Payne tells Time Out. 'Even some of the James Bond [stunt] team we had working with us were going: "How are we going to pull off Piccadilly Circus?"'

It was a good question.
Originally, the sequence had been scripted to take place in Leicester Square – until practical barriers forced a rethink. 'The railings there mean it's not easy to move around and because of the trees, there's a lot of rooftops you can't see,' says Payne.

Instead, the 'Luther' season 5 veteran suggested shifting to Piccadilly Circus, a naturally theatrical space that lent itself to the performative aspect of Robey's murderous spectacle. 'I asked Netflix how they'd feel if we moved this to Piccadilly Circus and they all went quiet,' he remembers. 'Then they went: "Let's see if we can make it work."'
When I suggested filming it in Piccadilly Circus, they went quiet
Persuading the initially hesitant TfL and Westminster Council to close down Piccadilly Circus for the longest stretch in its history – three hours for three straight nights – was a different matter. But as Elba testifies, 'Luther' is a powerful calling card. 'I heard that the locations team asked about permits for shooting there,' the actor tells Time Out, 'and it was like: "No!" Then [Westminster Council] heard it was for a "Luther" film and it was like: "Oh, okay!" and they let us in.'

'They've never closed Piccadilly Circus for that amount of time,' says Payne, who studied the Piccadilly Circus pile-up in 'American Werewolf in London' for inspiration on how to juggle stunt people, extras and actors in the middle of a high-octane action sequence in the heart of London. 'They had one evening to shoot,' he marvels. 'What they achieved [is incredible].'
The sequence in 'Luther: The Fallen Sun' is even bigger. There were hundreds of extras on set, each prepped with a reason for their character to be there to add a sense of realism. 'They were [playing] tourists from across the world and I wanted every single one to have a story,' says Payne. 'As you can imagine, the assistant directors scratched their heads when I put in that request, but it made a big difference.'
I kept thinking: Wow, I've shut down Piccadilly Circus
Another big challenge was prepping and rehearsing the scene. That had to be carried out back at the film's production base, Shepperton Studios, where a special VR gaming engine was built to create a virtual Piccadilly Circus. 'I could stand in Shepperton with a monitor and be in the middle of Piccadilly,' says the director.  
Of the final sequence, Payne says, 90 percent was filmed in Piccadilly Circus itself. 'Watching the [stunt team] reset between shots was like a reverse Scalextric,' he remembers. Although one shot, of a Robey victim plummeting to the ground and smashing into the Lillywhites sign, is totally CG. 'We did a lot of filming of Lillywhites so that was a VFX shot – and it was the most expensive shot in the film,' says Payne. 'Nothing in that frame is real.'
Thanks to the meticulous prep and slick execution, the five-minute scene, a demolition derby of congestion-charge-zone chaos, successfully came together over those three nights. 
'It was cold and wet,' remembers Elba of his three nights in Piccadilly, 'but I kept thinking: Wow, I've shut this down!'

Luther: The Fallen Sun is on Netflix worldwide now. 
Interview: Idris Elba talks 'Luther', Bond and staying grounded.
Read our review of 'Luther: The Fallen Sun'.