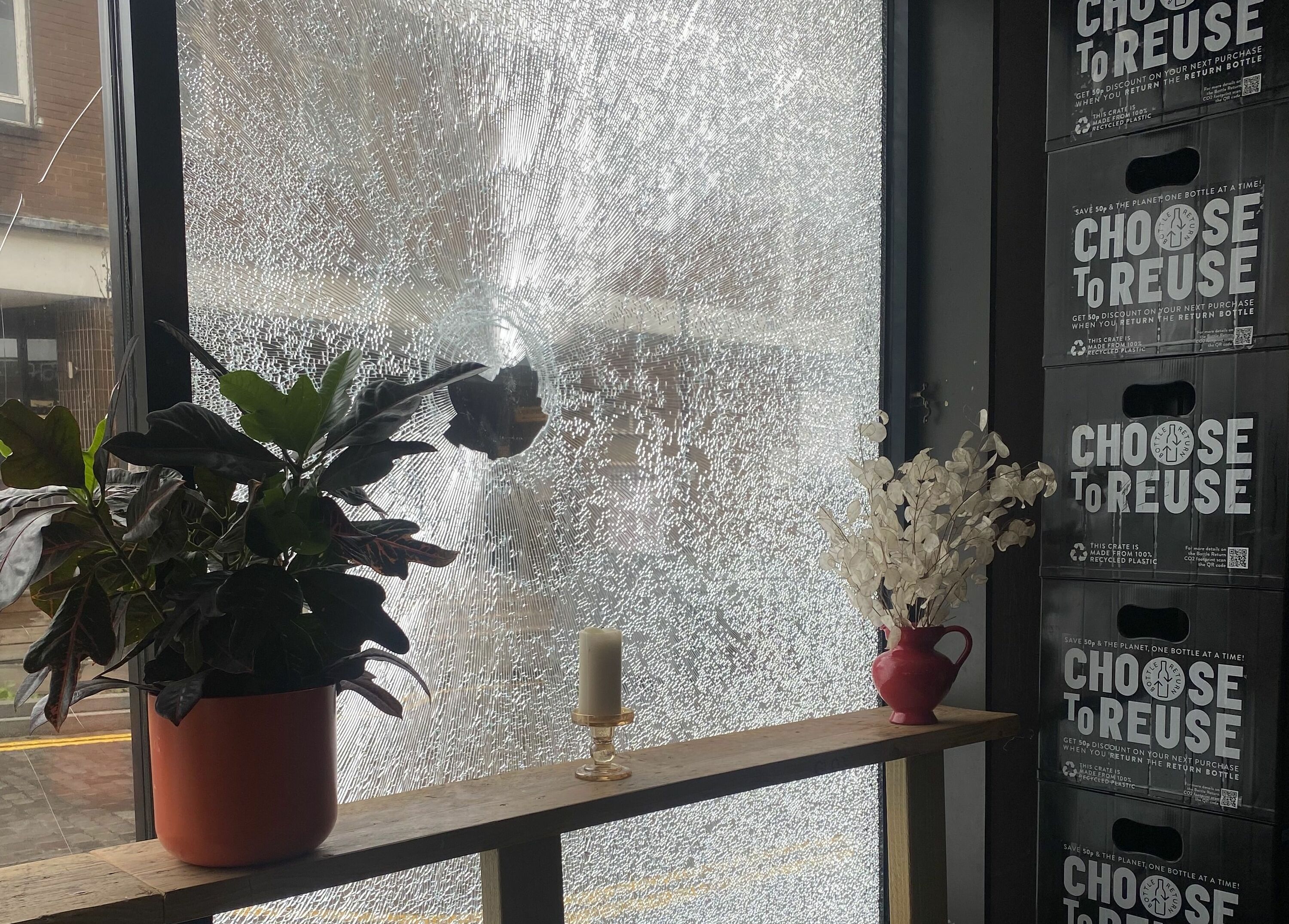 Dozens of east London shops, restaurants, hairdressers and other independent businesses have been enduring an 'epidemic' of violent attacks, vandalism and break-ins over the last six months.
Nik Southern, owner of florist Grace & Thorn on Hackney Road, says they had their first break-in on February 5, where their empty cash drawer and till monitor was stolen.
'Once we got that boarded up, someone came back and hammered the rest of the windows that same day,' she said. 'It's happening to so many local businesses. It's an epidemic: there's been a spate of hammer attacks on windows. Every day a new shop is getting smashed. No one's entering the property, they're making as much damage as they can and then walking away: pure vandalism. Many shop windows and glass doors were graffitied too. Our businesses are being terrorised systematically.'
In total, there have been reports of around 17 break-ins, 16 hammer attacks on windows and at least four thefts – stealing jewellery, bikes, and attempting car theft – on businesses around Hackney Road and Columbia Road in the last couple of months. 
Hooded and masked men in cars and 'kids on mopeds' are thought to be behind the incidents, although business owners don't know what their motivations are.
Southern says she spoke to Tower Hamlets and Hackney councils five weeks ago about her incidents and other crimes that had happened to neighbours, and was promised a mobile CCTV camera near the shop. 'This hasn't happened,' she says. 'It's not only intimidating and emotionally distressing, it's causing such expensive damage at a really challenging time for independent retail.'
Southern says that because the Hackney Road area is split between Tower Hamlets and Hackney Council, 'no council is taking responsibility' when issues are raised. Since then, she has installed two CCTV cameras at her own cost to gather evidence in the immediate area. 
Elliot's, a wine bar and small plates restaurant on Mare Street, has reported hammer attacks twice in two weeks. 
'Like the other small businesses affected, we're all independent and owner-operated,' says Samantha Lim, co-founder of Elliot's. 'So this is another massive financial blow after working to recover after the Covid situation. We've all had to shell out thousands of pounds for repairs, which we'd much rather invest into the business and our staff. We would love to see the local councils take action to support safer neighbourhoods for the businesses and residents.'
Flat Earth Pizza on Cambridge Heath Road has suffered similar vandalism.
'We've had our windows broken three times in the last six months,' says Sarah Brading, the co-founder. 'On March 8, a man with a hammer smashed seven of our windows. It's devastating that someone could so mindlessly vandalise Flat Earth: it's a business my partner and I have built from the ground up. It felt like an attack on our home. Small businesses need support or we'll cease to survive which will mean local jobs are lost and communities are broken.'
Local businesses have created a Whatsapp group where they are compiling their own CCTV, and even created a spreadsheet to record the incidents.
Southern has also launched a petition with other local businesses calling on Rushanara Ali, MP for Bethnal Green and Bow, to install more CCTV for the area; 1,900 people have already signed it. 
The petition reads:
'We approach you as business owners & residents of Columbia Road, Hackney Road, Redchurch Street & the general Bethnal Green area. We would like to express our concerns and fears regarding the increasing number of crimes that have been committed against us in the past 6 months.
'Tower Hamlets ranks as the 8th worst crime borough in London out of 32 boroughs, with only 350 CCTV cameras, compared to our neighbouring borough Hackney who have 2044 cameras.
'There are only four working cameras on Hackney Road, Columbia & Warner Place in total, all a hub of criminal activity day and night. We need more, we need your help to get more CCTV in the area.' 
A spokesperson from Tower Hamlets Council said:
'While criminal damage is a matter for the police to investigate, we are supporting the police and our community through our CCTV network and other measures.
'The council has also put more of our resources into patrols. Our Tower Hamlets Enforcement Officers are walking the beat alongside police in the area to reduce the risk of further vandalism and support our traders and residents.
'We will also be providing funding for more police patrols and we are awaiting further intelligence from the police to see if more CCTV cameras are needed.'
Time Out has also reached out to Hackney Council and the Met Police for comment.
London's last-ever DVD store is under threat of closure.
London is lighting up for Ramadan for the first time ever.
We're giving away 100 tickets to the Sony World Photography Awards this year.