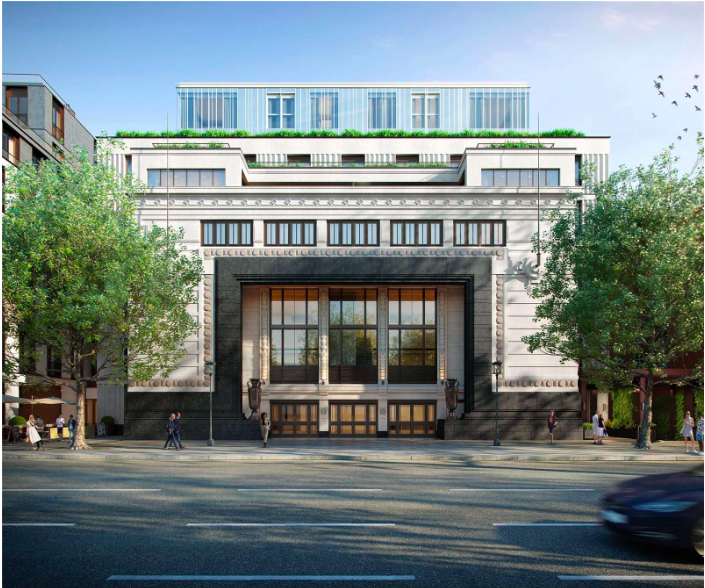 Jostling for top spot in many Londoners' 'dream places to live' is a really swishy modernist apartment, you know, with views, plus some outdoor space so you can swan around outside in your '30s style kaftan clutching a slender glass of something chilled, like you are in an old Hollywood film or something. 
Courtesy of Knight Frank a new location of lust has hit the market that exactly fits the bill. It's a duplex ( estate agent speak for two floor) penthouse apartment, on level six and seven of a former art deco cinema in Holland Park.
The Poirot-worthy apartment, features an extensive outdoor terrace which encircles the entire sixth floor, boasting extensive views of Kensington and Chelsea. Priced at £32.5 million, there are four bedrooms, five bathrooms and 5,500 feet in total to trip around in your fluffy mules. It's probably out of most people's price range with an agreed mortgage lender if we're honest, but we can dream, right? 
The apartment is part of an exclusive development called Holland Park Gate, which offers residents access to a 24 hour concierge service, exclusive gym, pool, sauna, screening room, even library for the full Agatha Christie experience. It's also just across the road from The Design Museum and Kensington High Street.
The art deco movie house itself opened in 1926, back in the silent era, before films even had sound and was originally known as the Kensington Kinema. Recently restored, it features a neo-classical deco facade built from Portland Stone.
 In a small nugget of trivia, its very first screening was 'The Freshman'' from funny man Harold Lloyd. Reassuring to know that Londoners have always had a taste for comedy.   
Can't get enough Art Deco? Check out this restored 1930s cinema in Harrow
Looking for more beautiful places in London? Brown's Covent Garden has had a refurb