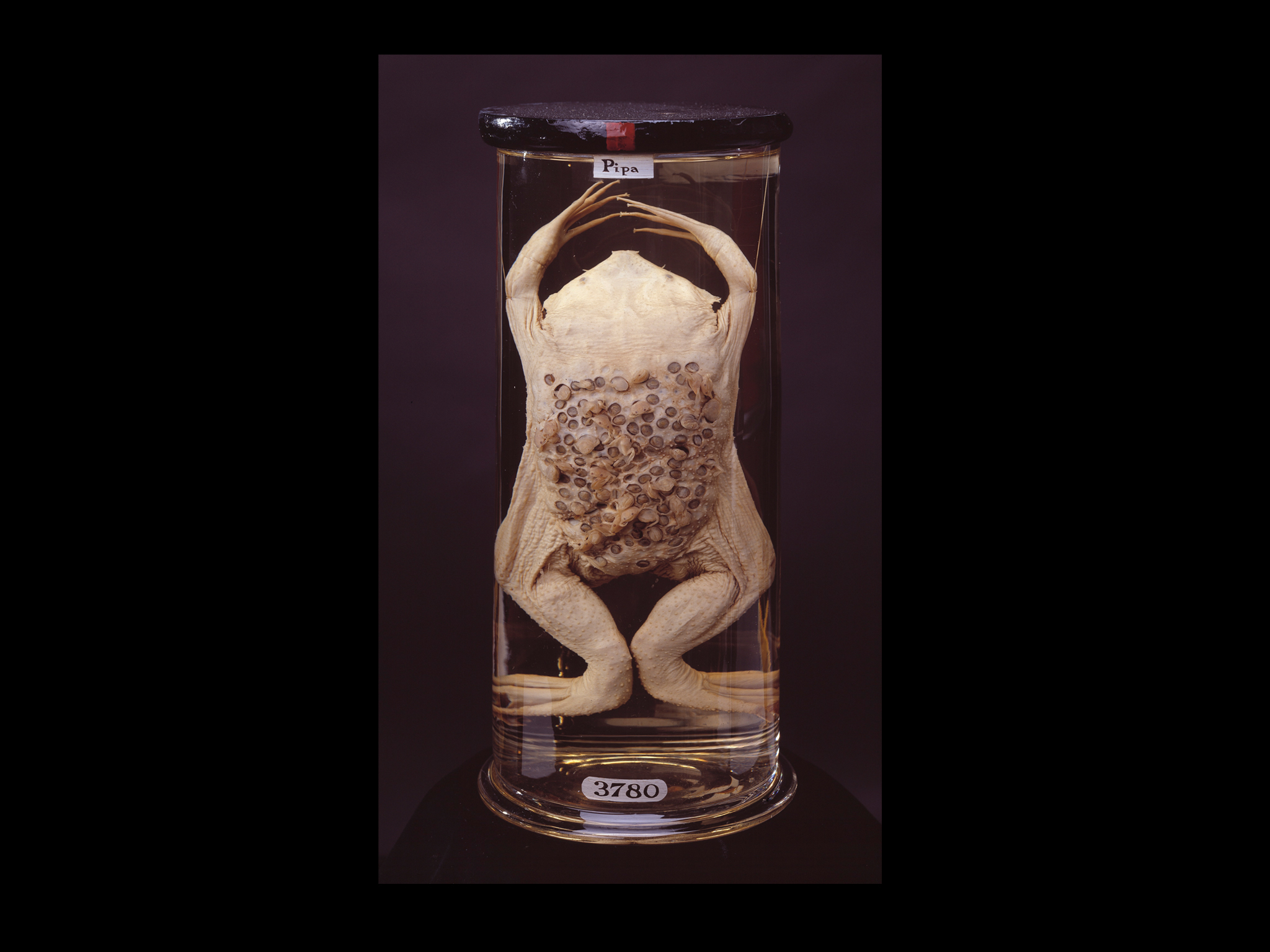 The Hunterian is one of London's most unique museums. It's based on the collection of eighteenth century surgeon John Hunter, who amassed a whole bunch of 14,000 specimens for surgical training. And by specimens, we mean dead stuff. Tons of it. The museum has been closed for renovations for six years but is now reopening so we can finally go ogle the good stuff again. The vast majority of Hunter's collection was lost when the  Royal College of Surgeons' building was bombed in May 1941, but 2,000 specimens will be on display, and here's our pick of six essential things to see. 
A crocodile
The Hunterian is full of specimens in glass jars There are human faces, digits and organs, but there are other species too, including this itty bitty crocodile caught just as it emerged from its egg. A beautiful moment in nature, frozen forever in death. Grim and macabre, sure, but it's done now so might as well have a good look at it. 
Tables made of skin and veins
There are only two types of people who make tables out of human tissue: unhinged, bloodthirsty, deranged serial killers, and medical professionals. Fortunately, these sheets of nerves, blood vessels and limbs were done by the latter, a guy called Giovanni Leoni d'Este who was the Dissector to the Professor of Anatomy at Padua University in 17th century Italy.
Old surgical instruments
Surgery was pretty barbaric back in Hunter's day, especially compared to modern advances. To prove how elementary it all was, you just have to see this army surgeon's set of instruments – which was probably used in the Napoleonic Wars of 1803-1815 – made up of knives, tourniquets, bullet forceps and an amputation saw. No anaesthetic or razor sharp scalpels here, just ruthless, brutal efficiency.
A surgical robot
Medical science has come a long way from the days of rusty saws and knives on battlefields, and the Hunterian has the tech to prove it. The Versius Surgical Robotic System can make tiny incisions, reduce bloodloss and increase recovery time, and will absolutely destroy you at chess, probably. Gross? Maybe not. Terrifying? Almost certainly.
A rhinoceros
George Stubbs is the painter behind the National Gallery's iconic, massive horse painting 'Whistlejacket'. But he wasn't limited to equine art, he also branched out into far more exotic animals, including this Indian rhinoceros thought to be commissioned by John Hunter. Stubbs based this painting off one of the only rhinoceroses to be brought to England at the time, which was displayed at the Lyceum on the Strand and was fed a diet of red wine. 
Phossy jaw
Match factories in 19th century Britain were absolutely full of white phosphorus, a hugely dangerous material which could lead to 'phossy jaw', a necrotic deterioration of the lower mandible. This wax model shows the surgical removal of a phossy jaw, and it's a great conversation starter, sure to get tongues wagging.
The Hunterian Museum reopens on May 11. More details here.
Want more? Here are the top ten exhibitions in London right now.
Want more, but for free? Here are London's best free exhibitions.