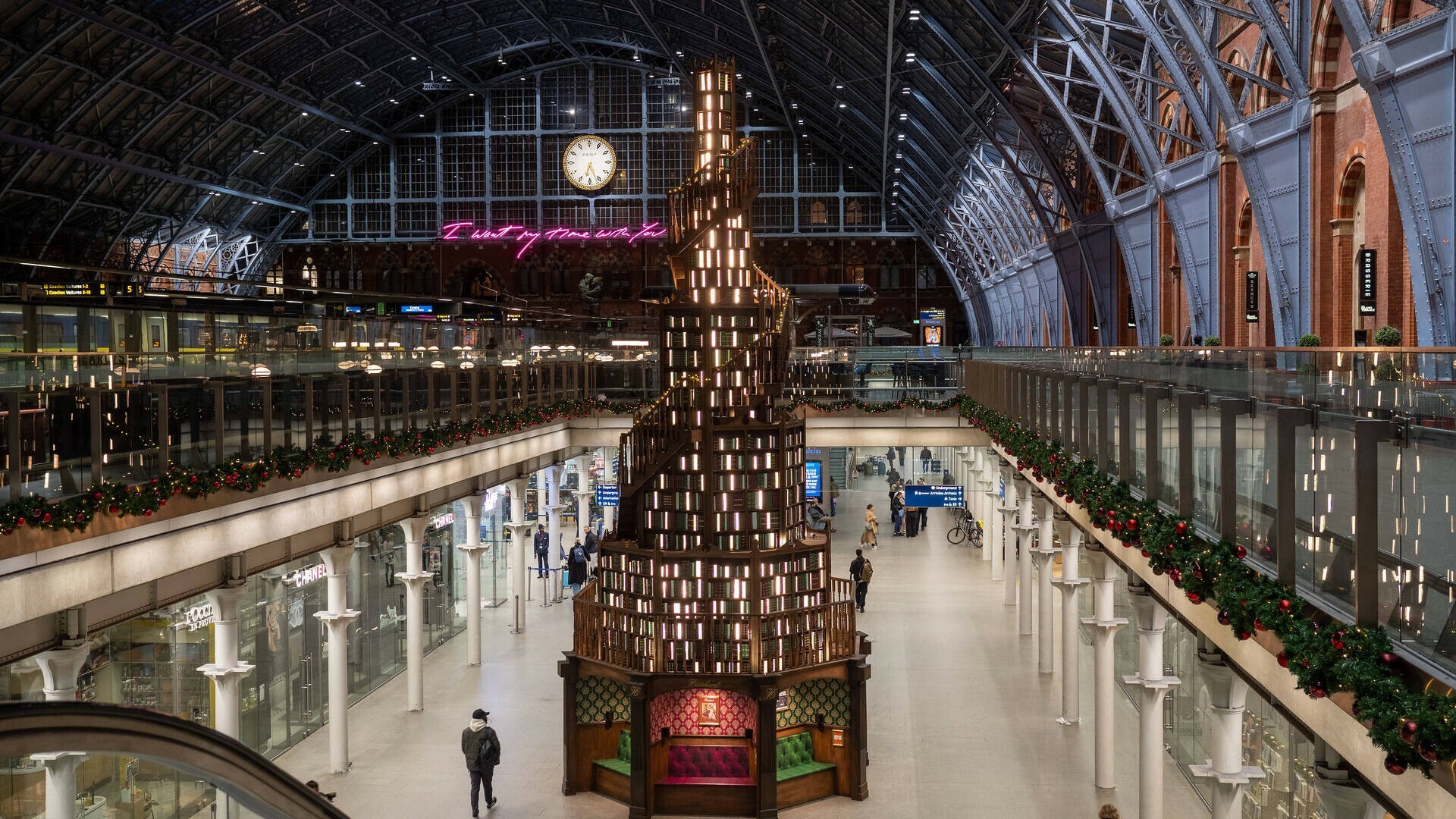 Now that Halloween is out the way, it means it's socially acceptable to start listening to Mariah Carey, wearing Christmas jumpers and necking ten pints after work every night. It also means that spectacular Christmas trees will be popping up all around the city, bringing festive joy to all Londoners. The St Pancras Christmas tree for 2023 has just been revealed, and it's a real stunner. This year's St Pancras tree is made out of more than 3,800 books. 
In partnership with Hatchards, the UK's oldest bookshop, St Pancras station has created the 12-metre-tall tree that features a winding staircase, wrapping around 270 book shelves. The almost 4,000 books in the tree have all been hand-painted and inscribed with Christmassy titles including Charles Dickens' 'A Christmas Carol' and C.S. Lewis' 'The Lion, The Witch and the Wardrobe'. The tree is inspired by the magical ability of both books and train travel to transport people to exciting new places.
At the base of the tree are also eight cosy-looking cubby holes, each having a spot where bibliophiles can stop, sit and read. In each booth, visitors can listen to a five-minute excerpt of an audiobook provided by Penguin Books from authors including Charles Dickens, Beatrix Potter, Zadie Smith, Robin Stevens, Gabrielle Zevin, Alice Winn, Rick Riordan, Michael Morpurgo, Richard Osman and Tom Fletcher. Each booth has two options and guests will be able to choose from sixteen different audios. 
With all the hubbub of the festive season, having a Christmas tree where people can find a quiet spot to enjoy a good book sounds wonderful to us. Sign us up. 
Here are some more pics of the tree. 
For more festivities, here's the full list of London Christmas light switch on dates confirmed so far. And did you see that you can book a ride on a 1940s steam train in London this Christmas? For everything happening in the capital this Christmas, look no further than Time Out and our magnificent guide to the festive season. 
Listen to Time Out's brilliant new podcast 'Love Thy Neighbourhood': episode 12 with Paul Feig in Mayfair is out now.
Stay in the loop: sign up for our free Time Out London newsletter for the best of the city, straight to your inbox.