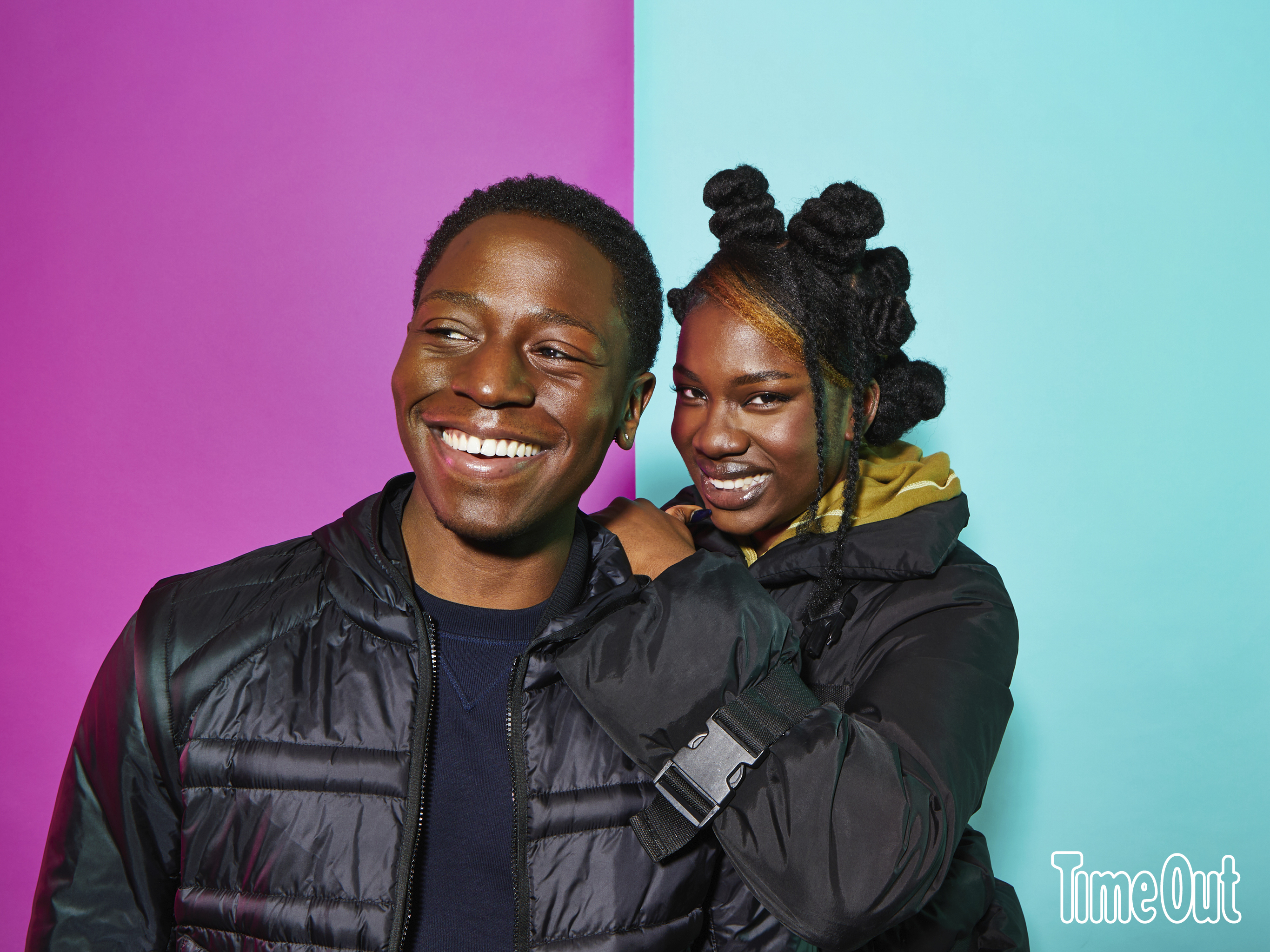 As south-of-the-river as sun-kissed pint on Clapham Common and equally teeming in good vibes, 'Rye Lane' is our new big-screen happy place. A starburst of local colour, big LOLs, relatable first-date snafus and sharp observations around breaking up and healing, playlisted with a crate of '90s and MySpace-era bangers, the Peckham-set romantic-comedy is the perfect anecdote to all those posh London romcoms that look like they were conceived of in a branch of Foxtons.
'Rye Lane's on-screen MVPs are 'Class' star Vivian Oparah and 'Industry's David Jonsson. They play its riffing, rowing and (eventually) romancing duo, Dom and Yas. Fresh from break-ups, the duo embark on a day-long tour of Peckham and Brixton playgrounds, karaoke bars, parks, backyard barbecues and pubs. Initially paired with other actors in their audition, they instantly hit it off – 'the second they swapped us I was like, she's otherworldly,' remembers Jonsson – and they continue to hit it off when they reunite over a cuppa in Time Out's office.
What did you bond over when you first met?
Vivian Oparah: 'A lot of music from the early 2010s: King Krule and Two Door Cinema Club were our nostalgic pleasures. Our sense of humour intersects perfectly, and our taste in music.'
David Jonsson: 'I found out early on that Viv is an incredible music artist. Now, I don't consider myself cool at all but she's cool. Whenever she liked something I like, I felt good about it. She made me cooler.'
Music is a big part of the film but it's got a nostalgic feel too: Terence Trent D'Arby, Tribe Called Quest. I guess you weren't brought up with it?
VO: 'Strangely, I was. And ["Rye Lane" composer] Kwes, Micah Levi… they pioneered a sound in the MySpace era that became distinctive of the DIY London scene, and that permeated everyone's musical taste on the film – that weird intersection of grime and indie music. Kwes was at the forefront of that.'
DJ: I didn't really do social media at all, but the MySpace era felt like a time when everyone was really in their feelings. And this is an emotional movie. The first scene is my character wailing in the toilet, which I probably won't do in real life. Having Kwes score it makes it all rush in.'
You're an excellent ugly cryer, David.
DJ: 'Thank you very much! Funnily enough, that was a really hard scene. I like truth and Raine [Allen Miller, the director] would be saying: "Bigger! Just a bit more ugly!" I got that note constantly. Viv would come round and ask if I was alright (laughs).'
The film is full of specific London details. Were there a lot of Americans at Sundance wanting to know what Supermalt is?
VO: 'Someone thought Rye Lane was in Liverpool and I was like, "Spread that rumour, because that's really funny."'
DJ: 'When we were sitting backstage at the Sundance premiere, it suddenly hit us: Oh my gosh, we're in a cinema with 500 Americans about to watch this unapologetically British film. This is going to bomb! But people were wetting themselves. Me and Viv were looking at each other bewildered. We thought Ashton Kutcher was going to come out and be like: "Punked!"'
VO: 'They laughed at things that were quintessentially London that we expected to fly over their heads.'
The first scene is my character wailing in the toilet, which I probably won't do in real life
Vivian, you grew up in Tottenham, and David, you're from Custom House in Docklands. How well did you know this part of South London?
DJ: Being a family of immigrants, you kinda scatter, don't you? We grew up east but we have family that grew up in south. We'd do meat shopping on Peckham High Street. Then you date people from Peckham, because I feel like everyone who's cool kinda comes from Peckham.
VO: 'Not true!'
Is this the film that's so loveable, it's going to end the North/South London divide forever?
VO: 'That's the big reveal at the end of the film! We tell them that we're not really from South London and that we should all get along.' 
DJ: 'It's wishful thinking. South Londoners are very proud and I don't blame them. It's a cool place.'
VO: 'We're kind of a Trojan horse, the two of us. We're like: Haha, we're not really from South London!'
London romcoms like 'Notting Hill' and 'Bridget Jones's Diary' represent a small fraction of the city in terms of race and class. What does it mean to you to be part of a film that showcases the diversity of London?
VO: 'It's a pleasure to be part of a film that represents the truth of London so well, in front of and behind the camera. South London is such a melting point of different cultures and "Rye Lane" is such a good tableau of what that looks like: it's this person, next to that person doing this really random, weird thing, next to this really cool person… all happily co-existing in the same space. The emphasis on joy was so important – as well as showing the richness of community.'
DJ: 'We're realising in retrospect what this film means.'
'Rye Lane' isn't about race at all, but I'm sure young people will see themselves in it and that's really powerful. And I'm guessing you didn't have that on-screen when you were growing up?
DJ: 'You're absolutely right: this hasn't been done very much. We had "Coming to America" and "Love & Basketball" and "She's Gotta Have It", but they were all American. We're slowly but surely breaking down a door.' 
VO: 'I'd just be glad we were a cog in that. At one film festival, people were saying how crazy it was to see two dark-skinned Black people together – how usually they'd put a lighter skinned woman next to a darker-skinned man just to balance it out. But this film is so unapologetically Black, without being about race. Hopefully, it's another step towards everyone having a seat at the table.'
We're realising in retrospect what this film means. We're slowly breaking down a door
What grabbed you about 'Rye Lane' in the first place?
DJ: 'I wanted to do something that felt very different to anything I'd done before. I don't consider myself "romantic" or "comedic", so to do something like this was a challenge. I don't think anyone knows who I am, so I can take a risk.'
VO: 'I'd never really seen a character like Yas before. I'm very grounded as a person and Yas is insane – unapologetically messy and kind of a dick at times. That was exciting to play.'
What's your tip for a first date venue in London?
DJ: 'Go for some food. I like to see girls eat.'
VO: 'There's a real African man right there.'
DJ: (Laughs) 'That's a good first date tester. What do you think, Viv?'
VO: 'No, I'm not coming for your meal. I discovered Korean barbecue when I was in LA and apparently we have that here. I'd do that because it's fun, you get to cook, you get to fail in front of each other, there's a topic of conversation. I get really anxious the first time I go out [with someone]. But London is such a crazy city, you can end up across the city doing something wild. To quote Yas: "Go where the breeze takes you."'
What's the most romantic spot in London?
DJ: 'Because I'm from East London, I'm gonna say the Docks. I love going there. The Thames cuts through my side of East, so it's sitting by the river having a pint.'
VO: 'I'm North, so I'm going to say Alexandra Palace at night when there's no one there. You're high up and you can look at the city. When there's a full moon, preferably, and there's good energy around.'
DJ: 'Viv is also part werewolf.'
VO: (Laughs) 'So I can devour the man.' 
What's next for you both?
DJ: 'I'm playing the lead in the new "Alien". "Alien" is before my time so it's got more of a meaning to my family. It's an awesome script and Ridley Scott's producing it. It should be special.'
VO: 'I took a picture of an "Alien" [standee] in a store in New York to send to you but I couldn't tell anyone.'
DJ: 'Viv is my number one cheerleader.'
VO: 'There's a lot of exciting stuff on the table. My adjective for this year is "surreal".'

'Rye Lane' is in UK cinemas Fri Mar 14. 
All the South London filming locations you can visit from 'Rye Lane'.