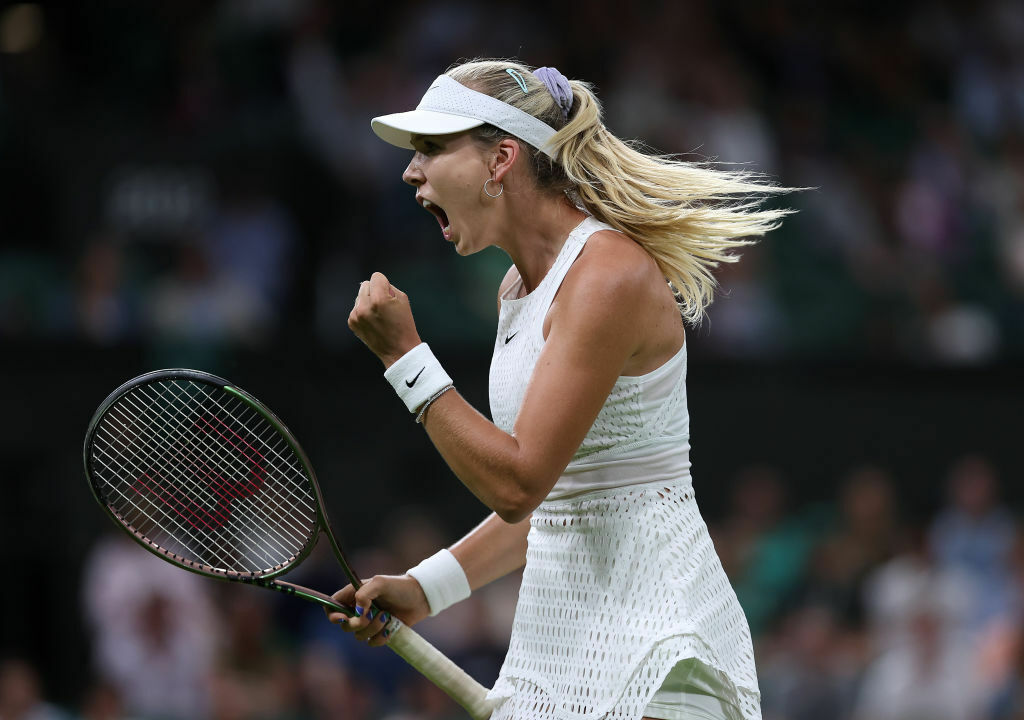 Another day, another controversy about the Wimbledon dress code. Over the years, people have got their knickers in a twist over all sorts of sartorial faux pas at the Championships: there was an exposed pink bra strap, a black and white bandana and, of course, the new undershorts rule. This time, people are upset over a white tennis dress. 
A white perforated Nike dress has taken the competition by storm this week. The £112 frock has proved popular among players, with it being sported by British number one Katie Boulter, 16-year-old breakthrough star Mirra Andreeva and Belarusian top seed Aryna Sabalenka. We've even seen players going head-to-head wearing the same outfit. God forbid!
But people are sick of seeing it, and some have compared the racerback dress to a doily, lampshade and even a 'pair of curtains'. 'This Nike frock, which I've seen on several players at Wimbledon today, is a lampshade crossed with a doily and truly horrid,' said writer Rose George, author of The Big Necessity. 
Some fashion experts have defended the design. Laura Ward, founder of luxury courtwear brand Exeat, said: 'I like the Nike dress – I think the body-con top and voluminous layered skirt creates a really flattering silhouette combo. 
'I understand the doily comparison. But actually they've used a mesh texture to add interest to what would otherwise be unremarkable white fabric, plus it has the added benefit of creating cooling vents which, believe me, is a winner on court in the heat.'
In 2016 Nike and players were also criticised for wearing a floaty tennis dress that looked like a 'nightie'. 
Why the public gets so worked up about the prestigious competition's historic dress code is hard to say, but it's probably something to do with tradition. Maybe it's time we stopped focussing on the outfits and started paying more attention to the sport, eh? 
How to watch Wimbledon on a big screen in London.
And here's how to watch the tennis at home.