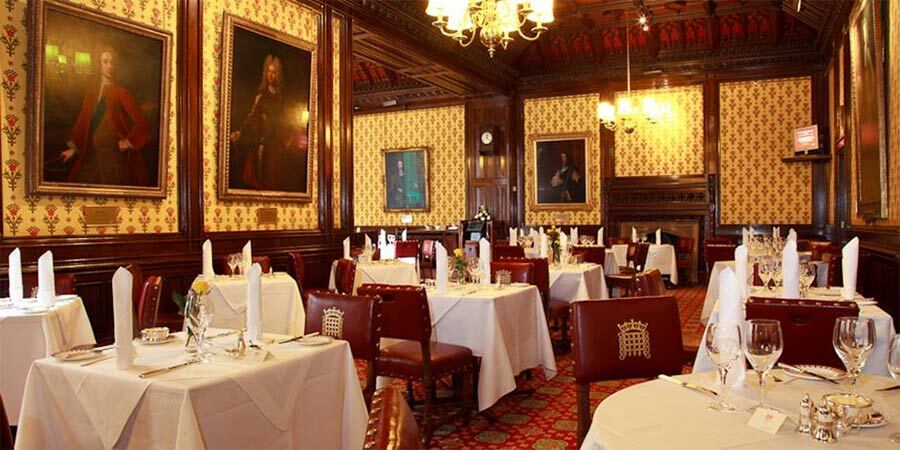 'Drunk as a lord' might be a traditionally disparaging picture of the sybaritic tendencies of the noble peers of our realm. And there's no doubt that the English aristocracy has done itself pretty well over the centuries when it comes to a spot of nosebag.
Now, there's a chance to sample a taste of that sweet blue-blood pudding. The Peers' Dining Room at the House of Lords in Westminster is opening to the public again this year during parliament's Easter recess. Normally, you have to have a seat in the House of Lords (or be a peer's guest) to eat there. But at lunchtime on April 4 and 5, and lunch- and dinnertime on April 6, one of London's most exclusive restaurants will welcome commoners. So, slots are few and far between, but booking opens tomorrow (March 23), so why not give it a whirl? Mind you, if you're into snapping your dinner, cameras and phones are not permitted in the House of Lords.
Cynics (like us) might suspect that a bunch of monied old duffers would be happy with any kind of reheated sub-school-dinner slop for din-dins, but actually, the dining room has acquitted itself rather well previously. It first opened for public dining sessions in 2015, and menu highlights since then have included Hereford beef tongue, Brixham brill, and a honey crème brûlée tart. Oof.
Time for a little snooze. If only there was somewhere comfy to sit…
House of Lords, Palace of Westminster, SW1A 0PW. Lunch Apr 4-5, lunch and dinner Apr 6. Book on its website. Booking opens Mar 23 at noon. £54 set menu.
Pretty sure that Joe Lycett won't be dining there. Here's a chat we had with him.
We're giving away 100 tickets to the Sony World Photography Awards this year.