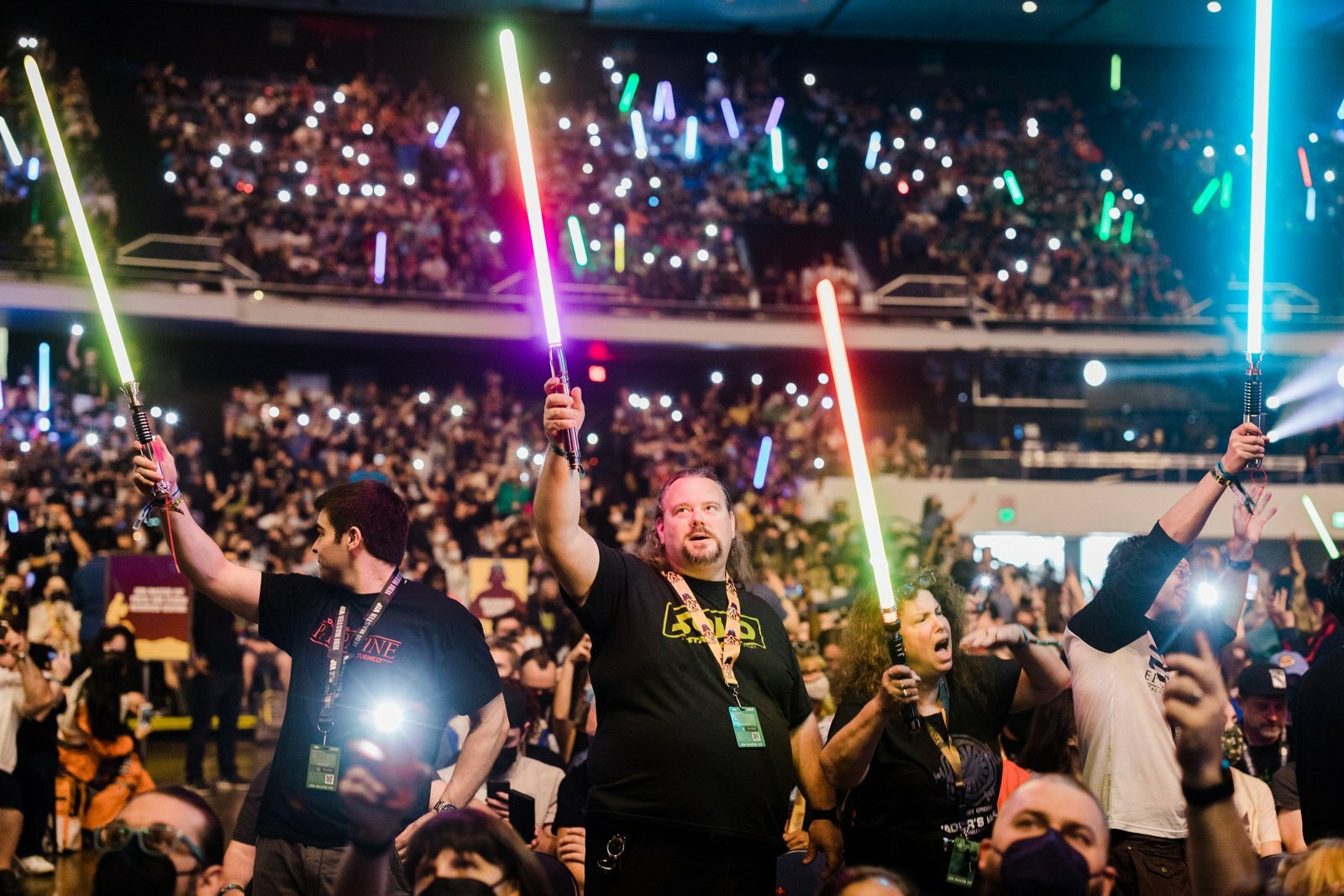 Like the Razor Crest or an unusually fan-facing group of Tusken Raiders, Star Wars Celebration roams the planet every year treating fans to a weekend of 'Star Wars' goodness spanning the franchise's nearly 50 years of history. 
The convention has been running since 1999 when it introduced 'Episode I – The Phantom Menace' to its prospective public. It's back at London's ExCeL Exhibition Centre for the first time since 2016, and only the second time in its history. 
What to expect? For any lover of 'Star Wars', it's just being there among fellow fans, soaking up the febrile atmosphere and moseying around Insta-friendly displays of props and a galaxy of merchandise stands and collectables. Oh, and there's a world of exciting previews and nostalgia via the big stages.
Here are five things 'Star Wars' fans should not miss at the show. 

1. Get a sneak peek at the future of 'Star Wars' 
When: 11am, Friday April 7
Star Wars Celebration kicks off in style on Friday morning with a big Lucasfilm Studio Showcase. On the bill are 'the current crop of live-action filmmakers' and a few special guests to talk about 'The Mandalorian' season three, 'Andor' and answer the big questions around the future of the franchise.

For anyone looking to get the lowdown on the next phase of Disney 'Star Wars' spinoffs, showrunners Dave Filoni and Jon Favreau will also be introducing 'Ahsoka' on a Saturday panel. This is the way, etc. 
2. Sing happy birthday to 'Return of the Jedi' 
When: 2pm, Saturday April 8
Yes, 'Return of the Jedi' turns 40 – 4-0! – this year. Regardless of anyone's feeling for Ewoks, the passing of the years has only enshrined its place in the franchise's pantheon: a movie that brings together the original trilogy in epic and definitive style. Ming-Na Wen – aka Fennec Shand in 'The Mandalorian' – will be introducing special guests from the film on stage for a special panel. Fingers crossed for a big 'Yub Nub' dance-off. 
3. Cosplay as your favourite 'Star Wars' character
(2.30pm, Sunday April 9) 
When: 2.30pm, Sunday April 9
Star Wars Celebration's cosplay competition is justly famed for the quality, dedication and obsessive detail of its participants' get-ups. In other words, it's not the kind of event you can just pitch up to with a bucket on your head and expect to be addressed as 'Lord Vader'. It does pride itself on being a fun and inclusive affair, though, so first-timers will be greeted with open arms (unless they've come as Gorian Shard).
4. Check out the first-ever 'Star Wars' x Aardman collaboration
When: 1pm, Monday April 10
Yes, British animation greats Aardman – the Bristolians behind 'Wallace & Gromit' – will be popping by Celebration Europe (probably with biscuits) to share its collaboration with 'Star Wars' on Volume 2 of animated shorts series 'Visions'. 
The Aardman animated short is called 'I Am Your Mother' and director Magdalena Osinska will be there to introduce it ahead of its May 4 ('May the fourth be with you' etc) bow on Disney . It should be a grand day out.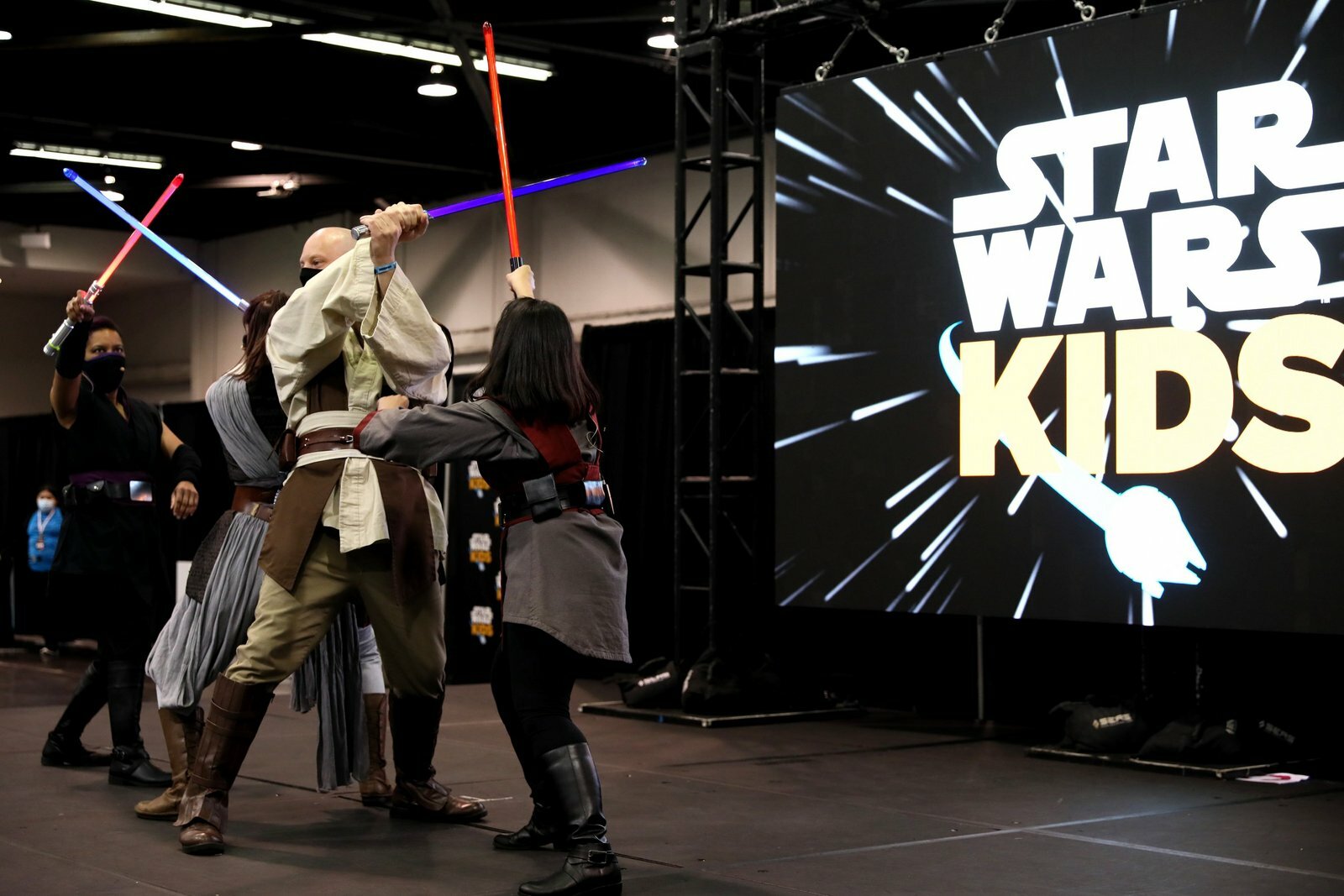 5. Get your younglings lightsaber lessons 
When: all weekend
Star Wars Celebration is very much a family-friendly show, which makes it the perfect opportunity to expose your Padawans to some key life skills. Keep an eye on the Star Wars Kids Stage for lightsaber training, costume parades, tutorials on how to draw your favourite 'Star Wars' characters, lessons in hand puppeteering and even the odd droid race. 
Star Wars Celebration Europe runs Apr 7-10 at ExCeL London. Head to the official Star Wars Celebration site for all the info and tickets.
An intergalactic new 'Star Wars' exhibition is opening in London.
From Mando to Max Rebo: the 56 best Star Wars characters.