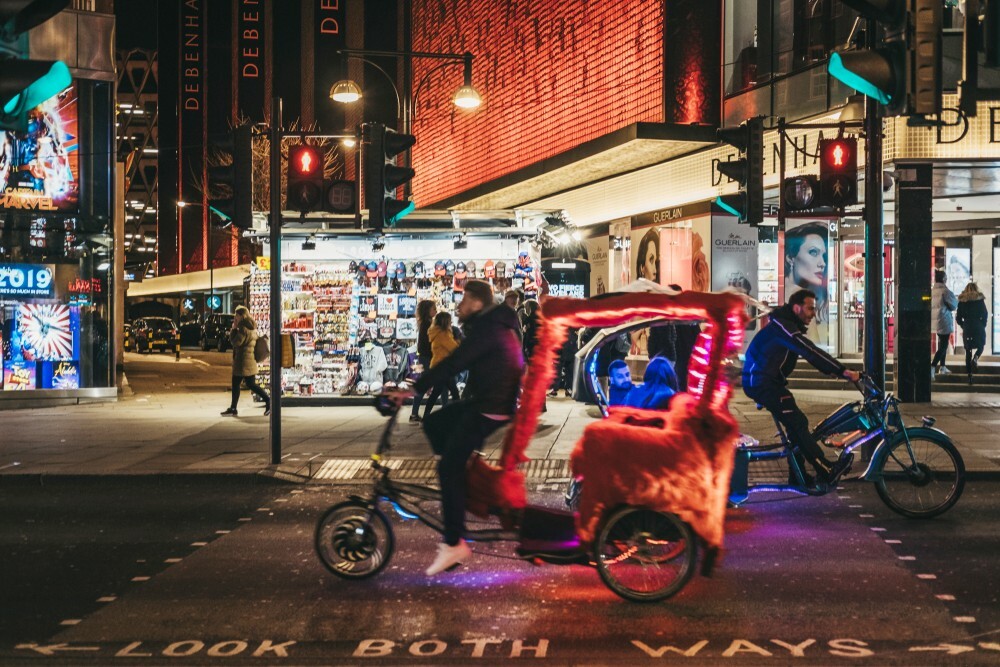 You've all seen them. Rickshaws dripping in hot pink fur, with flashing neon lights and blasting out 'Dancing Queen'. Some people find joy in the sight of a furry fuschia pedicab careening around the streets of central London, others can't stand them. Now a bill is threatening the future of tourist-carrying cargo bikes in the city, as Rishi Sunak plans to crack down on rogue pedicab drivers. 
Unlicenced pedicab drivers are to be taken off London streets under a new licencing system in a bill in the King's Speech. The clampdown on the cycle taxis is expected to be a stand-alone bill in Rishi Sunak's new legislative plan to be unveiled on Tuesday.
It could be a welcome change – dodgy drivers have been ripping off Londoners and tourists for years. Last August one man was apparently charged £500 for a 10-minute journey. Five hundred pounds!  
Nickie Aiken, Conservative MP for the Cities of London and Westminster, told the Evening Standard: 'It is so important that we regulate pedicabs to make them safe to use.
'Currently we do not know if the vehicles are safe to be on the road, that the drivers are safe to take passengers, there is no regulation of fares which means time and time again tourists and visitors to London are ripped off, often by hundreds of pounds.'
Aiken, who has been campaigning for rickshaws to be licenced for years, said TfL agreed to administer the new licencing scheme. 
'Too many drivers blast music from their pedicabs night and day causing huge disruption for local people,' she added. 'The West End is a great place to go out but pedicabs have blighted the area for too long. With an official licencing scheme anti-social pedicabs should be packed off to history.'
The history of London's rickshaws on Time Out
Are they a nuisance or just misunderstood? Rickshaws have been causing mischief on the streets of London for years – and we've been following their saga closely, from the time we investigated the pedicabs ourselves (and even took a ride in one) to the first attempts to curb them last year. 
Listen to Time Out's brilliant new podcast 'Love Thy Neighbourhood': episode 12 with Paul Feig in Mayfair is out now.
Stay in the loop: sign up for our free Time Out London newsletter for the best of the city, straight to your inbox.