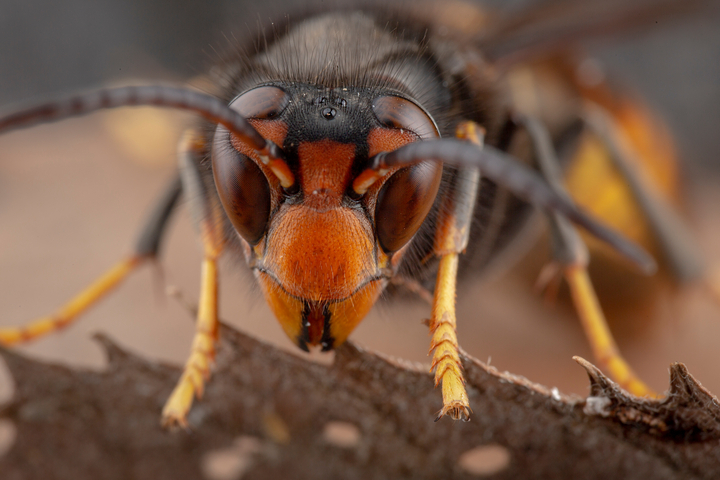 What's that buzzing sound? Sadly, it's not your phone, and it's probably not a friendly bee. Most likely, it's an Asian hornet — or a Vespa Velutina, to use its proper name. These 'aggressive predators' have just been spotted in London for the first time, and their numbers are already soaring across the UK. 
First noticed by Joel Soo, an amateur beekeeper, it seems these insects are on the brink of posing a dangerous threat to our honey bees. They supposedly arrived in Europe in 2004 as part of a shipment from Asia to France. 
Most sightings have, so far, been in and around Kent, but on Saturday, August 19, Soo was tending to his hives in Thamesmead when he spotted, and quickly captured, a hornet. He alerted the Animal and Plant Health Agency's National Bee Unit, and by Monday (August 21) the nest had been found. Twenty-nine nests across the UK have been destroyed so far. 
A type of wasp, these hornets are unlikely to sting humans, but they can eat between 30 and 50 honey bees in a day. Bigger than your regular wasp but smaller than the European hornet, they're characterised by yellow 'socks', orange faces.
Since 2016, there have been 46 sightings of Vespa Velutina in the UK, half of which have been this year and 16 in the last month. The government's website encourages people to download and use the Asian Hornet Watch app should any be spotted. 
So, why are they suddenly taking over? Well, it seems this is another phenomenon worsened by the impacts of climate change. Dr Gavin Broad, a curator from the Natural History Museum, says that higher temperatures in the UK are making it an environment more suitable for the insects. 
Chair of the British Beekeepers Association, Diane Drinkwater, said: 'They are the greatest threat to beekeeping since the Varroa mite was discovered more than 30 years ago.'
All of which sounds like pretty bad news for our bees. You can familiarise yourself with the hornets' appearance and help try to hunt them down by downloading the Asian Hornet Watch app on the Apple Store and Google Play
ICYMI: the grim reason parakeets are disappearing from London.
Time Out's brilliant new podcast, 'Love Thy Neighbourhood', is out now. Listen to the fourth episode with Paul Chowdhry here.
Stay in the loop: sign up for our free Time Out London newsletter for the best of the city, straight to your inbox.