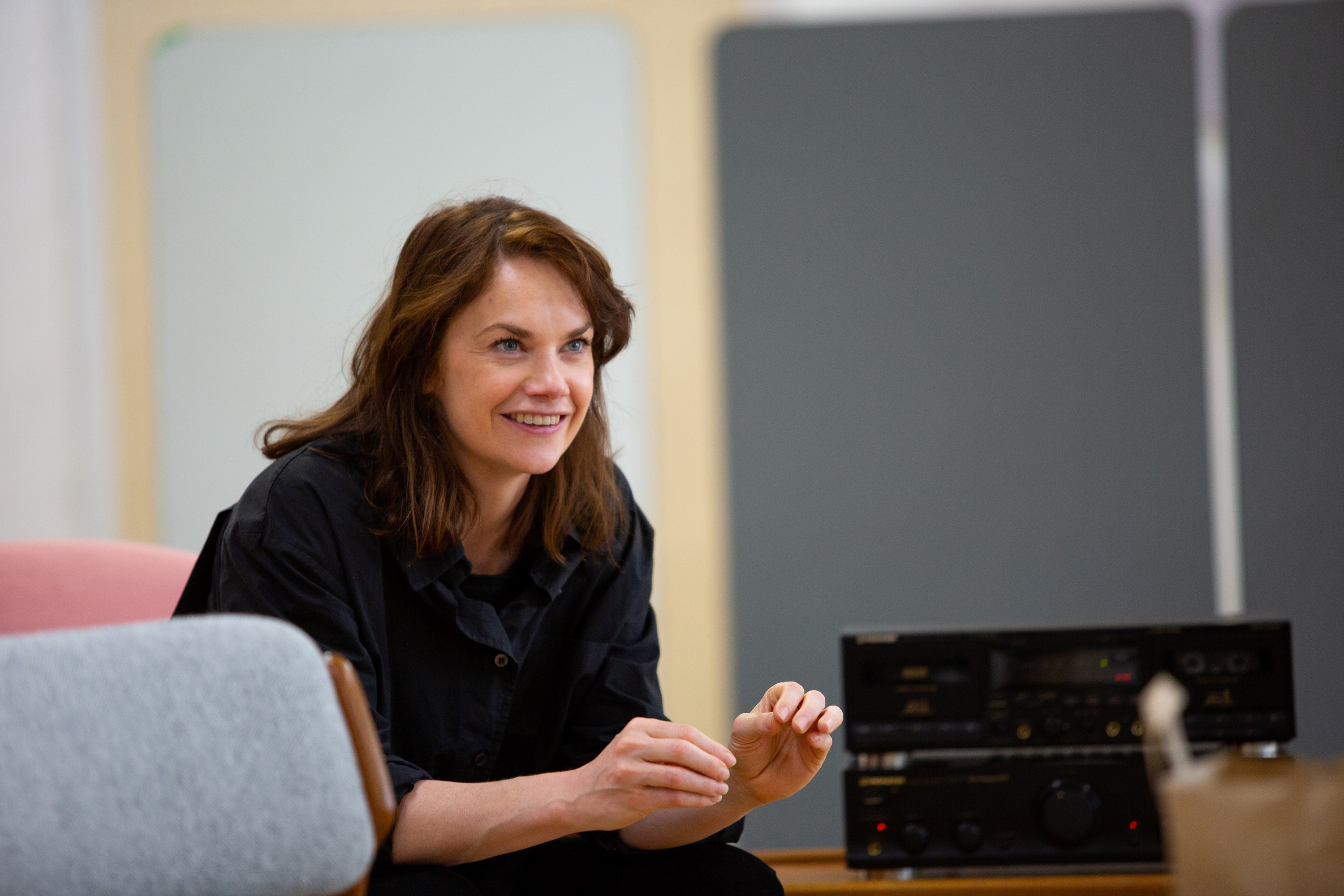 One of Britain's most acclaimed actors, Ruth Wilson is best known for the hit TV shows 'Luther', 'The Affair' and 'His Dark Materials'. But she's also a heavyweight, double Olivier-winning stage performer, most recently seen in London in Ivo van Hove's searing 'Hedda Gabler' and divisive 'The Human Voice'.
This week she takes on what is clearly the greatest challenge of her career to date, by performing 'The Second Woman', a stupendously challenging performance piece by Australian artists Nat Randall and Anna Breckon that started life in Sydney in 2016 and has subsequently been staged in North America, Taiwan, and now our very own Young Vic. Lasting a gargantuan 24 hours, with only the briefest of breaks, it consists of the same scene repeated 100 times, with Wilson playing the female role in every single one of them, opposite a series of amateur male performers who she will have never met before. 
In advance of this mammoth feat, we caught up with her to ask: what the hell?
How on earth was this pitched to you?
'The pitch was: 24 hours on stage, one scene, 100 actors – or 100 male participants, non-actors. And I instantly said yes. They knew: Ruth will do this. I thought: this sounds mad, I'll never get offered anything like this again. I am always looking for slightly off-the-wall experiences and challenges for myself as well as the audience and I just grabbed at it.'
What exactly happens in it?
'The scene is based on a John Cassavetes film called "Opening Night" about a woman, an actress in her forties who is feeling a declining sense of power as she's ageing. She's been given the role of an ageing woman in a play and she kind of can't bear it. But it's also about a very grey area and a strange space between performance and reality that an actor travels in a lot, but the nature of this piece performed over 24 hours is it's going to feel like that sort of mad nightmare middle ground for everyone.'
And you won't have met any of the male participants beforehand?
'No, there's no rehearsal [for them], there's no contact, I've never met them before, and they probably won't understand the rules of performance. So it might be that I'm against somebody who has completely forgotten their lines, I might have to work with them to try and tease stuff out to create a scene when they're completely flummoxed. Or it might be somebody who has come in to prove themselves or something, so I'll have to work with that. In the scene itself the man is seemingly more in power, but it's my space, the scene is designed to constantly shift and change in power.'
Have you ever done anything equivalent to this? When was the last time you pulled an all-nighter?
'I haven't done it for years and that was always enhanced by, erm, something. I did once run a half marathon, I didn't prep, I was in my workout gear and then I just started running alongside my sister-in-law to support her and ended up running like 16 miles.'
If people are made to feel uncomfortable, great. I think that's the whole point of art.
How do you prep physically? 
'I did talk to a nutritionist and asked what's the best way to prep for something like that. And he said: look, it's pretty awful, the hours of 2am to 6am will be dire for you, but it's a one-off, you'll get through it. He said if I was trying to win an award for it he'd suggest more prep, but actually a part of the interest here is that you're going to lose your mind sometime.'
Is there an understudy if you do lose your mind?
'No, you'll just have to watch me lose my mind! When I was younger I remember talking to Toby Jones about a 24-hour play he did. Maybe it's called "The Warp"? There's one actor who stays on stage all the time, and Toby wasn't that actor, he was one of the character actors that would come in and out. So he played I dunno six characters or something. And he said you picked the characters that would give you the most time off so you could have a snooze. But you'd come on and find this one actor who'd been on the whole time in different states of distress and madness. One time Toby came on at 3am and absolutely no one was in the audience, no-one was there, just the main actor on stage with another actor and they were completely naked, he was like: "this is mad, what are we doing, we're not even doing this for anyone". So that's kind of what I'm hoping for, total insanity.'
Your CV seems to largely consist of things that obviously interest you, there's not a lot of MOR or easy paydays in there…
'I'm interested in interesting characters and women where there's lots of detail and depth – "His Dark Materials", I took that job partly because the character's so brilliant but also I'd never done fantasy before. I was interested in the idea of having a daemon, that fascinated me. And there's also the study of self which may sound a bit pretentious, something like "Mrs Wilson" is not only a study of my family but also a study of myself, and this is going to become a study of myself in performance.'
Your last stage outing was Ivo van Hove's West End production of Jean Cocteau's 'The Human Voice'. It got praised technically but was also dismissed as being dated and misogynist – did you agree? Do you take a project like that on because it's demanding rather than 'good'?
[shakes head firmly] 'The show was written by a man about a woman being in distress and having a break-up, I think it still happens, women do break up and are distressed by it, and have breakdowns over. Maybe the language was a little bit old-fashioned. But Ivo, when he gets targeted as being a misogynist or something, what's very interesting about those comments is that they completely remove me from having any agency in that dynamic.'
Yes, some people criticised Van Hove's 'Hedda Gabler' as misogynist for the scene in which you were doused in ketchup, saying it was degrading…
'I'm fascinated by that debate because it's like: wait there a minute, I love working with Ivo, he makes me feel incredibly free as a performer, I loved Hedda, the symbolism of having tomato poured on you is extraordinary actually – it's dangerous and says so much in so many different ways. So I will always work with Ivo, the way he sees the world is through a different lens. But it is so interesting those comments, you're not taking me into consideration as an actor and a collaborator.'
Do you at least think it's reasonable that people felt uncomfortable? People will presumably feel uncomfortable at 'The Second Woman', too…
'I mean whatever, but if people are made to feel uncomfortable, great, I think that's the whole point of art to make people feel and think and challenge them. Why are you uncomfortable, should be the question. I remember this brilliant play by Caryl Churchill at the National Theatre ['Here We Go'] and I always think about it because it obviously really touched me, but I was deeply uncomfortable watching it… and people were walking out, it got one stars across the board [NB four stars in Time Out!], and I couldn't breathe watching it, it was extraordinary. We should put people in those scenarios, people should be challenged by things in their life.'
'The Second Woman' is at the Young Vic from Fri May 19 4pm to Sat May 20 4pm. Although nominally sold out, you're pretty much guaranteed to get in if you queue at the right time – best availability is expected to be between 10pm and 10am.
'The Second Woman' is at the Young Vic from Fri May 19 4pm to Sat May 20 4pm. Although nominally sold out, you'll definitely get in if you queue.
The best new London theatre openings in 2023.
Brian Cox will return to the West End to star in 'Long Day's Journey Into Night' next year.