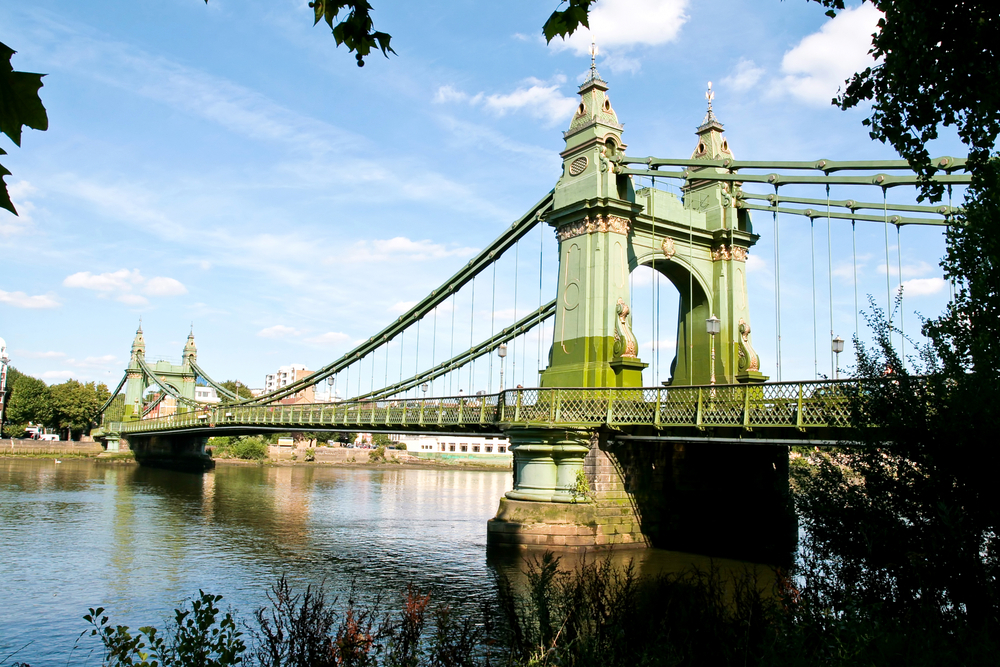 You may remember that back in the summer of 2020, Hammersmith Bridge was closed on public safety grounds (though what with the pandemic and lockdowns and all that, we'd forgive you if you didn't). Micro-fractures had been discovered in the Victorian structure in 2019, and it was deemed unsafe for traffic, due to the threat of collapse. Then in 2021, it reopened but only to pedestrians, cyclists and river traffic while stabilisation works were undertaken.
Unfortunately, these works have sparked an ongoing row between the two councils on either side. One proposes to charge users to cross, while the other is protesting it is unfair on its local residents and will put additional pressure on its own highways and bridge. Hammersmith and City Council (HFC) propose installing a toll gate on the bridge once it reopens to traffic, while Conservative councillors for Wandsworth want HFC to drop the charge.
Wandsworth Conservatives have an ongoing petition against the move which states: 'When Hammersmith Bridge was closed some 22,000 daily river crossings have been displaced. Many have been forced to use Putney bridge which has put additional pressure on already busy roads such as Upper Richmond Road, Putney Hill and the High Street. As part of their plans to fix the bridge, Labour-run Hammersmith & Fulham Council are looking at introducing a charge to cross the bridge. A £3 per crossing toll would cost local motorists over £2,000 per year. It would also mean some of that shift in traffic becomes permanent as motorists who are already facing a cost-of-living squeeze look to avoid the fee.'
Hammersmith and Fulham Council say that they have been asked by the government to pay an unprecedented 33 percent of the original restoration bill, which was initially estimated to be anywhere between £140 million and £163 million. But recent estimates place final costs around at £200 million. Repairs such as these would usually be paid by Transport for London (TfL) and the Department for Transport (DfT), but the historic nature of the bridge has catapulted costs out of the realm of the usual transport budgets. The council insists that they can only raise that amount of money via a road user toll of £3.
Built in 1887, the Grade II-listed West London landmark is one of the world's oldest suspension bridges, which is why it's proving costly to repair. Not only does it need to be safe for road traffic in the twenty-first century, but preserving its unique heritage is crucial. It's constructed from wrought iron and wood, which is held in place by cast iron pedestals, resulting in work which requires specialist skill and materials.
The repairs have been taken on by architect and engineering firm Foster Partners and bridge engineers COWI. It's turned out to be a complicated, multi-phase restoration and renovation, with steel supports even put in place in March to help stabilise the bridge.
Delays in obtaining steel from Ukraine due to the ongoing war have meant that the original date for a full reopening – February 2023 – has been put back too. It doesn't seem like the battle over Hammersmith Bridge will be won anytime soon. 
In more news, phone theft is rife in London at the moment.
Is nothing sacred? Someone's been nicking merch from the big 'Star Wars' exhibition.