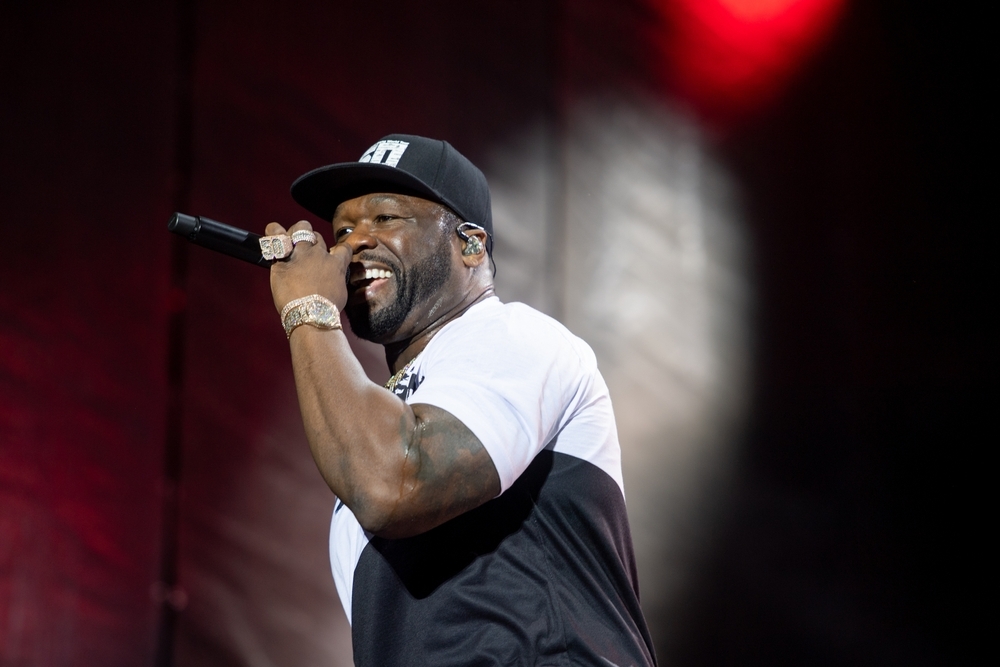 Even if you don't know much about hip-hop, you'll know about 50 Cent. The guy is one of the most legendary rappers ever, with hits like 'In Da Club', 'Candy Shop' and '21 Questions' being some of the biggest pop rap tunes of the century so far.
It's always a big deal when 50 Cent is in town – and that's exactly what's happening this weekend. The rapper has two huge shows lined-up for London's O2 Arena this month as part of his 'The Final Lap Tour', which is celebrating 20 years of his seminal record 'Get Rich or Die Tryin''.
The first of those shows is this Saturday, November 11. From doors and setlists to the support slots, here's everything you need to know. 
When is 50 Cent at London's O2 Arena?
He's playing two shows: one on November 11 and another on November 21.
What time do doors open?
Doors for both shows open at 6:30pm.
What time will 50 Cent come on stage?
Stage times haven't been confirmed. However, the headline slot at the O2 often takes to the stage between 8:30pm and 9pm.
Have they released setlist information?  
There's no official setlist. However, according to Setlist.fm this is what 50 Cent played at a show in Dublin last week.
I'm On Some Shit
What Up Gangsta
I Get Money
Hate It or Love It (The Game cover)
If I Can't
Magic Stick (Lil' Kim cover)
Hustler's Ambition
How We Do (The Game cover)
I.M.P.
Candy Shop
Disco Inferno
Window Shopper
Best Friend
21 Questions
Just a Lil Bit
Big Rich Town
The Woo (Pop Smoke cover)
Ayo Technology
Down on Me (Jeremih cover)
Birthday Sex (Jeremih cover)
Baby by Me
Many Men (Wish Death)
I'm The Man
In da Club
Hate Bein' Sober (Chief Keef cover)
Patiently Waiting
Cuffin' Season
Major Distribution
50 Shot Ya (DJ Kay Slay cover)
Wanksta
Stunt 101 (G‐Unit song)
Poor Lil' Rich
Back Down
Southside
Irregular Heartbeat
Grimy (G‐Unit song)
I'll Whip ya Head Boy
Who is supporting 50 Cent?
On November 11, 50 Cent will be supported by both Busta Rhymes and Jeremih. On November 21, it'll be just Busta.
Can you still get tickets to 50 Cent's tour in London?
There are some tickets available for both shows. The November 11 show is running lower, with tickets starting from £78, while the November 21 has more availability (starting cheaper too, at £66). Find tickets on AXS here.
Did you see that the ExCeL is getting a major makeover?
Stay in the loop: sign up for our free Time Out London newsletter for the best of the city, straight to your inbox.