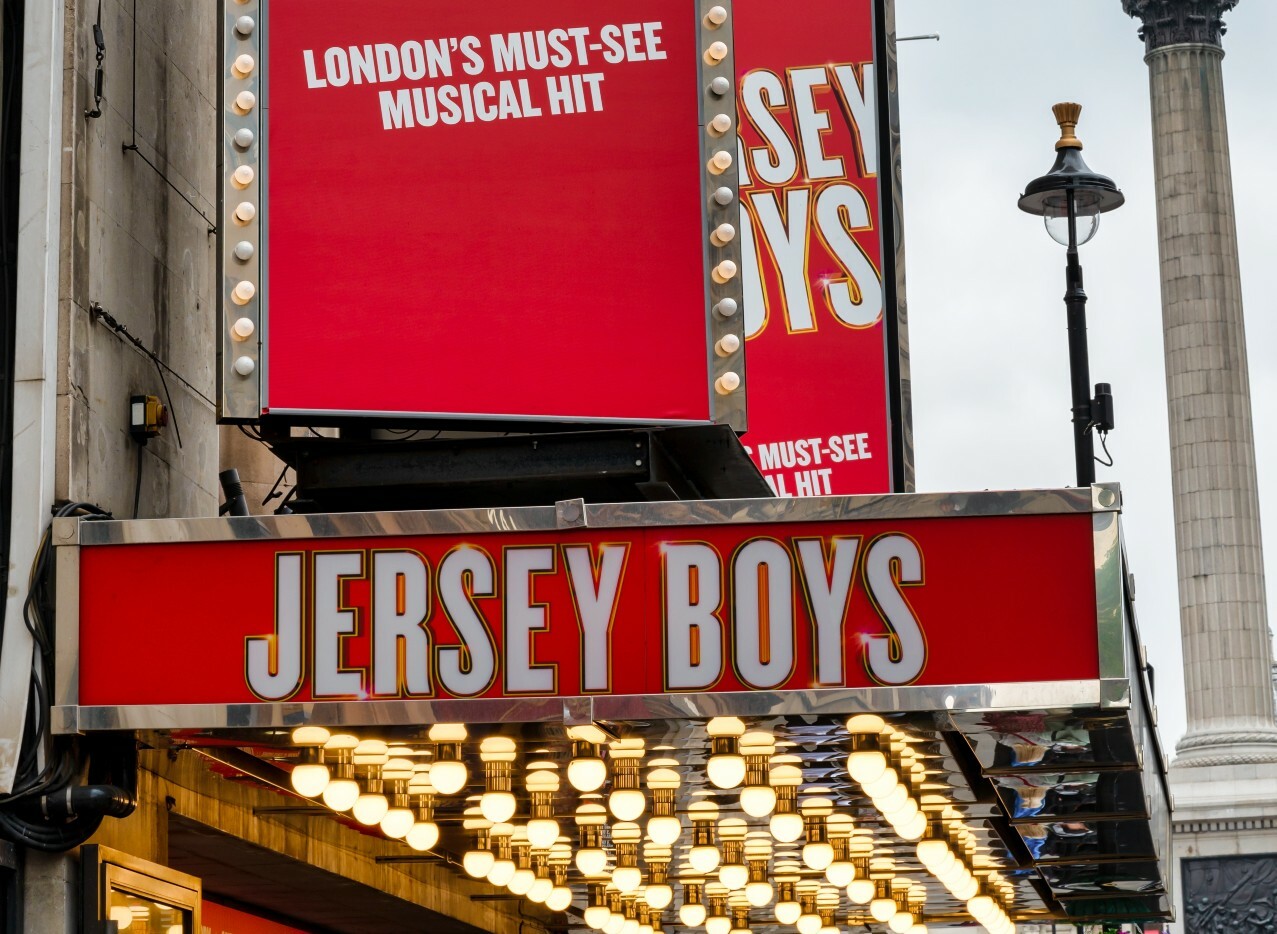 If you haven't seen 'Jersey Boys', the smash-hit musical telling the story of Frankie Valli and the Four Seasons, what have you been doing? Since opening on Broadway in 2005, the show has won Grammy, Tony and Olivier awards. It became Broadway's twelfth longest-running show, and the West End's sixth-longest.
We're here to tell you to watch the musical while you still can, because after 15 years on the West End, 'Jersey Boys' will close in early 2024. 
There are only 12 weeks left to catch 'Jersey Boys', with its final performance taking place at Trafalgar Theatre on January 4 2024. It's been on there since theatres were allowed to reopen after the Covid-19 lockdowns, though initially debuted in the West End at the Prince Edward Theatre in 2008. 
Leading the cast into its final performances are Luke Suri as Frankie Valli, Karl James Wilson (Nick Massi), Peter Nash (Tommy De Vito) and Declan Egan (Bob Gaudio) as The Four Seasons.
Howard Panter, producer for Trafalgar Theatre Productions, said: 'It's been 18 years since the first inception of Jersey Boys, with over 30 million people having seen the musical worldwide and almost 300 actors having donned the famous red jacket.
'It has been magnificent to see London audiences truly embrace the story of Frankie Valli and The Four Seasons over the last three years, with packed houses and standing ovations every night. Fans of the musical can enjoy extra performances over the festive period, and I'm incredibly proud of our talented West End cast who will lead the show into its final performances at the Trafalgar Theatre.'
Andrzej Lukowksi, Time Out London's theatre editor, said: 'Jersey Boys has had two great runs in the West End and I'm now excited about the possibility that the swankily revamped Trafalgar Theatre will finally be the home of a new show.'
These are the best theatre openings in London this October.
Listen to Time Out's brilliant new podcast 'Love Thy Neighbourhood': episode ten with Derren Brown in Hoxton is out now.
Stay in the loop: sign up for our free Time Out London newsletter for the best of the city, straight to your inbox.