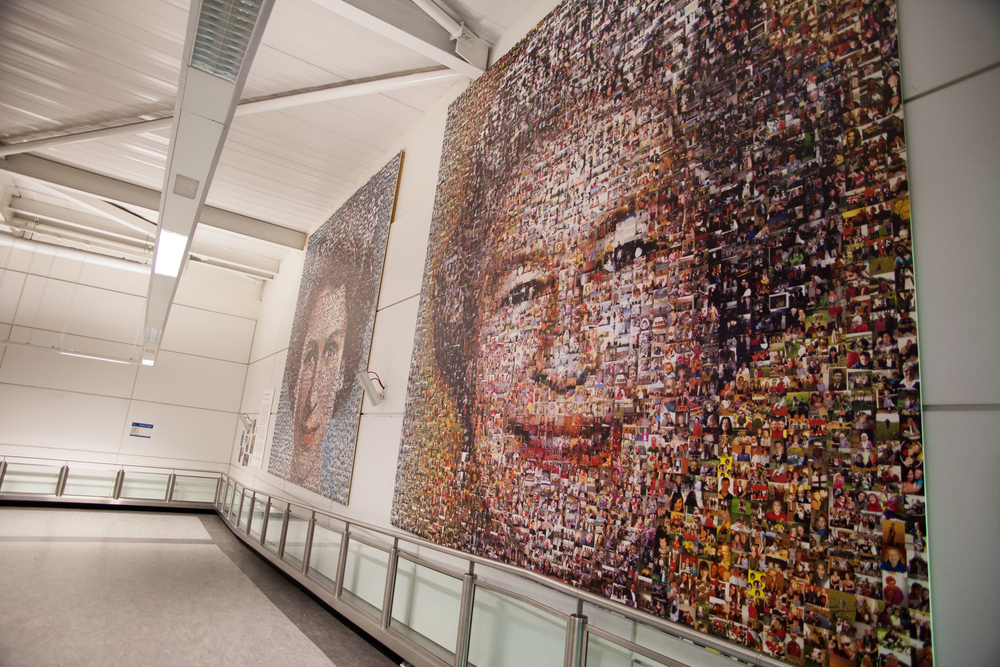 Do you fancy having your face plastered on the side of Alexandra Palace for all of eternity? If you're nodding your head enthusiastically, we have good news for you. Ally Pally is asking for members of the public to send in selfies to become part of a giant artwork to celebrate 150 years since the palace opened. 
Selfies and people's pictures of Ally Pally will become part of an artwork by artist Helen Marshall, known for her mosaics made up of smaller photographs. Marshall previously created a photo mosaic image of Queen Elizabeth II for her Diamond Jubilee, which is on display at Gatwick Airport. 'The People's Monarch' used 5,000 photos of the Queen to make a bigger portrait of Liz. 
If you don't consider yourself a master photographer, don't worry. Marshall is asking for just regular photos and selfies – it's her job to make them into a beautiful piece of art. Once she's gathered all the pictures, the ginormous photo mosaic will be created and displayed in the Palace's East Court as a permanent mural. 
Emma Dagnes, from the Alexandra Park and Palace Charitable Trust, said: 'It is your experience of the palace that we want to celebrate. It could be seeing live music here, learning to ice skate or simply finding a place that feels special to you and your friends.
'We know people who have met their partners for the first time here, been proposed to or seen their children take their first steps. Whatever Ally Pally means to you, we want to hear your stories.'
Marshall said: 'It is indeed a rare event as an artist to be invited to create an artwork for such an impressive location… we will co-create an enormous dreamscape made up of photos and stories capturing the true spirit of the place we all love.'
Isn't that nice?
'By the People: 150 Lifetimes' is due to be on show from early 2024. You can submit your selfies online here.
Listen to Time Out's brilliant new podcast 'Love Thy Neighbourhood': episode seven with Big Zuu in Oxford Circus is out now.
Stay in the loop: sign up for our free Time Out London newsletter for the best of the city, straight to your inbox.