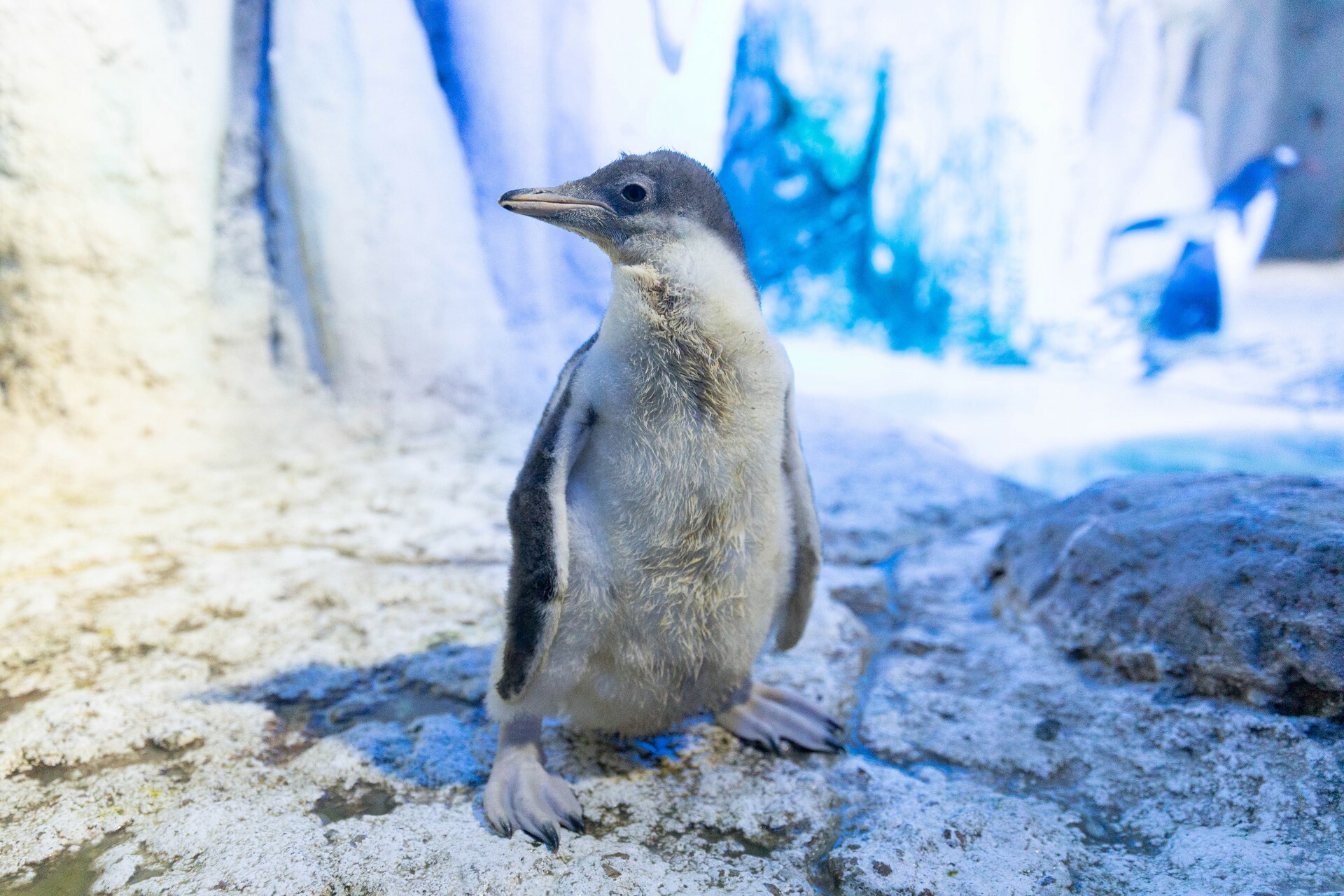 Collective 'awww's can be heard across the city today, because there's a new penguin chick at London's Sea Life aquarium. 
The South Bank aquarium welcomed the wee penguin on June 9, when it hatched weighing 106 grams. Since then it's been carefully looked after by parents Juno and Fry, and the expert aquarist team. 
Currently weighing just under two kilograms, visitors have been allowed to see the chick in Penguin Point since Monday (July 10) this week.  
The sex of the little fluffball is yet to be determined – the chick will be named later in the year when the animal care team knows its gender. 
The baby bird was born into a colony of gentoo penguins, which have white stomachs and orange-red beaks. Usually found in freezing climates, gentoos are typically local to Antarctica – a location that is increasingly under threat from climate change and microplastic pollution. 
Sea Life has operated a successful gentoo breeding programme for a number of years, thanks partly to a European collaborative conservation programme which also led to six penguins being relocated to Denmark in 2022.
Catherine Pritchard, general manager at Sea Life, said: 'We are thrilled to welcome this fluffy little addition to our penguin family, which has filled us all with much egg-citement. We can't wait to see the chick grow and develop under the watchful eyes of its proud parents, Juno and Fry.
'The continued success of our gentoo breeding programme here at Sea Life London Aquarium is down to the fantastic work of our expert animal care team and we look forward to our guests witnessing first-hand the adorable wobbles, playful splashes and hear the heart-melting chirps as the new chick begins its journey in our penguin colony.'
ICYMI: A vast new Disney exhibition is coming to London in October.
Plus: The City of London is now full of awesome new public sculptures.