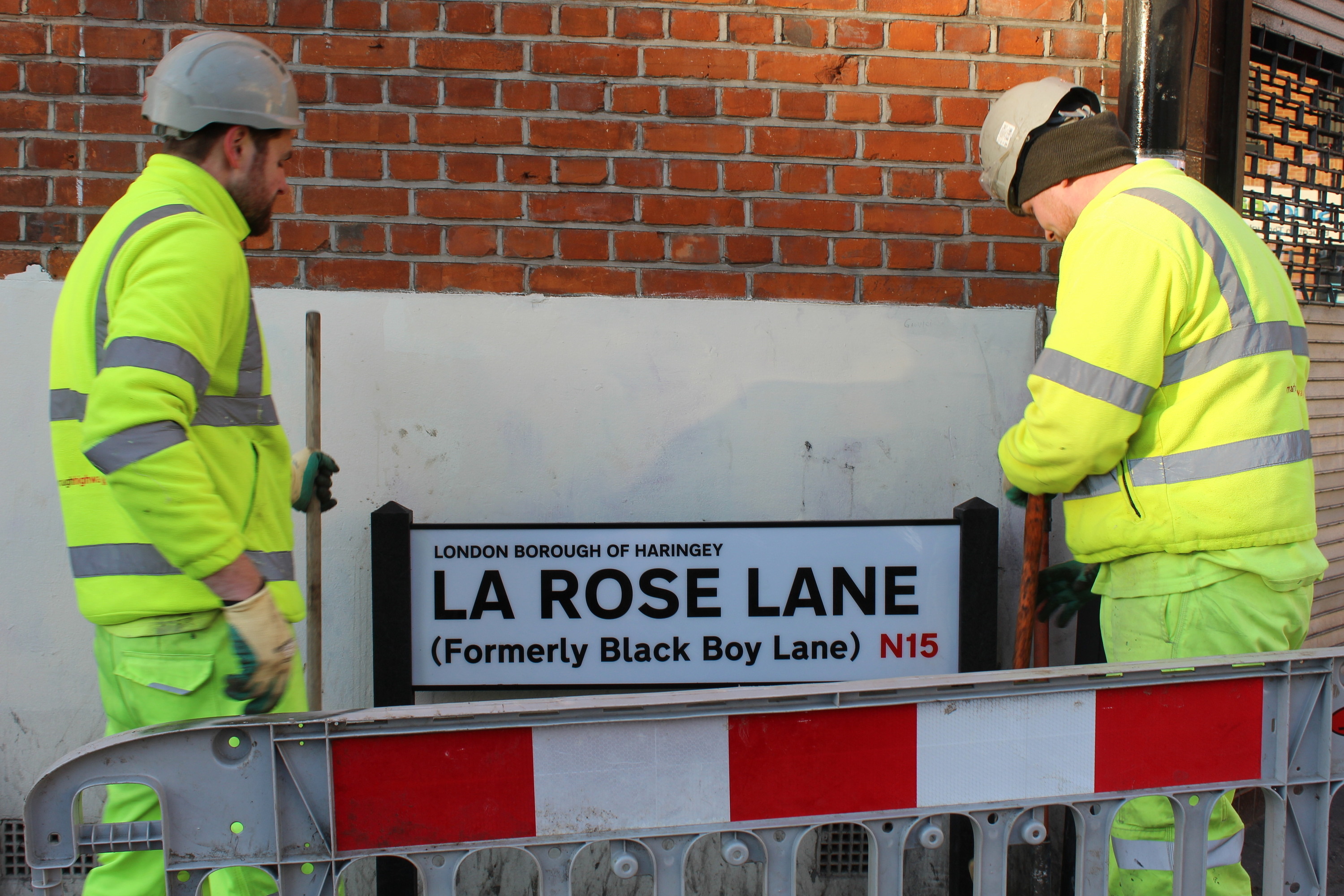 A brand new street sign for the renamed Black Boy Lane in south Tottenham has been vandalised just two days after it was put up.
The road, which is now named 'La Rose Lane' after activist and author John La Rose, changed its name after residents shared concerns over the name's racist connotations. However, after the new sign was erected on Monday January 23, vandals painted over the new name and replaced it with the street's former name.
Many local residents were thought to be against the name change, displaying signs with the street's original name in their windows to express their opposition. 
Peray Ahmet, leader of Haringey Council and councillor for nearby Noel Park in Wood Green shared an image of the graffiti, writing: 'Really sad and disappointed to have been sent this today. This follows a fantastic launch yesterday where we celebrated the life and legacy of John La Rose. What could this ever achieve beyond mindless vandalism.'
A statement released by Haringey Council explained why the name change took place: 'The decision to rename the street as La Rose Lane was made in response to concerns raised by residents that Black Boy Lane had racist connotations and was a source of ongoing hurt for Black people. The decision followed a thorough process of consultation with residents.'
Renaldo La Rose, the grandson of John La Rose – who died in 2006 – added: 'John's family are really proud that John's life and work is to be recognised by having a road named after him.  John's work was of national and international significance but much of it started here in Haringey.  We hope that through having his name memorialised in this way we will bring the message of his work – the urgent need for race equality and justice – to a new audience.'
The Trinidad and Tobago-born Rose was a Haringey resident and helped found New Beacon Books in Stroud Green, as well as the Caribbean Artists' Movement.
South London could be getting new public spaces the size of 194 football pitches