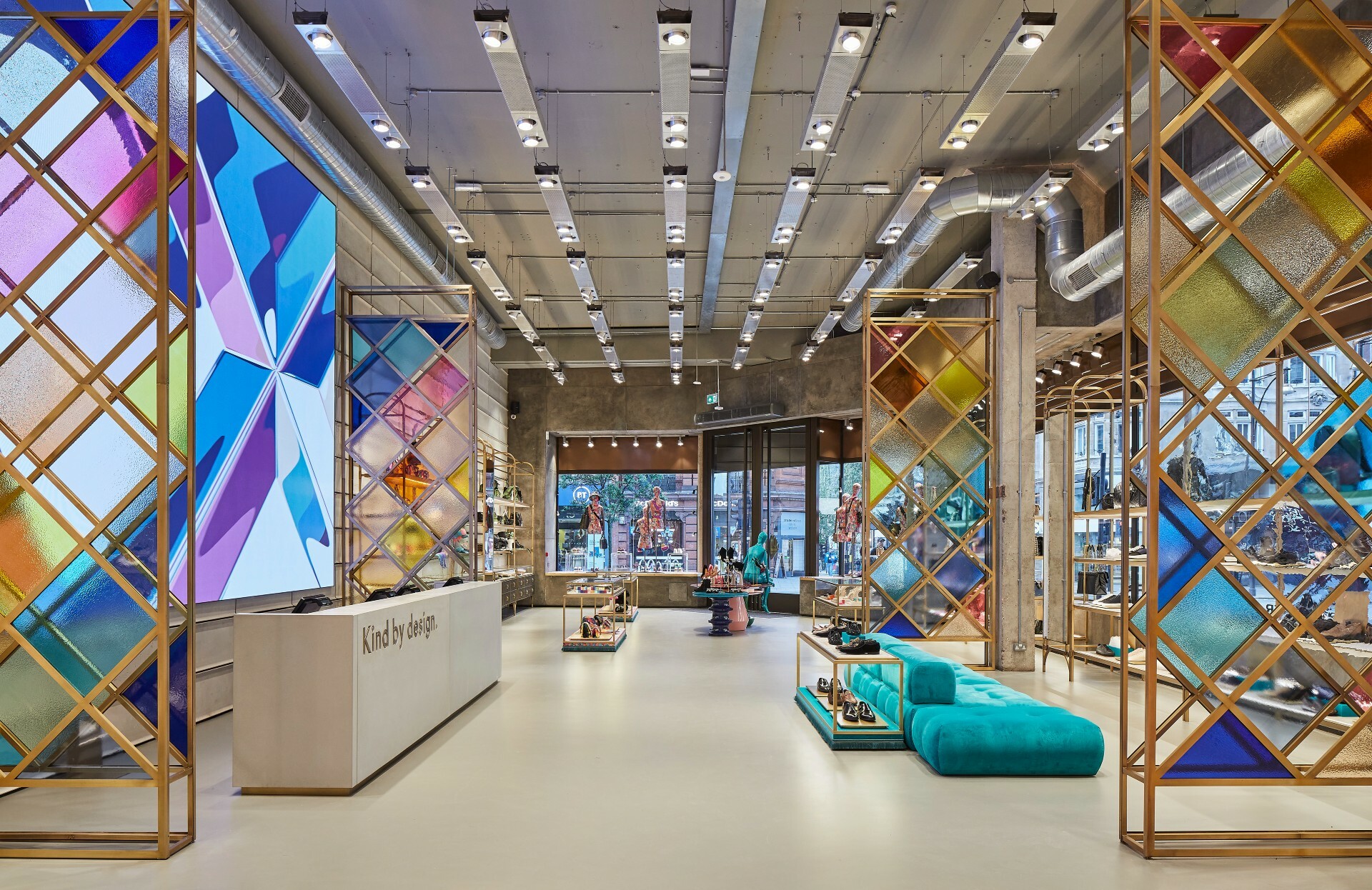 Luxury footwear fanatics, this one's for you. High-end footwear brand Kurt Geiger has opened a brand-new flagship store on Oxford Street – and it's exactly as flashy, colourful and full of flair as you'd expect. 
The designer brand's massive new space is at 272-274 Oxford Street and is spread over a whopping 2,916 square feet. Inside, you'll find huge swathes of colour, an entire floral wall, brass shelving and rainbow-hued glass, as well as, obviously, loads of shoes and accessories. 
The store was apparently envisioned by Kurt Geiger chief creative officer Rebecca Farrar-Hockley and made a reality by architect Stefano Ripoli. 
Up for a sneak peek? Here are a few pics of the place. 
Commenting on the new store's design, Farrar-Hockley said:  'Attention to detail is played through Kurt Geiger's visual signatures which appear subtly throughout the store's design. Antiqued brass eagles, the brand's primary motif, feature on signage, door handles and internal cabinetry, which is quilted in the same parquet pattern as the leather goods.'
Sounds fancy, eh? Kurt Geiger Oxford Street is open and available to visit now. 
As London's biggest and busiest shopping street Time Out naturally keeps a pretty close eye on Oxford Street. From keeping up to date with its upcoming Ikea store and reporting on when the area's famous Christmas lights will be turned on to our guides to its shops and restaurants, we've always got the lowdown on this particularly human-packed bit of the West End. 
Listen to Time Out's brilliant new podcast 'Love Thy Neighbourhood': episode 11 with Ania Magliano in Haggerston is out now.
Stay in the loop: sign up for our free Time Out London newsletter for the best of the city, straight to your inbox.