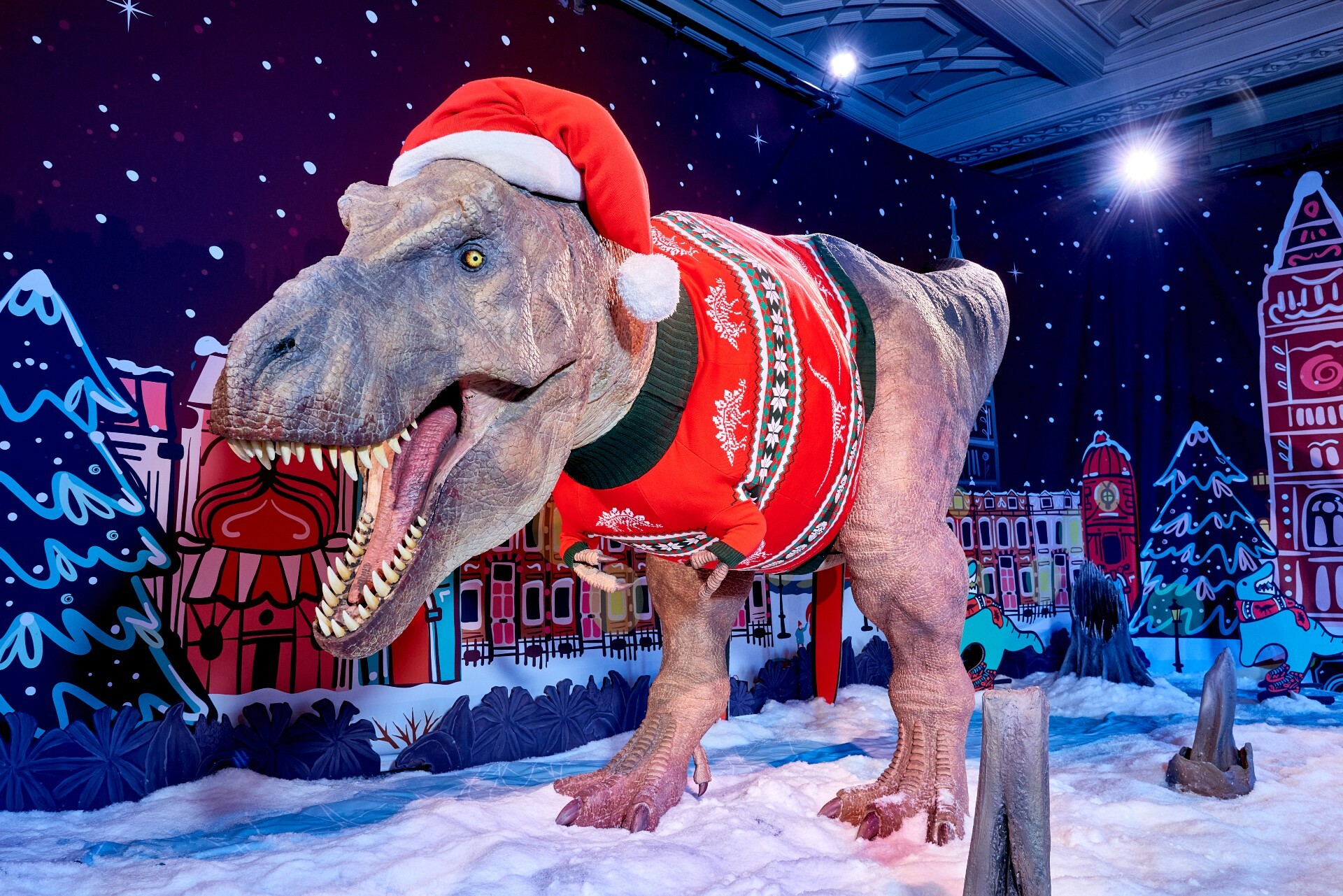 'Tis the season for wearing Christmas jumpers to every single social occasion. And apparently, dinosaurs are taking part in that trend now too. 
The Natural History Museum's (NHM) iconic Tyrannosaurus rex has had a festive glow-up, as the famous giant animatronic T-rex can now be seen sporting a fetching Christmas jumper. Didn't you know? In prehistoric times dinosaurs wouldn't be seen dead without their fair isle knits during December.
Obviously, we're joking, but you can see the famous dino at the NHM now in a fabulously festive Christmas display. As well as the wooly jumper, it's donning a Santa hat and has been placed inside a set depicting a snowy London. 
This year's ferociously festive jumper design features some of the museum's most beloved dino skeletons. Namely, Stegosaurus, Tyrannosaurus Rex, and Patagotitan Mayorum Mo – one of the largest known creatures to have ever walked our planet and the star of NHM's current exhibition, 'Titanosaur: Life as the Biggest Dinosaur' (which Time Out also gave five stars to).
The knit was specially made to fit the T-rex's mammoth body and tiny little arms by Jack Masters, a family-owned business based in Leicester. It's made from entirely sustainable materials, with a blend of 60 percent recycled cotton and 40 percent recycled polyester, the latter made from locally recycled plastic bottles.
Here are some more pictures of the big fella. 
Find out more about visiting the NHM and seeing Santa Claws on Time Out's guide to the museum here. 
Did you see that TfL is holding auditions for new buskers on the tube?
Stay in the loop: sign up for our free Time Out London newsletter for the best of the city, straight to your inbox.