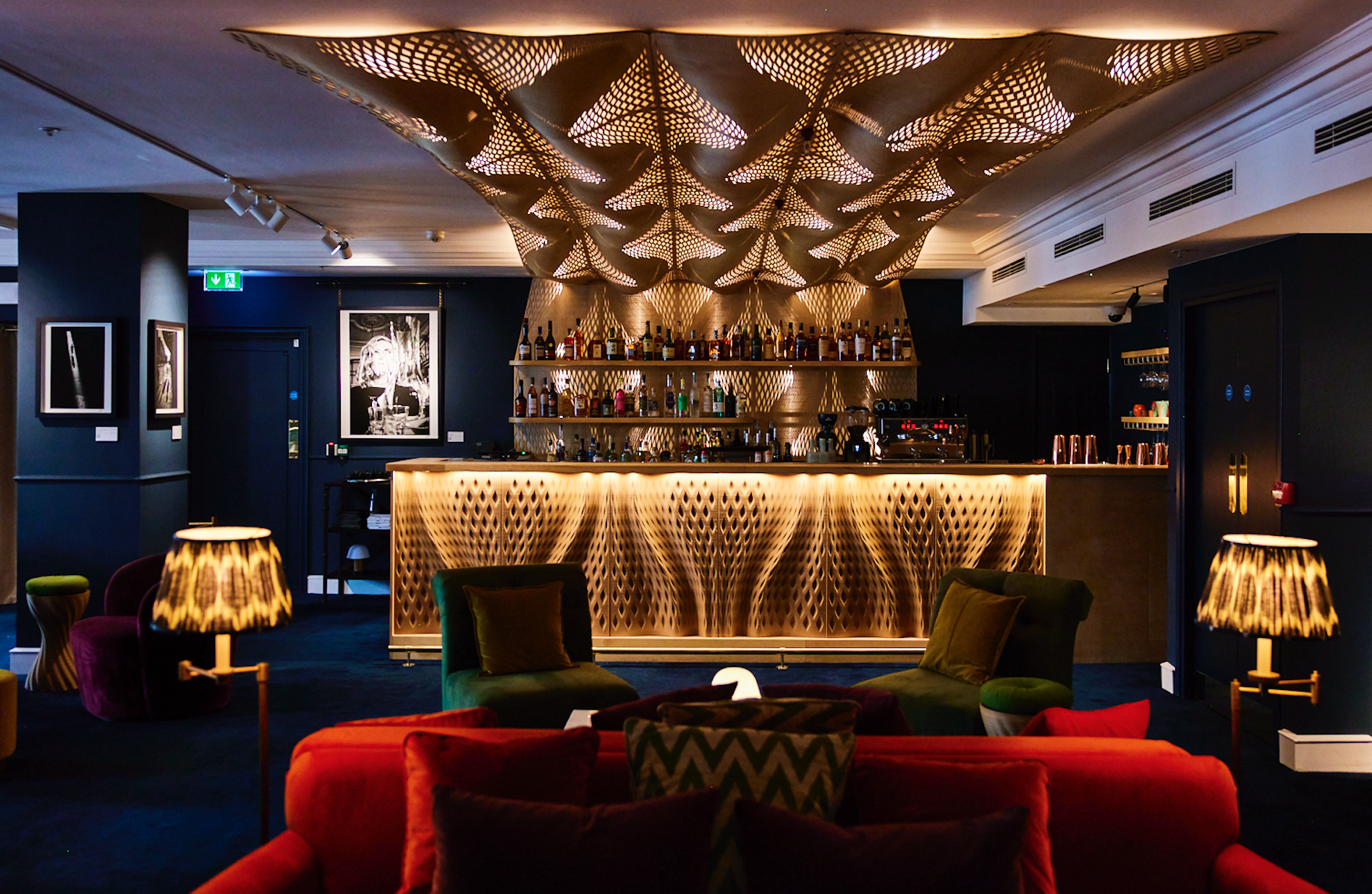 Fortnum & Mason isn't just London's poshest supermarket, it's also home to one of the city's most intriguing bars.
Step forward the brand new iteration of their third floor cocktail quaffing joint 3'6, which has had a total rehaul and now resembles the inside of an AI goblin's mind – but y'know, nice and welcoming. In conjunction with French architect Arthur Mamou-Mani (who made the world's largest ever 3D printed sand pavilion for Burning Man in 2018) the digitally-designed bar has been redone with fancy tech and biomaterials, with parts of the bar made of compostable, fermented sugar. 
This is no longer your nanna's cocktail bar. 
The ceiling is now covered with 3D printed wooden waves, and almost everything else in the bar is the product of digital fabrication, including the stools and ceramic goblets. The space will now also host rolling exhibitions – the first from photographer, Alan Schaller – as well a being something of a work of art itself. 
That's all well and good, but what of the booze, we hear you ask?! Well during the day it'll be a bookable workspace (yes, you can now tell people your office is Fortnum & Mason) and in the evening it's where cocktail king Mustafa Tumburi will be let loose on some serious mixology; a little it of clarifying here, a little bit of dehydrating there, and a smidge of nitrogen aged spirits to boot. 
There will be six house specials, from The AOC – with Dubonnet, sparkling tea, an activated charcoal suspension and vodka made from rescued citrus peel – to The Tesseract, made from nitrogen aged rye whiskey, armagnac, rosé vermouth and grey tea. 
181 Piccadilly, St. James's, W1A 1ER