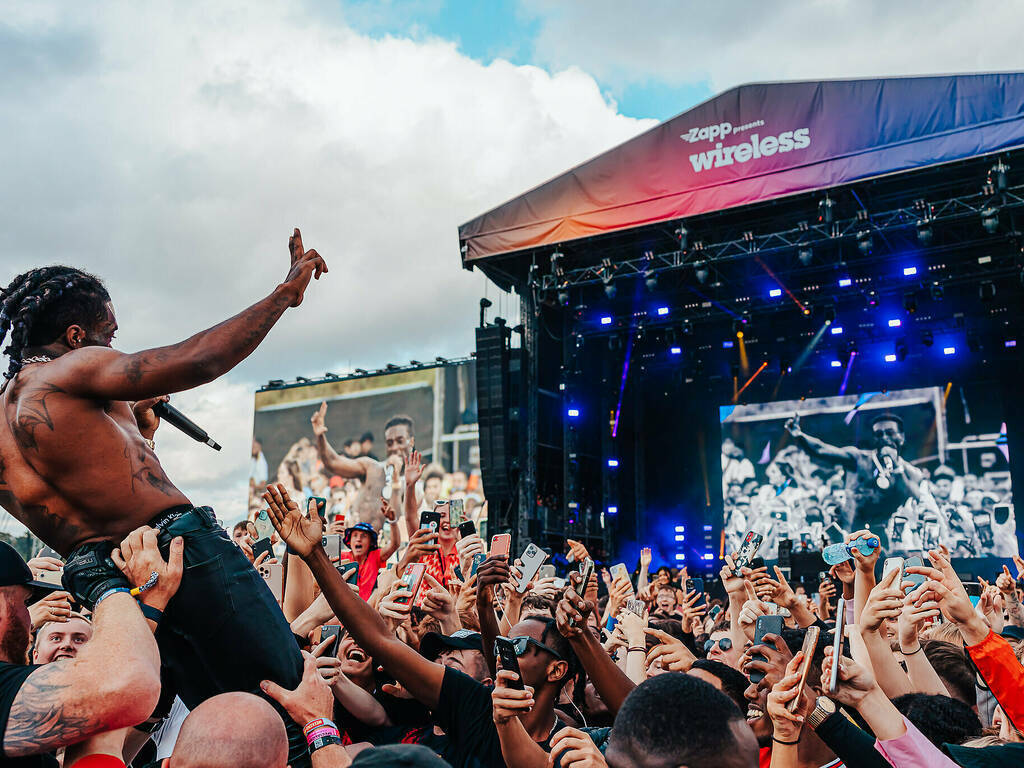 Wireless Festival is back at Finsbury Park this weekend (July 7-9) with a mega lineup featuring Playboi Carti, Travis Scott and Ice Spice. It's set to be a right laugh. But before you grab your journey juice and head to the north London park, you should be aware that the three-day event is operating a very strict bag policy, with attendees not allowed to bring any bags larger than an A4 piece of paper (W21cm x H30cm x D8cm). 
Wireless has published a list of prohibited items lengthier than the bar queues at Pulp last weekend. Some of the forbidden items make sense, like weapons, blowtorches and drones. Others are a bit more… random. Make sure not to bring any animals (other than registered hearing or guide dogs), catapults or metal drinking bottles. The festival has also banned Chinese lanterns, cool bags and cutlery, so leave your spork at home.  
Here's the full list of items not to bring to Wireless Festival:
Aerosols over 250ml

Air Horns/megaphones

Alcohol

All gas canisters of any size (including nitrous oxide)

Animals (other than registered hearing dogs or guide dogs)

Any goods for unauthorised trading with unauthorised logos

Anything that could reasonably be considered for use as a weapon including oversized lighters or any item which may cause danger, offence or disruption to any other person

Audio recorders

Bags larger than A4 size

Balloons

Blowtorches

Cameras, film or video equipment. Lenses must be less than 6 inches. **Please note, professional cameras and video / audio equipment are strictly prohibited.

Cans

Catapults

Chairs/stools / inflatable loungers/floor seating / shooting sticks

Chinese / sky lanterns/paper lanterns

Clothing/garments/items which promote cultural appropriation

Cooking apparatus/cutlery

Cool bags/boxes (large)

Disposable vapes – Do not bring single-use disposable vapes. They pollute the environment and incorrect disposal of these can be hazardous at waste centres.

Drinks of any size (sealed or unsealed)

Drones and other flying devices

Excessive amounts of food (i.e. more than for personal consumption)

Face covering(s) or balaclavas

Fireworks/pyrotechnics, flares/distress flares

Flags with poles

Food (small amounts for personal consumption permitted)

Gazebos and parasols

Gas cylinders/canisters

Glass bottles, jars, and containers (including glass makeup and perfume bottles)

Liquids, gels or lotions (over 100ml)

Illegal Substances (drugs) and legal highs, herbal highs, new psychoactive substances and unidentifiable substances – including Nitrous Oxide

Laser pens

Megaphones

Metal drinking bottles

Nitrous oxide and any items associated with the taking of NPS and NOS (including but not limited to balloons, whipped cream dispensers, water crackers / CO2 dispensers)

Penknives

Perfume and makeup (over 100ml)

Portable laser equipment and pens

Professional cameras including professional camera equipment (e.g., camera stand, lenses, and selfie sticks)

Selfie sticks

Skateboards and rollerblades, hover-boards, scooters, bicycles, and other personal motorized and non-motorized vehicles

Sound systems (including personal speakers)

Spray cans

Umbrellas **Small/folding umbrellas are permitted**

Unauthorised professional film or video equipment, radios or walkie talkies

Unauthorized solicitation or marketing materials (e.g., handbills, flyers, stickers)

Unofficial tabards and reflective/high-vis jackets

Weapons
More great music: The best gigs and concerts in London this July. 
Try this for a post-festi snack: Yard Sale has teamed up with Sonora Taqueria for a beef taco pizza