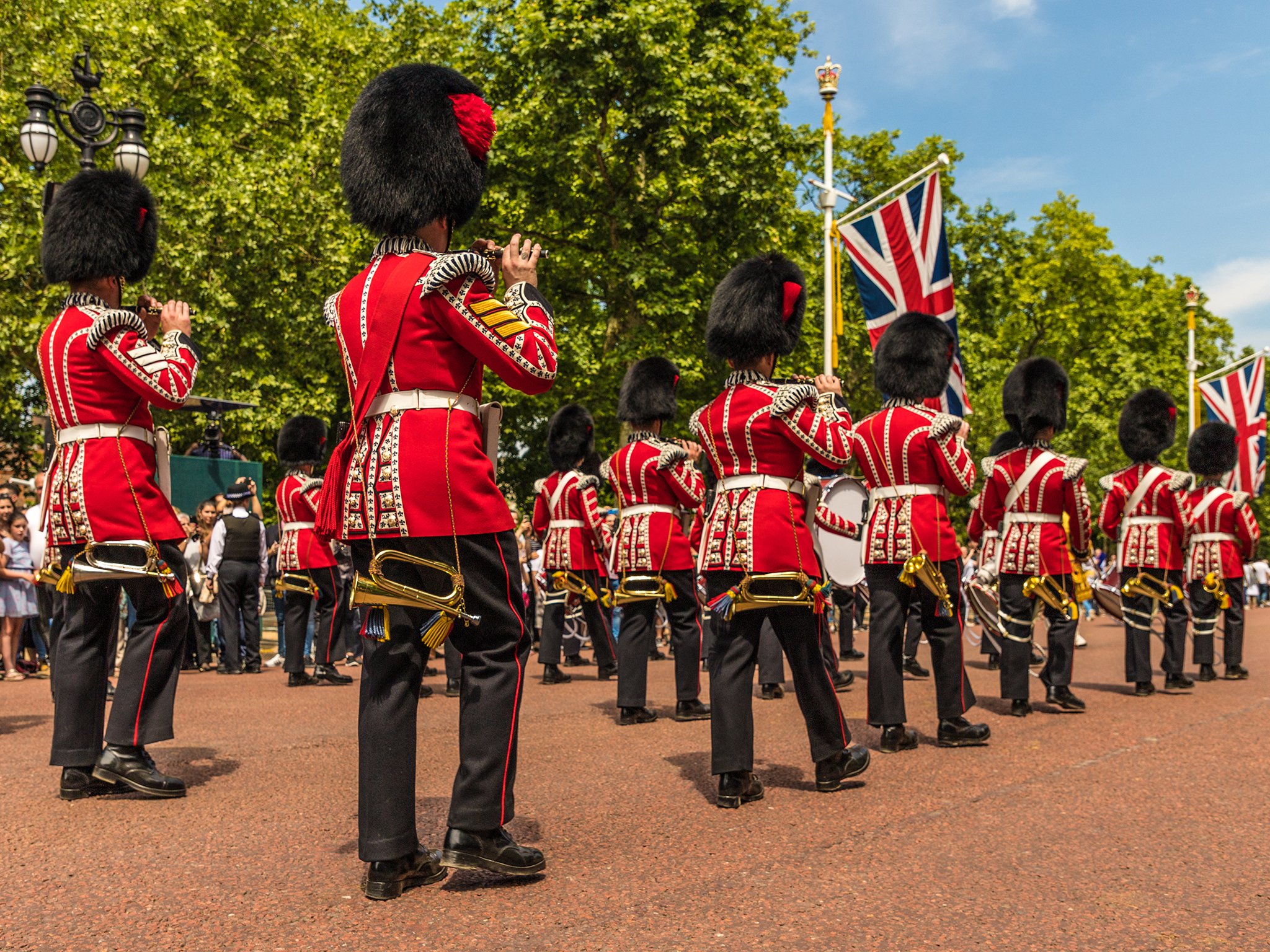 You can hardly take a step in central London these days without stumbling upon some kind of royal-related rigmarole, each with its own ludicrous nickname. Platty jubes, statty funes, corrie naish, what next? Well this weekend, it's King Charles III's first ever birthday in the top job, and unlike the rest of us, he won't settle for Colin the Caterpillar and hastily wrapped multipacks of socks from his nearest and dearest. 
Instead, he'll be treated to a birthday parade, a military spectacle laid on by London's Horse Guards that involves 1400 officers and men, 200 horses, and 400 musicians with their drums, all strutting their stuff for the King's personal inspection. So if you're a sucker for a bit of precision-engineered pomp and circumstance, here's where to head to watch the pageantry unfold.
When is Trooping the Colour 2023?
The ceremony will unfold all day on Saturday June 17. Fact fans will be interested to know that's not Chazza's actual birthday (which is on November 14) but is instead a separate date, picked because it's a bit nicer to parade around town when the weather's sunny. 
What are the times for Trooping the Colour?
The action kicks off at 10am, with spectators taking their places on The Mall or the edges of St James's Park overlooking Horse Guards from 9am.
What time is the flypast?
The RAF flypast is one of the day's highlights, with King Charles III and Queen Camilla coming out on the balcony of Buckingham Palace to watch aircraft including the Red Arrows, Spitfires and Hurricanes gliding over London. It will take place at 1pm, after the parade.
What is the route?
The parade begins at Buckingham Palace before proceeding along The Mall to Horse Guards Parade, Whitehall, and then returning back to Buckingham Palace again.
How to watch Trooping the Colour
There are seated stands on Horse Guards Parade to watch the action from, but unfortunately those were all allocated by ballot back in April. Still, there's room to stand on The Mall or on the edges of St James's Park overlooking Horse Guards: turn up from 9am to bag your spot. If you don't go down in person, highlights will be broadcast on BBC One from 6.15pm.
What is the meaning behind Trooping the Colour?
In this context, 'colour' refers to the regimental flags used by the British Army. These flags were pretty vital in pre-20th century warfare, because it was easy for soldiers to become lost on the battlefield if they weren't familiar with the colours and designs of each regiment. So the army invented the practice of trooping, where young officers would march past each troop, their flags held high. 

This ceremony was first held during the reign of another royal chazza, King Charles II (1660-85), and became a birthday tradition in the time of George III in 1760. So King Charles III is getting his first taste of a centuries-old tradition on Saturday: let's hope he enjoys his right royal knees up. 
The National Portrait Gallery is finally reopening next week.