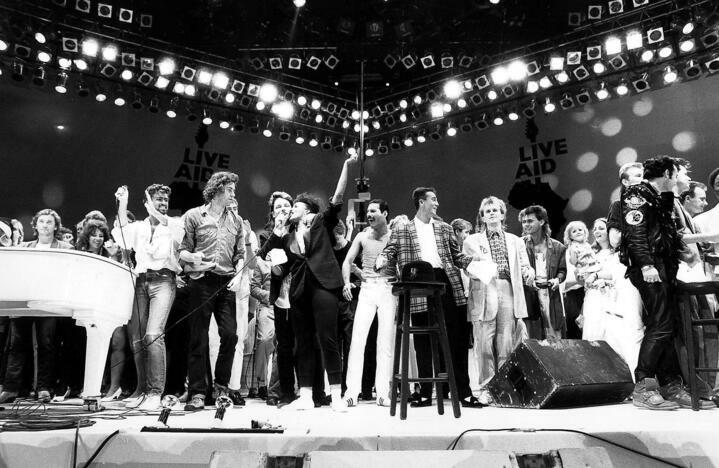 Lovers of all things '80s, rejoice! One of the most famous concerts of all time, Live Aid, is being turned into a stage musical, and Sir Bob Geldof himself has given his stamp of approval.  
Some of us will have witnessed this concert when it was originally performed and broadcast, all the way back in July 1985. To others, it's an iconic gig our parents wax lyrical about. 
But now, thanks to John O'Farrel, the guy behind the Mrs Doubtfire musical, and Luke Sheppard, musical director of & Juliet, a show all about this legendary show will be performed in London. 
Due to grace the stage of The Old Vic Theatre from January 26 and until March 30 2024, the musical is entitled Just For One Day, after the infamous line from David Bowie's Heroes. 
The original concert, which was performed in London and Philadelphia, was organised by Geldof and Midge Ure to raise money for famine relief in Ethiopia, and reached a global TV audience of an estimated 1.5 billion. However, Geldof has warned attendees not to expect a re-enactment of the gig. 
'This isn't a tribute thing … there isn't a person dressed up as Freddie wearing a crap moustache. The songs drive the drama along,' he told the BBC. 
Instead, the show tells the behind-the-scenes story of how the concert came together, including a love story inspired by real events. Geldof says that real testimony from the day has been used as inspiration for the story. 
But don't worry, songs played by acts like Sting, Queen, U2, Sir Elton John and Sir Paul McCartney will definitely feature in the show. 
What's more, despite the two creators' apprehension when pitching their idea to Geldof, he said he and other Band Aid trustees were absolutely astonished by what they'd witnessed in some workshops. 
'We were blown away. I have to say there was not a dry eye in the house,' says Geldof. The iconic singer-songwriter will be portrayed by Craig Els, who's appeared in Dr Who and Ripper Street — and apparently he's got Geldof's trademark swearing down to a 'T'. 
Tickets for the show aren't on sale just yet, but keep an eye on The Old Vic's website for more information here.
Check out our list of the best new London Theatre openings in October. 
Listen to Time Out's brilliant new podcast 'Love Thy Neighbourhood': episode eight with Hans Ulrich Obrist in South Kensington is out now.
Stay in the loop: sign up for our free Time Out London newsletter for the best of the city, straight to your inbox.