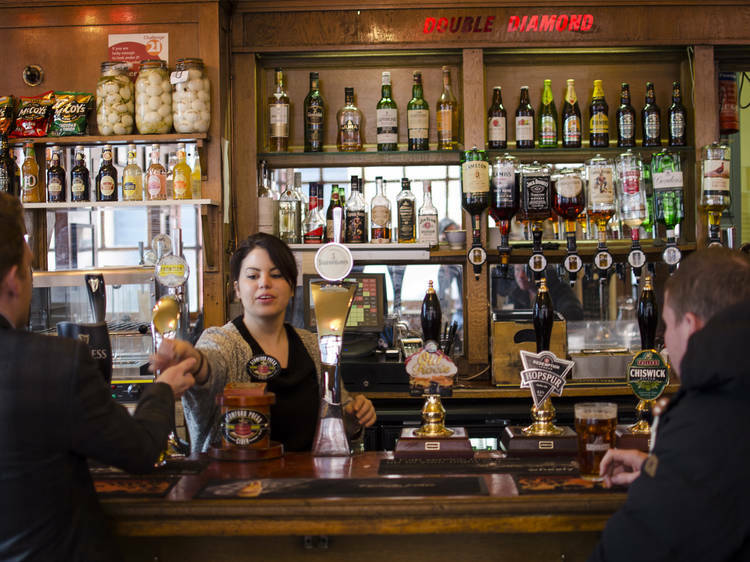 Sad news, pint fans: pubs in London are closing down at record rates as the cost of living crisis bites. A new study has found that the Big Smoke lost 46 boozers in just six months – the highest number of pub closures of any area of England this year.  
According to the study by real estate analysts Altus Group, boozers are shutting their doors at alarming speeds across the country. The data found a total of 383 pubs closed across the UK during the first six months of the year, almost matching the total for the whole of 2022, when 386 watering holes were lost.
During the first three months of 2023 an average of 51 pubs closed down every month, which rose to 77 a month between April and June.
Wales is the worst affected place in the UK for pub closures: during the first six months of this year 52 drinking spots in Wales vanished. But London is close behind, thanks to its soaring rents, high cost of living, and the abundance of competition for locals' nightlife spending. It's small wonder that pubs are struggling to stay open – no matter how many loyal customers they might have. 
In a scheme set up by Chancellor Jeremy Hunt, pubs across the UK are currently entitled to a 75 percent discount off their business rates bills, but this is due to finish on March 31 2024.
Alex Probyn, president of property tax at Altus Group, warned more venues would shut down unless the chancellor extended business rates relief beyond spring 2024. 
Probyn said: 'With energy costs up 80 percent year-on-year in a low growth, high inflation and high interest rates environment, the last thing pubs need is an average business rates hike of £12,385 next year.'
Hopefully Jezza does something before more boozers are gone for good. 
Get down to one of the best pubs in London… while you still can. 
Listen to Time Out's brilliant new podcast 'Love Thy Neighbourhood': episode nine with Fern Brady in Catford is out now.
Stay in the loop: sign up to our free Time Out London newsletter for the best of the city, straight to your inbox.