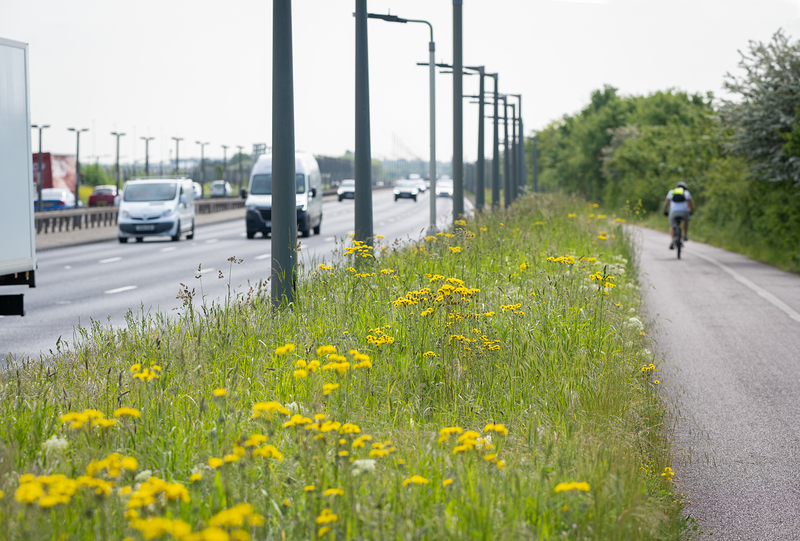 Just in time for summer, TfL has doubled the amount of wildflower meadows planted on roadsides across London. An additional 74,000 sqm of wildflower verges have been planted across the city, making the total of flowery meadows now equivalent to the size of 18 football pitches. 
Wildflower verges can take years to develop and are only in bloom for a limited time every year. To allow flowers to blossom, TfL had to reduce the frequency it mowed patches of grass on roadsides. More than just looking pretty, wildflowers encourage biodiversity and help bees, butterflies, birds and small mammals to thrive on their supply of nectar. Helping to mitigate climate change, more flowers also means more carbon can be stored in the soil.
Following a trial, TfL expanded the meadows to even more sites over the city. You'll be able to spot the flowers at Gants Hill roundabout in Redbridge, Clockhouse roundabout in Feltham and on the A21 Sevenoaks Road (Green Street Green) in Bromley.
The new meadows will be monitored closely 
Shirley Rodrigues, Deputy Mayor for Environment and Energy, said: 'London can be greener healthier and home to more exciting creatures. To achieve this goal it's vital that TfL continues its work to double the area in the city covered by wildflower verges.
'Working together we can all help build a better London for everyone – the people and the pollinators that call it home and who benefit from a greener, fairer and more prosperous city.'
ICYMI: Anna Wintour is planning London's answer to the Met Gala.