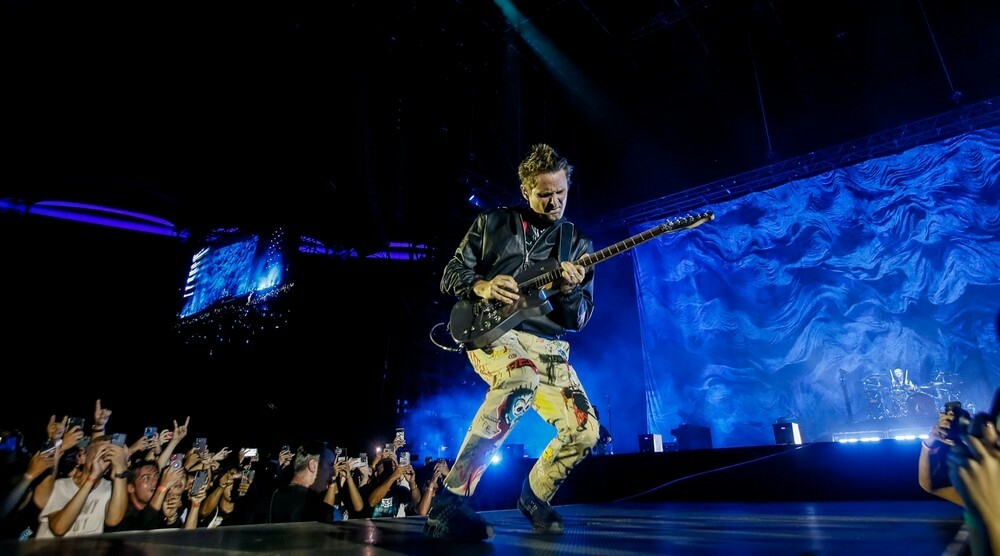 When Muse come to town, they're out to blow your freakin' mind. Spaceships, drones, lasers, pyrotechnics: you name it, a Muse show has it. Matt Bellamy, Chris Wolstenholme and Dominic Howard have a rep for being an absolutely unmissable live act.
Plus, Muse have more than their fair share of thumping tunes. From 'Knights of Cydonia' and 'Hysteria' to 'Starlight' and 'Plug In Baby', the Devon trio have pumped out dozens of bangers over nearly three decades.
As Muse fans will no doubt already be well aware, the band are in London for not one but two dates at the massive O2 Arena in Greenwich. The shows are part of the 90-date 'Will of the People' world tour and are the trio's first London gigs since two tiny dates at the Eventim Apollo back in May 2022. Here's everything you need to know about the shows, from doors and support slots to ticket availability.
RECOMMENDED: New Order at London O2 Arena: timings, setlist, tickets and everything you need to know.
When are Muse playing at London's O2 Arena?
The band are playing on Sunday, October 1 and Monday, October 2. 
What time will Muse come on stage?  
Muse haven't yet revealed exactly when they'll come on stage. However, from previous tour dates we'd expect them to start playing at around 8:15-8:30pm on October 1 and 8:45-9pm on October 2.  
Who is supporting Muse at London's O2?
Support comes from Nova Twins, a London duo known for their rebellious splurges of noisy pop rock.
What's the potential setlist?
The setlist is subject to change, but this is what Muse played at a Dublin show earlier this week. 
Will of the People
Hysteria
Psycho
Butterflies & Hurricanes
Won't Stand Down
Compliance
Thought Contagion
Apocalypse Please
Time Is Running Out
The 2nd Law: Isolated System
Resistance
You Make Me Feel Like It's Halloween
Madness
We Are Fucking Fucked
The Dark Side
Supermassive Black Hole
Plug In Baby
Behold, the Glove (Matt Bellamy song)
Uprising
Prelude
Starlight
Kill or Be Killed
Knights of Cydonia
What time do doors open?
Doors open at 6pm on October 1 and 6:30pm on October 2.
Can I still get tickets for Muse's 'Will of the People' tour?
Tickets are available for both London dates on AXS here, starting from £56. 
Tickets are also available for the rest of the 'Will of the People' tour, which you can find more details about on the official tour website here.
Listen to Time Out's brilliant new podcast 'Love Thy Neighbourhood': episode eight with Hans Ulrich Obrist in South Kensington is out now.
Stay in the loop: sign up to our free Time Out London newsletter for the best of the city, straight to your inbox.