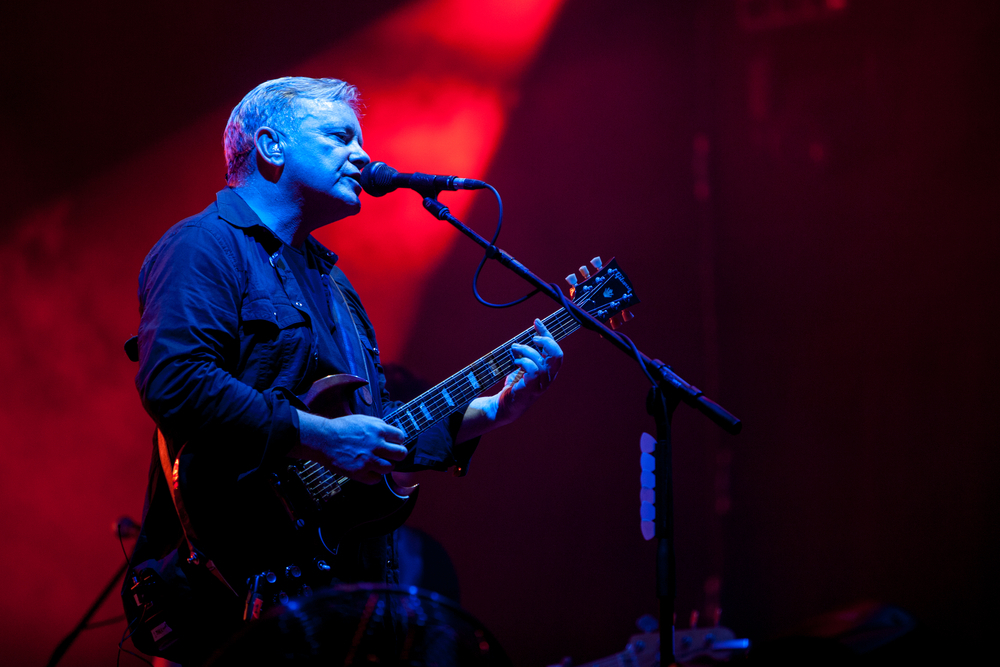 Whether you've been a fan since the days of Joy Division or you got into them thanks to the ongoing football tournament popularity of 'World In Motion', New Order's popularity spans generations. And there's a good reason for that: not only do they have plenty of phenomenal studio material, they're also an awesome live band.
With sets packed full of danceable pop, chantable anthems, Joy Division throwbacks and much, much more, you don't want to miss New Order when they're in town. And that's exactly where they are this week: the Manchester band are in London for a huge show at the O2 Arena in Greenwich.
Supported by much-hyped Aussie duo Confidence Man, the show is primed to be an intergenerational feast of all things synthpop. New Order's show is on Friday, September 29 – from doors and tickets to the setlist, here's everything you need to know. 
When are New Order playing at London's O2 Arena?
New Order are playing the O2 tomorrow, September 29.
What time will New Order come on stage?
New Order haven't yet confirmed stage times. However, the band tends to come on at about 8:45-9pm. Get in earlier (8:30pm or so) if you want to play it extra safe.
When do the doors open?
Doors open at 6:30pm, though you can get into the O2 earlier than that to access its selection of restaurants, bars and shops.
Any news on the setlist?
New Order tend to tweak their setlist for every show. However, this was the setlist for a recent show in Paris.
Crystal
Age of Consent
Ceremony
Restless
Shake It Up
Isolation (Joy Division cover)
Your Silent Face
World
Be a Rebel
Waiting for the Sirens' Call
Sub-culture
Bizarre Love Triangle
Plastic
True Faith
Temptation
Blue Monday
Atmosphere (Joy Division cover)
Love Will Tear Us Apart (Joy Division cover)
Who is supporting New Order at the O2?
Get down early (at about 7:30pm or so) to catch Confidence Man, a synthpop duo from Brisbane, Australia.
What time will New Order's show finish?
The show will wrap up by the O2 Arena's Friday curfew, which is 11pm. 
Are there any tickets left?
A few tickets are still left, starting from about £50. Find tickets on AXS here. 
What's the London O2's bag policy?
The O2 allows each guest to bring in one bag that is sized A4 or smaller. You can bring a larger bag, but it must be left in a baggage storage facility with a £10 cost.
Listen to Time Out's brilliant new podcast 'Love Thy Neighbourhood': episode eight with Hans Ulrich Obrist in South Kensington is out now.
Stay in the loop: sign up to our free Time Out London newsletter for the best of the city, straight to your inbox.