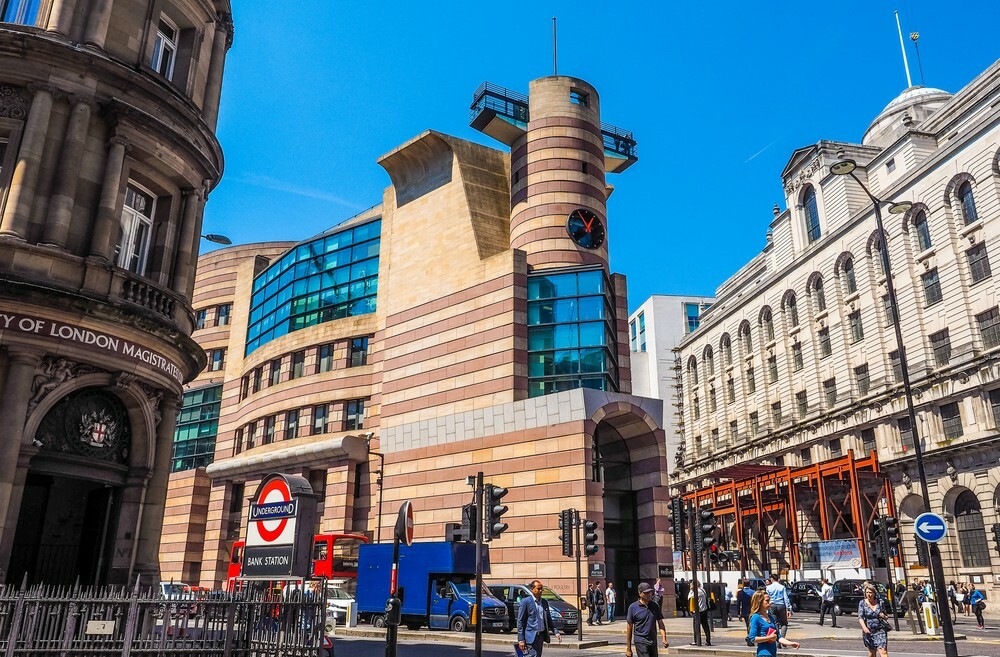 In a twist worthy of any classic London tale, No 1 Poultry has gone from the depths of architectural disdain to being a glorious structure worthy of preservation. 
Once christened the fifth ugliest building in the city by our own faithful readers, No 1 Poultry is a postmodern enigma that now stands as one of the UK's youngest protected buildings. It's a real ugly-duckling-to-swan-type story, one that shows how attitudes change over time – especially when it comes to stuff that is controversial and eye-catching.
If you've ever strolled around the Bank Underground station, you've likely encountered No 1 Poultry (the audacious wedge-shaped building is hard to miss). While opinions on its aesthetics may differ, there's no denying that it makes an impression. Designed by James Stirling, No. 1 Poultry defies conformity with its pink-and-yellow limestone stripes, standing as an ode to postmodern architecture. This provocative choice of design element and its audacious placement make it a true marmite building – but love it or hate it, you can't ignore it.
The story behind No 1 Poultry's transformation is a rollercoaster of architectural taste and preservation battles. Original architect Mies van der Rohe in the 1970s was disapproved by Prince Charles, while his successor James Stirling died before construction could start. It was then left to Michael Wilford to see his late fellow architect's work through, with the result being an artistic compromise that, by the time of its completion in 1998, already straddled the line between bold and out-of-date.
By 2016, the public sentiment had evolved from mild disdain to a downright uproar and calls for its demolition reached a fever pitch. Yet these attitudes towards No 1 Poultry inadvertently rallied support for its preservation. The government finally gave a response to the debate by granting No 1 Poultry a Grade II-listed status (which, essentially, means that it is 'of special interest, warranting every effort to preserve it'). This makes it an official historic building.
Today, No 1 Poultry remains a testament to London's love for architectural diversity. Its unconventional form and vibrant exterior continue to spark impassioned conversations among Londoners and visitors alike. Reviews on Google and TripAdvisor range from amused bewilderment to strong urges of discomfort.
One user expressed his conflicted feeling over the building, writing: 'It's colourful, looks like it was inspired by Lego and anywhere else, I would like it. As it stands in Bank amongst some grand old buildings, it just seems oddly out of place.'
Another didn't mince words to express his disgust: 'I get a shiver down my spine every time I walk past this horror show. A building that looked dated before it was even finished. When I think of what was demolished to make way for this stripy dollop of towering awfulness, I have to reach for the hankies. Only in Britain.'
As for us? Well, let's say we've warmed to No. 1 Poultry. And that might be for the better – after all, given it's officially listed, it'll likely be here for a good while yet. 
Time Out's brilliant new podcast, 'Love Thy Neighbourhood', is out now. Listen to the third episode with Doc Brown in Kilburn. 
Stay in the loop: sign up for our free Time Out London newsletter for the best of the city, straight to your inbox.