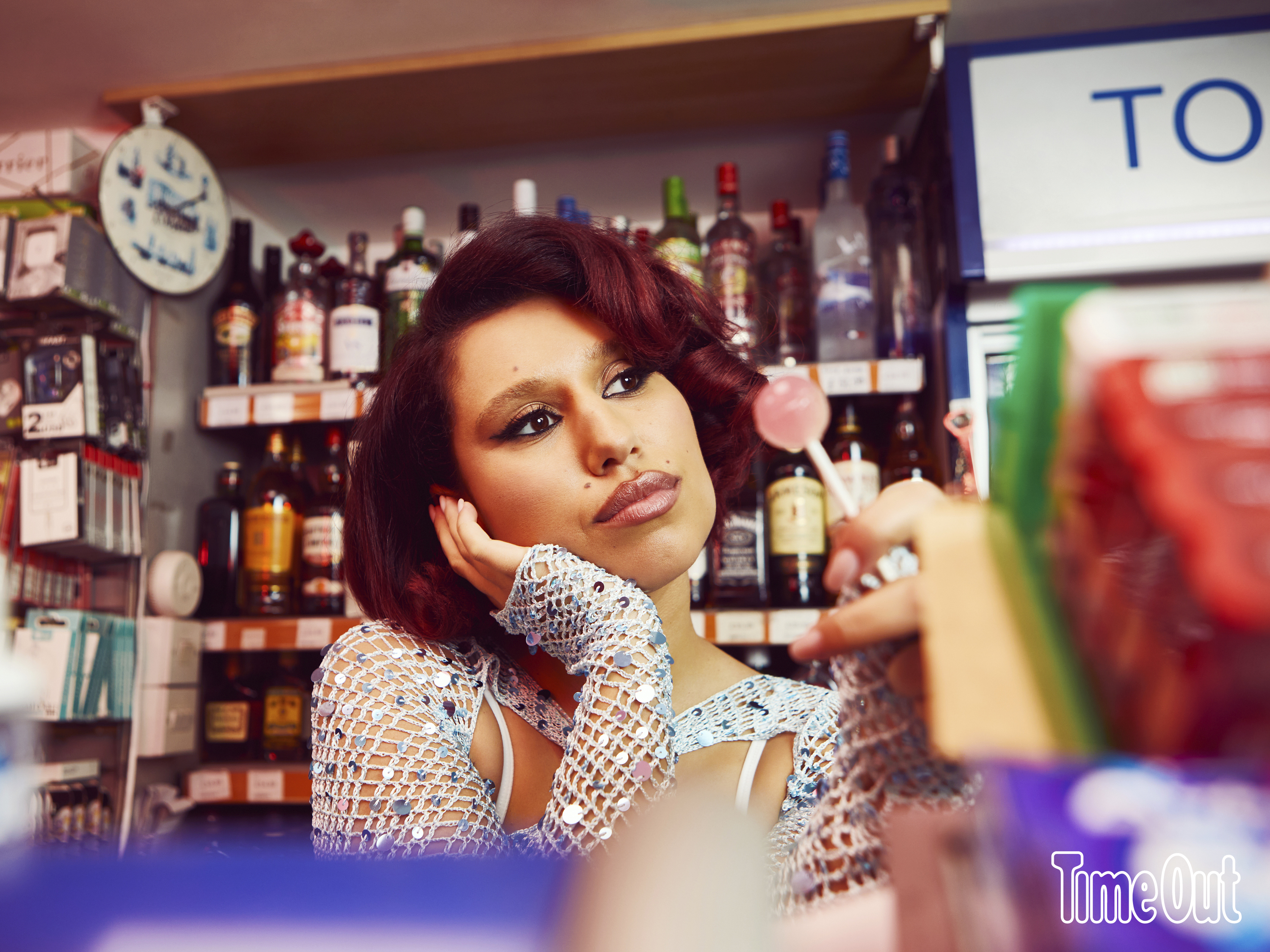 'I'm no stranger to a corner shop,' says Raye, chewing on a soggy mozzarella panini from Caffè Nero. 'That was my second home, growing up. I'd call the guy at the till "boss man" and buy a Freddo for 10p.'
Her hair still piled into vintage-style red curls, Raye is fresh from her Time Out London cover shoot in 'The Convenience Store' just off Tottenham Court Road. It has everything you could ever want from an offy: paprika Pringles, beer, tampons, Super Noodles, and a sign which says 'any 2 lost mary or 2 elf bars only £17'.
It's been a teeth-grittingly intense few months for the 25-year-old singer-songwriter, otherwise known as Rachel Keen. She released her debut album, 'My 21st Century Blues', in February this year, following her Number One single, 'Escapism', with US rapper 070 Shake. A hard-hitting party track about getting over an ex via a messy night out, if you've not heard the sped-up chipmunk version while scrolling through TikTok, you will recognise the original being blasted on the radio or sung on the dancefloor in the club.
But success hasn't come without a bit – or, in Raye's case, a lot – of blood, sweat and tears. In July last year, she parted ways with Polydor, the record label she'd been signed to since she was 17. Since then, she's spoken openly about her experiences of misogyny, sexual assault and exploitation in the music industry. And now, after years of wrestling to put her own music out, 2023 represents Raye's next chapter as an independent artist. 'Everything's flashing by my eyes, but I really just want to make sure that I enjoy this time,' she says, with careful, tangible gratitude. 
Despite all the fighting talk, the pop star feels remote: looking out of the window, lost in a whirlpool of what might be excitement and/or sheer exhaustion. She doesn't seem completely present. Her mind is elsewhere, thinking of what's next, and then what's next… A few days ago, she performed at the Roundhouse to glowing reviews. Immediately after this, she's going to record a podcast, and on Sunday, she's flying to San Francisco: one of at least 130 shows planned for this year. 'It's definitely a new pace,' Raye says. 'I'm taking my vitamins multiple times a day. I need to be disciplined and have no social life.'
Raye is consciously aware of the sacrifices she's making, and seems anxious about the very likely prospect of burning out too soon. But who can blame her? She's waited eight years for this moment. Now, it's all systems go.
CR0 vision 
The turquoise train of Raye's sequined dress is trailing along the shop floor, shimmering with a sort of old-Hollywood-off-licence glamour.
'Should I, like, get a packet of crisps or something?' she says, grabbing a shiny pink bag of Walkers and slouching on the fridge shelf. 'I'm usually a prawn cocktail gal.' She pops open the packet and sticks some in her mouth with nude acrylic nails. 
Raye is commanding – she knows what she likes and what she doesn't – but never overbearing. She moves slowly, with purpose and a quiet confidence, glistening mermaid-like in front of the ranks of Kombucha, Monster and Diet Coke.
'I'm obsessed with playing cards,' she says, in her distinctly south London accent, when I ask about the ace of hearts inked on her wrist. 'I bring a pack everywhere I go; they really calm me down.' Three coloured flags are also in the cluster of tattoos – Ghana, Switzerland, and Great Britain – representing where she and her parents are from. 
These days, Raye lives in Streatham Hill, but she grew up in Croydon. 'There's an unspoken thing about the energy in south,' Raye says. 'I would spend a lot of time up and down Croydon High Street: Primark at one end, McDonald's in the middle. I'd sneak out at like three in the morning to meet my friends and smoke a cigarette, for no reason at all. I was dreaming while walking on those grey pavements, you know what I mean?'
I was dreaming while walking on those grey pavements, you know what I mean?
As a child, she was brought up on a diet of gospel, jazz, and neo soul. 'My dad had a big CD collection that I would rummage through,' she says. 'I fell in love with powerful female vocalists: Alicia Keys, Billie Holiday, Jill Scott…' By the time Raye was 14, she had secured a place at the prestigious Brit performance school, also in CR0. Then, fast forward to age 17, she'd signed her first record deal with Polydor: a sparkling, pinch-me-moment, four-album deal. 'Back then, I was very bubbly, loud, excited, with huge dreams,' she says. 'I was so in love with music. I had a vision… you know?'
And success soon came her way – but not necessarily by her own metrics. Her vocals had featured on Number One pop singles including 'By Your Side' by Jonas Blue, 'You Don't Know Me' by Jax Jones, and 'Bed' by Joel Corry and David Guetta, and she'd racked up millions of streams on Spotify. She'd also enjoyed a healthy songwriting career, writing for the likes of John Legend, Charli XCX and even Beyoncé. 
But in the seven years she was with Polydor, she wasn't allowed to release her own album. So how did she get here?
Itchy feet 
When I ask Raye about exactly why she couldn't release her own album while with the label, she looks exhausted. And a bit pissed-off. 'You know, I think I've just got to the point where I have to just move on from that mindset,' she says, dodging the question. 'In a place of healing and forgiveness, I have to look forward. I'm so lucky and fortunate to be out of that system and to be in a place where I am now.'
In June 2021, Raye wrote a spur-of-the-moment tweet that changed everything:
'I have been signed to a major label since 2014… and I have had albums on albums of music sat in folders collecting dust, songs I am now giving away to A-list artists because I am still awaiting confirmation that I am good enough to release an album.'
After the tweet went viral, Raye was able to part ways with Polydor and escape her contract. 'Sometimes you just hit those breaking points,' she says. 'I'm really blessed that everything panned out the way it did, because now I'm independent and life couldn't be better, you know?'
Being able to breathe outside of the major-label system, Raye reconnected with her identity as an artist. What followed was 'My 21st Century Blues': a record that is undeniably, uncompromisingly her own. 'Looking back on some of the songs in my past, I don't love them, and I never want to ever feel like that again,' she says. 'It's all about perspective: different people need different forms of musical medicine. What matters most is if the artist or musician or DJ thoroughly, passionately, loves the music they're sharing. It's so important that it comes from a place of integrity.'
The record has impressive vocals, catchy riffs and cathartic, narrative-driven lyrics that are honest and boldly confronting. 'Songs are where I feel safest,' Raye says. 'Nowadays, speech is so vulnerable and you can be exposed to all sorts of scrutiny if you say something publicly.' She nods to the lyrics in "Ice Cream Man": a raw challenging song about her experiences with a producer and the lasting impacts of sexual assault. 'What is powerful is being able to tell a story in my own way, with my own words,' she says. 'And even if anyone asks me about it, I can just be like: Listen to the song. It's being as loud in as safe a way as possible.'
Party time
When 'Escapism' – a song that might never have seen the light of day if Raye hadn't gone independent – went to Number One, it was the ultimate middle-finger to the mainstream music industry. 
'The song is about when you're in that place, having a couple of drinks and just forgetting your problems,' she says. She pauses. 'I'd say it's not the best way to overcome something.' Back in the day, Raye used to go out – a lot. 'I was the queen finesser at getting in for free and knowing all the promoters,' she says. 'I used to go to a place called Circus, which is where we shot the "Escapism" video, actually.' But these days, she says she rarely gets out of the house: her idea of fun is taking a long shower. 'Sometimes I have two a day,' she says. 'When I'm in the shower I'll sit down on the floor, and I'm like: No one chat to me. In my little dome.' 
'Escapism' exploded on TikTok at the start of this year – and despite it effectively turning the song into the musical equivalent of a meme – Raye is quick not to disown the app. In fact, she thinks it could have played a part in her solo success going solo. 
'It just comes down to promotion in a different place, and it's something you can't force,' she says. 'In some ways, it's beautiful, because people get to decide what music they enjoy as opposed to ten years ago, when labels would smack a bag of money down and it was all gatekeepers. You can't force-feed people something that they don't want to listen to anymore. It's given power to independent artists.'
And she believes that the album, as an art form, is as relevant as ever. 'It's a collection of stories and feelings and emotions to dive into, something for each day, something for each need,' she says. 'It's like art. You might be enamoured by one painting in particular, but if you go to the gallery and view the stories and the sketches, you realise it's part of the whole package of the message the artist wants to share.'
Onwards and upwards 
Raye takes a large sook of a strawberry Chupa Chups, rolling it around the inside her cheeks and then waving it in the air. She wobbles around, high-heeled in a catwalk strut, wiggling her hips by the Heinz beans. Back arched, she leans against the shop counter, arse up towards the Elf bars, camera flashing. 
The door rings and a chilly mid-March draught blows into the shop.  
Ahmed, the shop owner, jumps onto the till and a man in a big coat puts two cans of icy Stella on the counter. The shop goes silent and the card machine beeps. As soon as he leaves, Raye jumps back into action, everyone following her lead.
'I don't want to ever feel forced, or like I have to do something,' she says. Now that she's gone independent, she's dedicated to a new set of rules for herself. 'I have to love everything I release and be proud of it. I'm in a blessed place where I'm in control of my career now.' 
Knowing what she knows now, I ask Raye if she'd go back and tell her younger self anything, and she hesitates. Then, she seems suddenly engaged. 'Interestingly, I don't know if I could even tell her anything,' she says. 'Everything that's happened, even the ugliest, most horrible parts, I don't like to dwell on as something I can change. What's done is done.'
Raye's new single 'Flip a Switch' is out now. Her UK tour is in November and December 2023; tickets are on sale now.
Stylist: Thomas George Wulbern @thomasgeorgewulbern
Hair: David Wadlow @hurrbydavid
Make-up: Lan Nguyen @lanslondon
Location: Chateau Denmark @chateaudenmark / The Convenience Store
Look 1: Dress: Coperni @coperni; underwear: Skims @skims; shoes: Amina Muaddi @aminamuaddi
Look 2: Full look: Miu Miu @miumiu; shoes: Malone Souliers @malonesouliers
Look 3: Full look: Alaia @maisonalaia; rings: La manso @la_manso; shoes: d'Accori @daccori_