The city of London is still one of the top world cities to explore and visit, indeed. Summer is coming soon and, in London, it is definitely one of the best seasons.
London is a city that looks pretty different by day and night. You will always find new places to see, new things to do. Especially in the summer, London is a city that offers a range variety of activities in roof top bars, outdoor cinemas, pop ups and markets.
Here you will find a list of places and hidden gems that will make your summer in London special and fun!
1. A picnic in Hyde park
With your favorite book, fresh fruit, healthy goodies and your best friends, a picnic in Hyde Park is a perfect summer plan in London! It is a wonderful spot to spend time with your friends surrounded by nature.
Hyde Park Corner, Knightsbridge and Marble Arch are the nearest tube stations.
2. Roller skate around Hyde Park
You can hire skates at Slick Willies. It's an awesome and different way to enjoy the park!
3. Explore St Dunstan's in East London
For a more peaceful summer day, we recommend taking a trip to St. Dunstan's located east of London. It is a public garden opened in 1970 well known for its tranquil and beautiful vibe. The area is surrounded by medieval church ruins and a lovely garden of flowers and plants.
4. The MUST DO London Walk
London has plenty of route options across some of the city's most beautiful locations. Avoid the traffic, the rush hour and enjoy a London walk with your camera in hand.
5. Head to Primrose Hill, Regent's Park.
Regent's Park is stunning! From the top of Primrose Hill you will get a great view of central London.
6. Wander through Battersea Park.
Battersea Park is also a great idea too! And if you fancy an ice cream along your walk, just grab one from one of the vans.
7. Explore ZSL London Zoo.
An awesome plan for animal and wildness lovers. Plus, you can also become a keeper for a day and even enjoy a sleepover at the zoo!
8. Rent a boat on Regent's Canal.
Fancy for a picnic in a different setting? Try it on rental boat on Regent's Canal with your besties!
9. Watch a movie on the River Thames.
What is that one thing that can maybe beat a beautiful sunset? Maybe watching your favourite movie while floating along the River Thames. Time Out's movie boat has announced their first cinema on the River Thames starting at the Tower of London. Once the sun sets beautifully over the Thames, you just have to sit back, relax and enjoy!
10. Kayak on the Thames
If you would rather do something more active and adventurous on the River Thames, renting a kayak is a great and fun idea! It will definitely give you a unique perspective of summer in London.
11. Camden Market
Camden Market is the heart of Camden. This London area is great for brunch, lunch or for a little shopping with your besties.
12. Walk through Tower Bridge and grab some goodies at Borough Market.
The Tower Bridge and the Borough Market are both London highlights that you should not miss. Take a walk through the bridge and grab some goodies at the market. Simple and fun!
13. Columbia Road Flower Market
After delighting yourself with the smell and colors of beautiful flowers at Columbia Road Flower Market (only open on Sundays), enjoy a walk along the canal to Victoria Park.
14. Mercato Metropolitano, Elephant and Castle
Mercato Metropolitano is an awesome choice to enjoy amazing street and outdoor areas.
15. A drink at a secret cocktail bar inside a fridge
Oh yes, inside a fridge! It sounds a bit crazy but pretty exciting! It is probably one of the coolest things to do in London. This secret cocktail bar is located inside the cafe "The Breakfast Club" and known as "The Mayor of Scaredy Cat Town".
16. Dine in the dark at Dans le Noir.
Dans le Noir is one of the Global Travelers top suggestions. In this restaurant, you will challenge your taste buds by delighting yourself with a dining experience in the dark. Don't miss it out!
17. Play rugby.
If you are a Rugby lover, try playing it at The Inner Warrior Camps during the London summer. It can be an absolute blast and, the sessions are free!
18. Afternoon tea on a bus
What in London is more iconic than an English afternoon tea? We suggest combining it with sightseeing on the also iconic London red buses.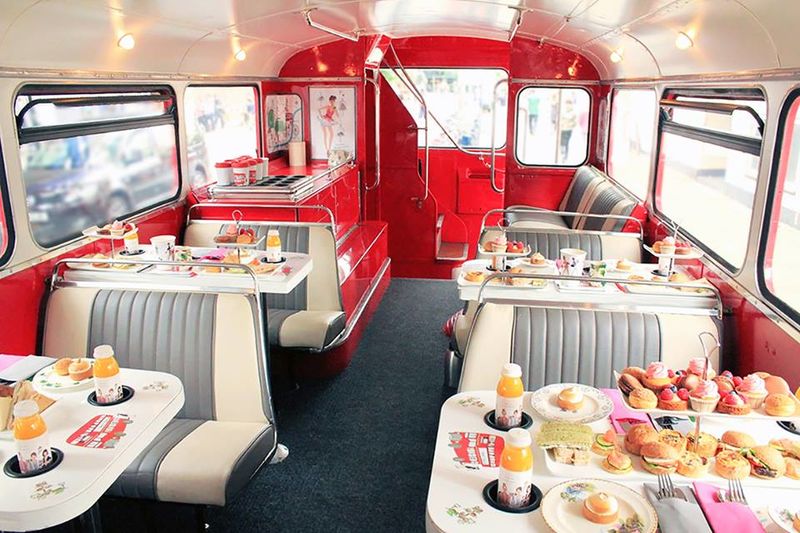 19. Take a boat ride on the Thames instead of taking the Tube.
It is possibly one of the best ways to see and get around London. It is comfy, spacious and a great option of transportation in London. You can enjoy a delicious coffee, a drink, a tea and even food while on board. To use this service you will only need your Oyster card.
20. Take a day trip to Windsor.
Yes! Windsor, Queen Elizabeth's home town, is less than an hour away from the city of London and it's absolutely amazing.
After visiting some of these amazing places in London it's time to get to know a little bit of London by night! To know about the best parties and must-visit clubs in London, don't hesitate and contact London Lux Guestlist.