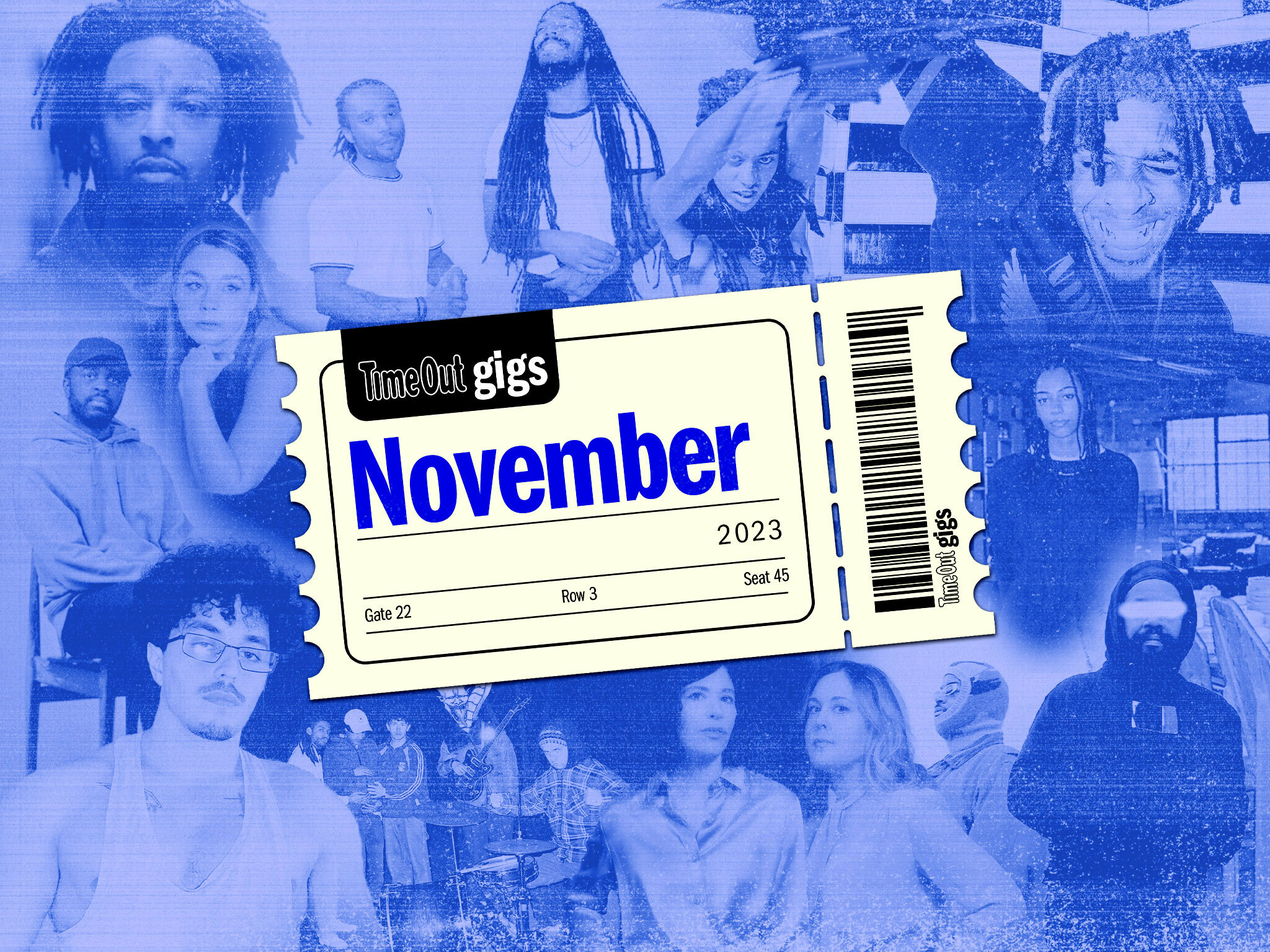 Autumn is in full swing. The city is a sea of Moon Boots, fisherman hats and Northie puffers. But you know what? November in London is about more than just surviving the cold. You've got Bonfire Night (an excuse to unleash your primal urges on watching things burn and blow up), the beginnings of London's obsession with Christmas and a whole bunch of exciting gigs at your disposal. In fact, London's live music scene is busier than ever this month. Just look at how long this list is! We're giving you old-school punk from Sleater Kinney, sexy club anthems from rising star Babymorocco and the return of British/American rap sensation 21 Savage, alongside heaps more to get excited about. Have a scroll through and see why November in London is elite, actually. 
RECOMMENDED:
???? The best things to do in London this weekend
???? The 10 best art exhibitions in London
???? The best new theatre shows in London 
For when you wanna get loud 
Meet Me @ the Altar 
Olivia Rodrigo is selling out arenas, Blink 182 has made a mighty comeback and Paramore absolutely smashed a global tour. Pop punk is back, baby. And it's a trend that's simply not stopping. Meet Me @ the Altar is an American three-piece, endorsed by legends of the scene, such as Alex Gaskarth of All Time Low and Dan Campbell of The Wonder Years. Catch them as they take over the notorious Camden's Underworld for a night of powerful pop-punk bangers with a Gen Z twist. Listen to 'Say It (To My Face)' for a taste. 
The Underworld, NW1 9DL. Wed Nov 1, 7pm. From £18.80.
Bob Vylan 
London-based duo Bob Vylan has garnered a cult-like following for their rambunctious live shows that merge grime, punk rock and hip hop. Songs like 'We Live Here' deal with social and political issues such as racism, police violence and unequal income distribution, against a wall of lo-fi guitars and barrelling drumrolls. If you're after a merciless, eardrum-shattering experience this month, get yourself to Kentish Town. 
O2 Forum Kentish Town, NW5 1JY. Sat Nov 25, 7pm. From £24.05.
Yves Tumor
Tying in with their fifth album, 'Praise A Lord Who Chews But Which Does Not Consume', Yves Tumor is landing at the O2 Forum Kentish Town for a night of moody rock brilliance. The eclectic album breezes through dark soundscapes and into bright, exciting pop anthems. It's the band's notorious approach to experimental songwriting that makes them one bloody exciting act to see live. 
O2 Forum Kentish Town, NW5 1JY. Wed Nov 29, 7pm. From £37.25.
For old-school punk 
Sleater Kinney
Punk icons Sleater Kinney's 1997 release, 'Dig Me Out' is one of the seminal riot grrrl albums. After a decade-long hiatus, the band reformed in 2015 with the triumphant 'No Cities To Love'. Hear a 25-plus-year collection of definitive punk sounds at this epic Roundhouse performance, tying into the Pitchfork Music Festival. Get ready to roar by listening to 'Bury Our Friends' on full volume.
Roundhouse, NW1 8EH. Fri Nov 10, 6pm. From £40.50. 
WITCH
There are very few bands with as interesting a history as WITCH (there's even a documentary about them). In the 70s, the band embodied the pride and optimism of post-independence Zambia, mixing traditional sounds with funk, soul and psych-rock. In more recent years, a sudden surge in international interest called for the band to return, fronted by the only surviving member, Emmanuel 'Jagari' Chanda. 
EartH, N16 8BH. Tue Nov 28, 6pm. From £26.27.
For the emo kids
Glaive
Ash Blue Gutierrez, aka Glaive, is an 18-year-old singer-songwriter and record producer from Florida. A rising star in the US hyperpop scene, he found a cult following on SoundCloud during the beginning of the COVID-19 pandemic. Since then, he signed to Interscope and released his debut album, 'I Care So Much That I Don't Care at All' in July. Hear his attention-grabbing blend of Midwest emo, glitch, pop punk and indie rock in real life at Electric Ballroom this November.
Electric Ballroom, NW1 8QP. Tue Nov 14, 7pm. From £16.50.
Fall Out Boy
No, it's not 2005. Fall Out Boy are actually back and playing arenas again. No longer confined to the four walls of your bedroom out of shame, you're free to yell along to proper old-school emo faves like 'Sugar, We're Goin Down' and 'Dance Dance' in the epic setting of the O2 arena. Emo is cool again guys, we told you so. 
The O2, SE10 0DX. Thu Nov 2 and Fri Nov 3, 6.30pm. From £54.
Static Dress
Leeds-based band Static Dress are back on the road with their generation's answer to Paramore's 'Riot!', the debut album 'Rouge Carpet Disaster'. Spanning multiple genres including emo, screamo, pop, electronic and metal, the band are poised to become one of the defining voices of Gen Z alt kids. Head over to Islington to see why. 
O2 Academy Islington, N1 0PS. Wed Nov 15, 7pm. From £18.
Ashnikko
The incredibly cool pop vanguard Ashnikko is heading to Ally Pally's massive stage for a night of genre-bending, hyper-stylized electronic music. Her larger-than-life persona comes to life on songs like 'Daisy', as she plays with pop-trap, alt-pop and elements of EDM. It's sure to rumble through the palace's walls like an earthquake.
Alexandra Palace, N22 7AY. Thu Nov 30, 6.30 pm. From £33.18.
For the Radio 6 Music dads
Squid
Squid are back in London after releasing their second album 'O Monolith' back in June. Based in Bristol, the four-piece formed in 2018, citing Neu!, Philip Glass and This Heat as influences. While you can draw comparisons between them and the likes of Black Country, New Road (both groups are fans of giving their fans sonic whiplash), songs like 'The Narrator' and 'Swing (In A Dream)' give them enough of a unique feel.
Troxy, E1 0HX. Wed Nov 1 November, 7pm. From £27.35.
Model/Actriz
This blistering post-punk dance noise group from Brooklyn has swiftly garnered attention from 'Pitchfork' and 'Bandcamp Daily' (RIP), so feels right that they're appealing to the British Fantano disciples. The band have been bouncing around NYC, blasting audiences with harsh, open-ended extreme sounds exploring contradictory themes of joy and violence, humour and nihilism.
Fabric, EC1M 6HJ. Wed Nov 8, 7pm. From £14.85.
Stereolab
Nothing says 'I have a mortgage on a house in Walthamstow' quite like a Stereolab t-shirt. Hop on the Vicky Line with all the other dads from nursery pickup to catch the band at Electric Brixton this November and you'll be treated to hits like 'French Disko', 'Transona Five' and 'John Cage Bubblegum'. Their signature hypnotic rhythms and soothing vocals have affirmed them as one of the most influential groups from the 90s indie scene, so you don't want to miss them.
Electric Brixton, SW2 1RJ. Fri Nov 17, 7pm. From £37.35.
For the indie music queens
Gretel Hänlyn
West London singer-songwriter Gretel Hänlyn is instantly recognisable by her bass-y vocal tones. Unlike her friends, who were playing conkers and killing Tamagotchis, the young musician was already writing Nick Cave-inspired gothic ballads at age 11. Later influences include Tim Buckley, Nirvana and then Wolf Alice, so expect hi-fi grunge, goth-pop and alt-indie ballads. 
Village Underground, EC2A 3PQ. Wed Nov 1, 7.30pm. From £19.54.
Weyes Blood
When was the last time you ugly cried? Well, Weyes Blood will unearth whatever post-relationship trauma you might have fizzing under the surface. It's ok though, you'll be in a sea of other sad indie kids as Natalie Laura Mering brings her elusive alter ego to Pitchfork Music Festival London. Pack the tissues, you'll need them. 
Eventim Apollo, W6 9QH. Mon Nov 13, 7pm. From £38.76.
For naughty club bangers
BIG WETT 
If you're a fan of Confidence Man and Cupcakke, then you can't miss BIG WETT's big night at Moth Club. Taking Australia's dance music scene by storm, she blends 90s-inspired dance beats and explicit lyrics to construct a thumping live show. Dancefloor filler 'Eat My Ass' is a good place to start, just don't play it over the office speakers. 
MOTH Club, E9 6NU. Wed Nov 1, 7.30 pm. From £15.40.
Babymorocco
Babymorocco preaches from the Church of the Club. His Eurotrash-inspired pop comes with names like 'Let's Go To Zante' and explore what he's called 'filthy house beats and pure, unadulterated donk'. This year he's toured Europe and the US and supported Mercury-nominated duo Jockstrap. Expect to start hearing his sweaty, high BPM anthems on a dancefloor near you. 
The Shacklewell Arms, E8 2EB. Wed Nov 15, 7.30pm. From £9.05.
For hip-hop giants 
Armand Hammer
Billy Woods and Elucid's collaborative project Armand Hammer is a staple within the backpack rap scene, with 'Pitchfork' giving the latest project 'We Buy Diabetic Test Strips' a solid 8.1. Often indecipherable by design, its free-associative style doesn't appeal to all. But if you like your rap music to be a little bit weird, this is for you. 
EartH (Hall), N16 8BH. Sat Nov 4, 8pm. From £20.25.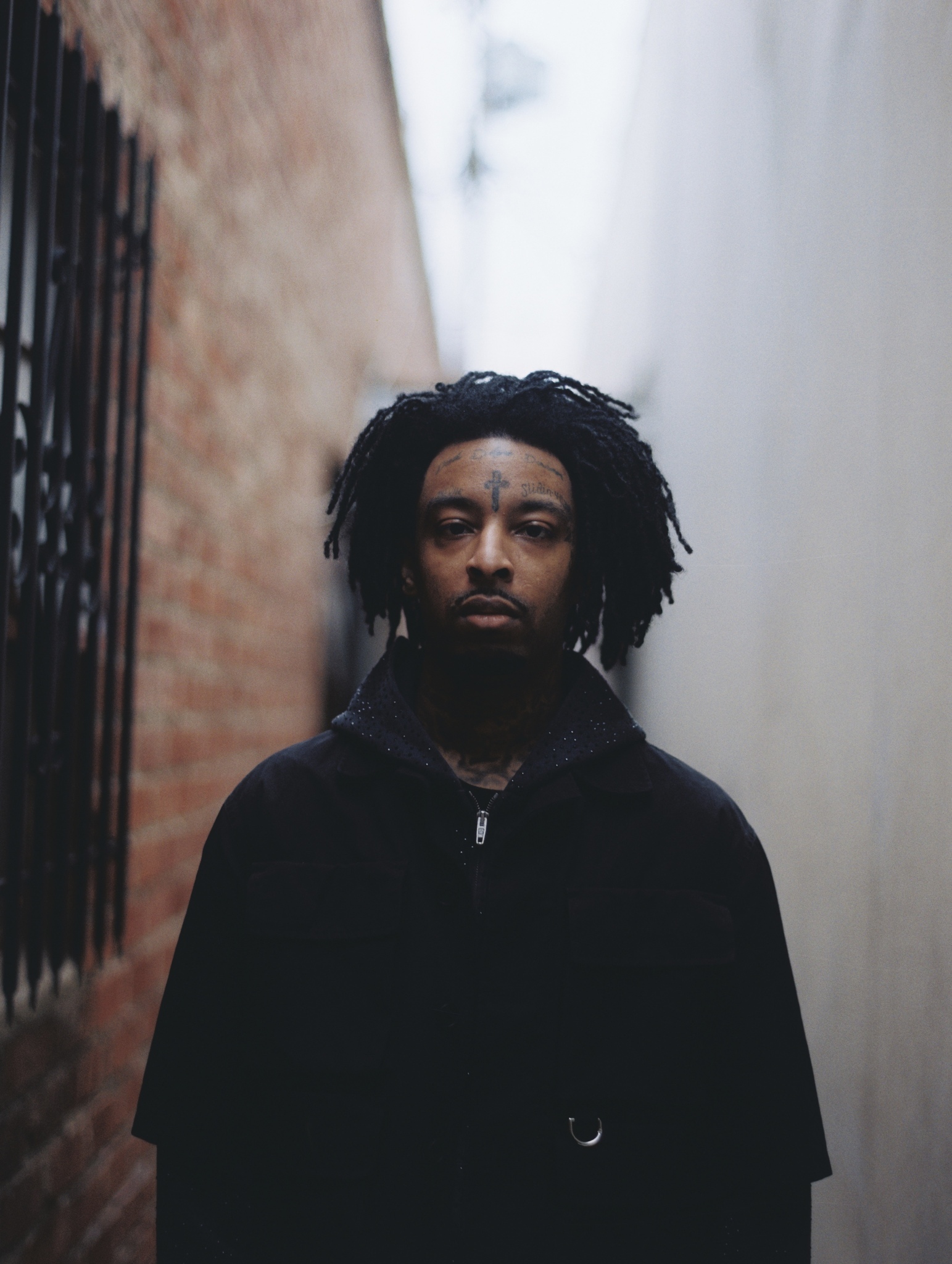 21 Savage
Call it a homecoming. 21 Savage is taking over the O2 arena for one night only, marking the end of his green card dispute with ICE. The rapper's style is reminiscent of Three 6 Mafia, drawing on autobiographical themes, including criminal aspects of his past. Prepare to hear tracks from 'Savage Mode II', 'Spiral' and 'Her Loss' with rumours that Champagne Papi himself will make a guest appearance. 
The O2, London. Thu Nov 30, 6.30pm. From £192.35. 
Unknown T
Being the first UK drill artist to land a Top 50 chart position is quite a flex. And London local Unknown T has plenty more to brag about, with the legendary ode to his stomping ground 'Homerton B' accumulating over 60 million streams. His off-the-wall flows and unique song structuring came showcased in the 2020 debut album, 'Rise Above Hate'. Hear tracks from the project alongside the rumbling new single 'Goodums' at this shit-hot show at KOKO.
KOKO, NW1 7JE. Wed Nov 22, 7pm. From £26.56.
D Double E
Legendary grime MC, DJ and producer D Double E is a stalwart in London's music scene, having been one of the most influential figures in drum'n'bass, jungle and garage for over 20 years. This night will be a mighty celebration of his career in collaboration with Steam Down Orchestra, an artist collective, weekly event and music community-based in Deptford.
KOKO, NW1 7JE. Fri Nov 24, 7pm. From £26.
For mind-bending club hits 
The Chemical Brothers
Expect massive vibes from this multi-platinum-selling, multi-award-winning duo. With a career spanning three decades and nine albums, The Chemical Brothers have become renowned for smashing boundaries through pioneering music and mind-bending live shows. Want to know how they've managed to stay relevant all these years? Go to this O2 performance to find out. 
The O2, SE10 0DX. Sat Nov 4, 6.30pm. From £33.
SBTRKT
SBTRKT released his first album in seven years, 'The Rat Road', back in May to generally positive reviews. The 22-song-strong album is a brilliantly chaotic listen spanning house, UK garage, electro, R&B, broken beat and hip-hop, with a whopping 10 guest artists. Fingers crossed he'll have a few of them onboard for a guest appearance or two. 
Roundhouse, NW1 8EH. Sat Nov 4, 7pm. From £34.06.
Flying Lotus
There's no better venue to host FlyLo's massive audio-visual spectacle than this. However you feel about central London's new, massive LED screens, you can't argue with the fact they offer a pretty perfect backdrop for a certain kind of music. You'll hear songs from all six of his mind-bending jazz-meets-electronic LPs and forget all about the outside world for a moment. 
HERE at Outernet, WC2H 0LA. Fri Nov 3, 8pm. From £41.70.
For finding your new favourite band 
Bricknasty
Since their inception in Ballymun in 2020, Bricknasty have grown from a lockdown studio project to one of the most talked-about live acts in Ireland. Made up of singer and guitarist Fatboy, drummer Korey Thomas, sax and key player Louis Younge and bassist Dara Abdurahman, the band plays jazz blended with neo-soul, hip-hop, rave and 90s garage, resulting in an overwhelmingly anarchic sound. 
Bush Hall, W12 7LJ. Tue Nov 7, 7.30pm. From £15. 
Grove
Grove is an artist who takes no prisoners. The Bristol-based producer, DJ and vocalist makes chaotic club anthems inspired by their Jamaican roots, visibility and party culture. Songs like 'Ur Boyfriend's Wack' and 'Fuck Ur Landlord' take braggadocio and twists it into anthems about queer liberation, social action and being anti-mainstream. Their outspoken EP 'Queer Black' is an essential listen for lawless party-starters. 
Ormside Projects, SE15 1TR. Thur Nov 9, 8pm. From £11. 
SCALER
One of Bristol's most exciting outfits, SCALER is an audio-visual EBM group making muscular, cerebral techno that draws from punk, post-rock and industrial music. Their live shows are known to be mind-blowing experiences, as the band's heavy-hitting sounds come paired with projections of striking live animations, sci-fi imagery and hallucinogenic shapes. The intimate Studio 9294 will only intensify this. 
Studio 9294, E9 5LN. Wed Nov 22, 7.30pm. From £13.75.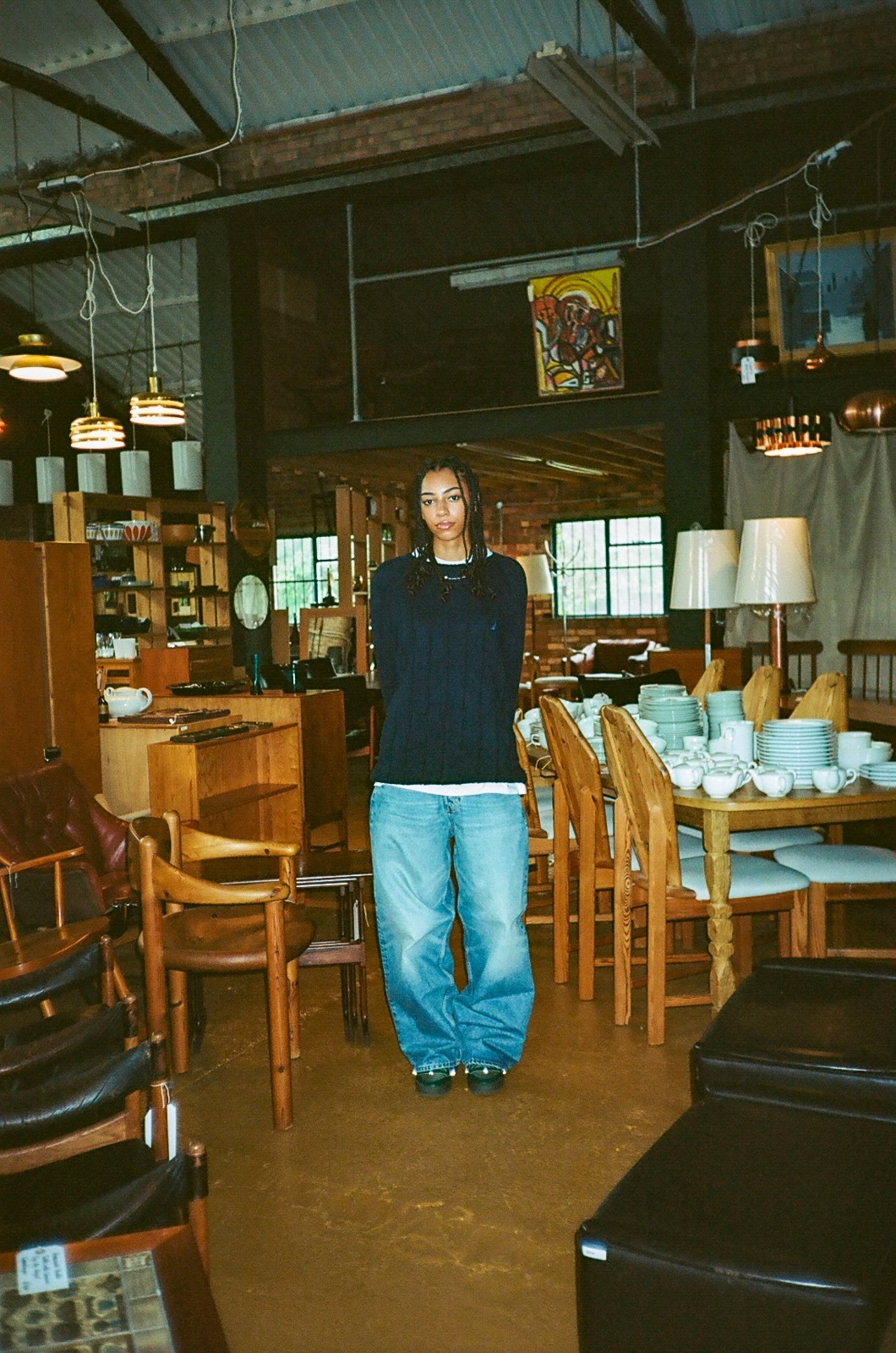 Amie Blu
South London singer-songwriter Amie Blu creates dreamy R&B with emotionally astute lyricism. Over the summer, she made appearances at Meltdown, The Great Escape and Glastonbury, all teasing to what you can expect from a headline show. Her soulful new EP 'Crumbs in my Bed' thoughtfully tackles themes of addiction, loneliness and relationships, and is sure to sound heart-wrenchingly beautiful when performed live. 
The Courtyard Theatre, N1 6EU. Wed Nov 29, 7.30pm. From £13.25. 
Deijuvhs
No one really sounds like Deijuvhs. The east London native draws on drill, nu-metal, emo, punk and hip-hop to forge his very own style of rock music. Handpicked by Fred Durst to support Limp Bizkit at Gunnersbury Park earlier this year, the 27-year-old has since been featured in 'NME' and on the cover of 'Kerrang' magazine and has a blistering new mixtape on the horizon. 
Oslo Hackney, E8 1LL. Tue Nov 28, 7pm. From £13.20.
Piri
Sophie Leigh McBurnie, aka Piri, is one half of Piri & Tommy and Loud LDN. Her sugary sweet, high vocals have been peppered on house, liquid drum and bass, jungle and garage bangers, affirming her as an exciting new voice that's insanely versatile. She's cited PinkPantheress, Charli XCX and Megan Thee Stallion as influences, while the old-meets-new style of TikTok-driven music makes her feel incredibly Gen Z. 
EartH, N16 8BH. Tue Nov 7, 8pm. From £19.54.
For global sound-seekers
Rema
Rema's 'Calm Down' has only just fallen off the Billboard Hot 100 after a record-breaking 57 weeks. Originally from Nigeria, the pop star is set to take over the O2 arena armed with a catalogue of dance-ready tunes, such as the aforementioned hit single. You've also got a plethora of new songs to get excited about, as he dropped the new EP '​​Ravage' last month, solidifying his place as a versatile artist with a fresh sound that spans Afrobeat, trap, and pop influences.
The O2, SE10 0DX. Tue Nov 14, 7pm. From £53.40.
Angélique Kidjo
Part of the EFG London Jazz Festival, this concert will celebrate the career-spanning catalogue of one of Africa's best-known artists, the five-time Grammy Award-winner Angélique Kidjo. Returning to the Royal Albert Hall for a celebration of her 40-year career, she welcomes Grammy-nominated trumpeter Ibrahim Maalouf, Senegalese superstar Youssou N'Dour, Afropop pioneer Stonebwoy and the UK's Laura Mvula to the stage with her, alongside the Chineke! Orchestra. 
Royal Albert Hall, SW7 2AP. Sat Nov 17, 7.30pm. From £26.50.
For soothing jazz melodies 
CKTRL
Another part of the EFG London Jazz Festival, cktrl's show at Bush Hall is not to be missed by jazz-heads. Experience the raw musicianship and emotional energy of his latest EP 'Yield' live, where he explores a classical sound from a modern perspective. Having garnered considerable acclaim for earlier projects 'Robyn' and 'Zero', he's proved he's one of the UK's most exciting composers. 
Bush Hall, W12 7LJ. Fri Nov 17, 7.30pm. From £24.20.
Alfa Mist
Mixing hip-hop and club styles with jazz improvisation, Alfa Mist is a Newham-born-and-raised talent who's collaborated with the likes of Jordan Rakei, Yussef Dayes and Tom Misch. His first solo EP 'Nocturne' came out in 2015, which asserted him as one to watch. The most recent album, 'Variables' subtly experiments with jazz, hip-hop and R&B, with the song '4th Feb (Stay Awake)' standing out for its trippy, cello-adorned melodies.
HERE at Outernet, W1D 4NU. Wed Nov 22, 7pm. From £26.73.
London Brew 
London Brew is making their live debut at this year's EFG London Jazz Festival. The all-star cast includes Nubya Garcia, Martin Terefe, Dave Okumu, Theon Cross, Dan See, Raven Bus, Tom Herbert and Nikolaj Topp Larsen. Having initially started as a live show in honour of the 50th anniversary of Miles Davis' 'Bitches Brew' at the Barb, the group have come full-circle three years later to perform the eponymous album. 
Barbican Centre, EC2Y 8DS. Sat Nov 18, 7.30pm. From £20.