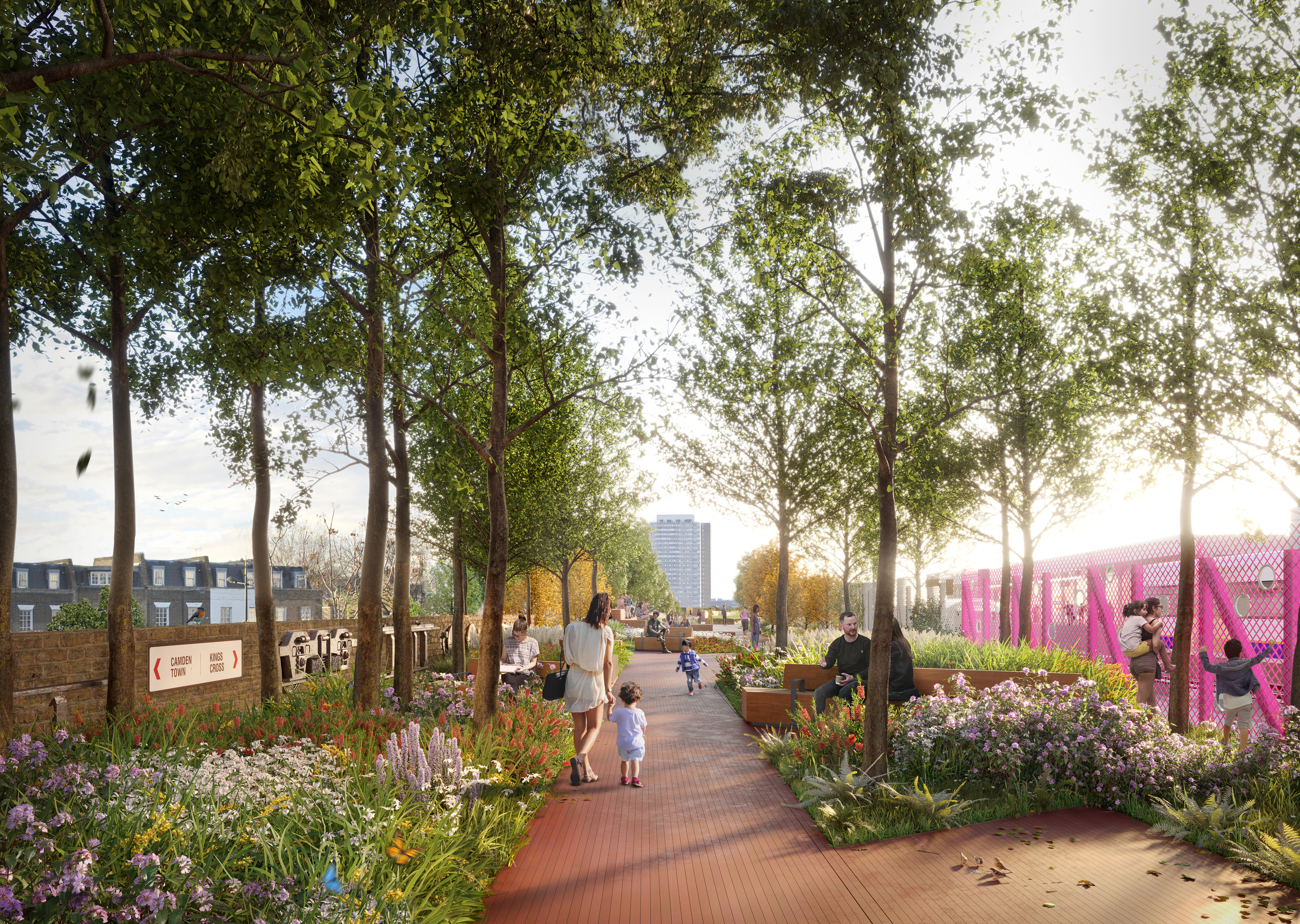 You may have heard whisperings about a mythical sounding new sky garden that has been said to be coming to London for years. Inspired by the famous New York High Line, people have been talking about bringing a similar skyward meadow to England's capital for a while. Huge news, because building the first section of the Camden Highline has finally been given the green light. London is getting an epic new elevated urban park.
What is the Camden Highline?
The park-on-a-bridge will transform a disused railway line into a leafy oasis. The 1.2km stretch is set to provide a new green space for up to 20,000 people in the community. So far, only the first section (Camden Gardens to Royal College Street) has been given the go-ahead. Two further sections will run from Royal College Street to Camley Street, and Camley Street to York Way.
What will the elevated garden look like?
Intended to increase the biodiversity of Camden, the park will have a variety of different ecosystems along the way. Inspired by woodlands, market gardens, meadows and ancient British hedgerows, each section of the Highline will differ in character. There'll also be plenty of opportunities to interact with the wildlife, including a children's play zone, volunteer-run allotments and an outdoor classroom.
How is the project being paid for?
It's being entirely paid for by donations. Starting out as a crowdfunding campaign, the first section of the park has been granted planning permission at long last. More than 1,000 people have donated to the project so far, but the Camden Highline charity is still looking for major donors to come on board to help support the mammoth £14 million cost. 
What has been said about the plans?
London Mayor Sadiq Khan spoke highly (ha ha) of the new park, calling it 'the exact sort of innovative, environmentally sustainable, and community-driven project which will continue to benefit and inspire generations to come'. 
He added: 'This vision will also bring huge enterprise opportunities to local small business, helping to build a better, greener, and more prosperous London for everyone. I look forward to following the Camden Highline on its journey and to walking in London's own park in the sky.'
Beauty giant Sephora is finally returning to London.