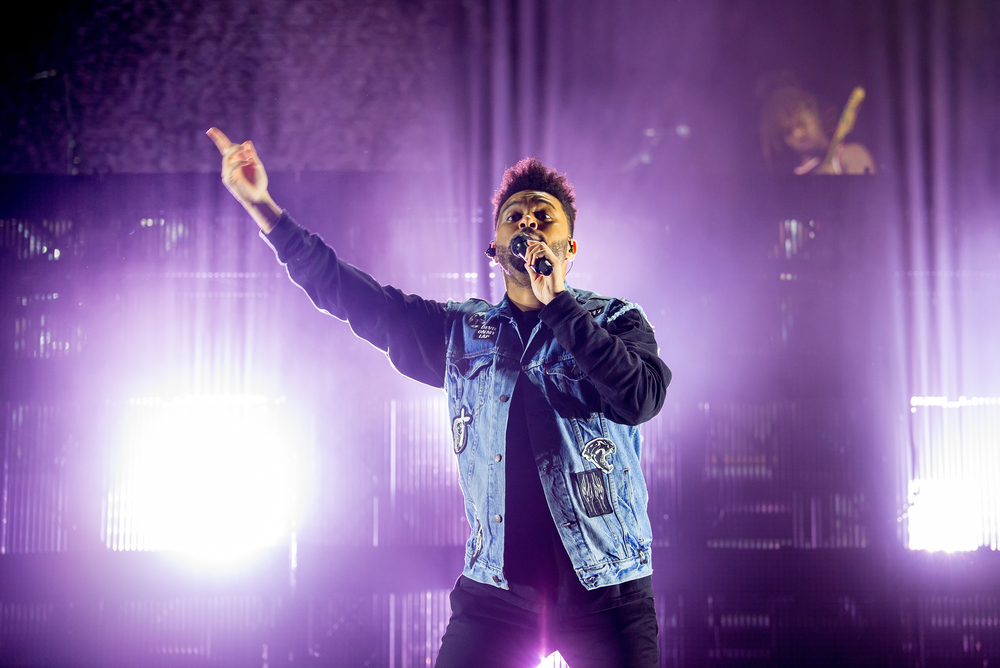 He's back! Following two huge shows at the London Stadium in July, it seems the Weeknd simply can't get enough of London. The Starboy (real name Abel Tesfaye) returns for yet another stadium gig in the capital this week, this time upgrading to 90,000-capacity Wembley for another instalment of his 'After Hours 'Til Dawn Tour'. 
The singer of humungous bangers like 'Can't Feel My Face', 'Blinding Lights' and 'Take My Breath' is playing on Friday, August 18. Here is everything you need to know about the show, from set times and setlist to the curfew.
What time will The Weeknd come on stage at Wembley?
The Starboy is expected to start his set at around 8:30pm.
Any news on the setlist?
An official setlist hasn't been released, but this was his setlist at the London Stadium on July 7.
Take My Breath
Sacrifice (Swedish House Mafia remix)
How Do I Make You Love Me?
Can't Feel My Face
Lost in the Fire (Gesaffelstein & The Weeknd cover)
Hurricane (Kanye West cover)
The Hills
Kiss Land
Often
Crew Love (Drake cover)
Starboy
House of Balloons
Heartless
Low Life (Future cover)
Reminder
Party Monster
Faith
After Hours
Out of Time
I Feel It Coming
Die for You
Is There Someone Else?
I Was Never There
Wicked Games
Call Out My Name
The Knowing
High for This
The Morning
Save Your Tears
Blinding Lights Chromatics Remix Voicemail
Less Than Zero
Blinding Lights
Tears in the Rain (Played during the 'Blinding Lights' outro)
Creepin' (Metro Boomin cover)
Popular (The Weeknd, Playboi Carti & Madonna cover)
In Your Eyes
Moth to a Flame (Swedish House Mafia & The Weeknd cover)
Who is supporting The Weeknd at Wembley Stadium?
Kaytranada and producer Mike Dean are joining The Weeknd on all his European dates.
What are the set times?
The first support is expected to come on at 6:30pm, with The Weeknd himself taking to the stage at around 8:30pm.
Are there any tickets left?
Tickets are effectively sold out, though some are available on resale sites. Be warned, however – the last time we looked, even restricted-view tickets were being flogged for nearly £60. Phwoar! 
What's Wembley Stadium's bag policy?
Each guest can bring a bag no bigger than A4 size (297mm x 210mm x 210mm) and all bags will be inspected upon entry.
What time does the concert end?
The concert will end by 11pm.
Everything we know about Billie Eilish's London climate action party.
Time Out's brilliant new podcast, 'Love Thy Neighbourhood', is out now. Listen to the third episode with Doc Brown in Kilburn. 
Stay in the loop: sign up for our free Time Out London newsletter for the best of the city, straight to your inbox.