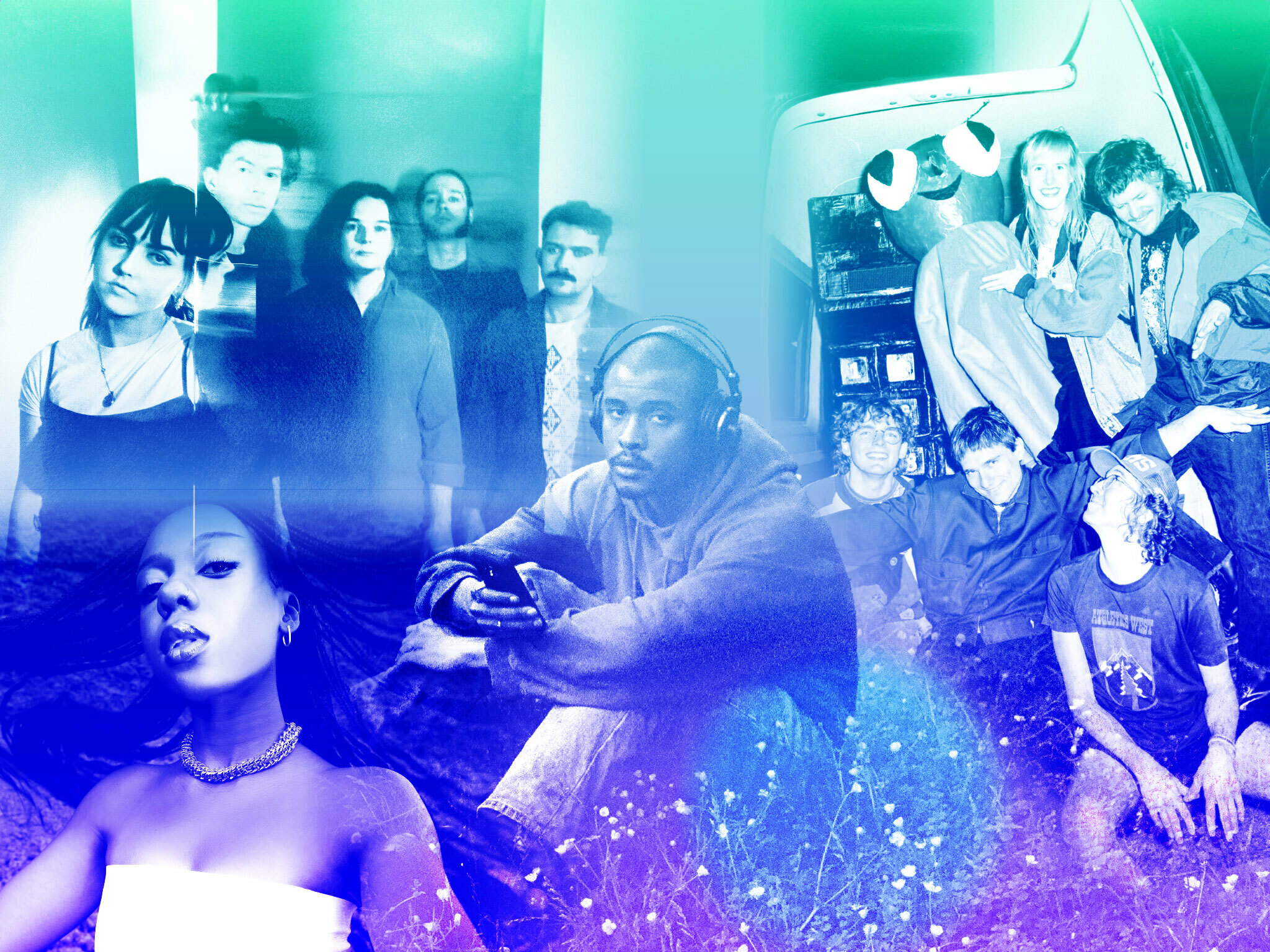 Ever looked at a music festival line-up and realise, with abject horror, how desperately out of touch you are? Several of Time Out London's editorial team felt like that when Pitchfork released the line-up for its London festival, which is taking over some of the capital's best-loved music venues this week for its third edition. 
Among big hitters like the Mercury Prize-winning jazz quintet Ezra Collective, riot grl legends Sleater-Kinney and dance music protégé Yaeji are a frankly concerning number of head-scratchers, even for us NTS-listening, 'Crack' magazine-reading Cafe Oto regulars. 
Luckily for you, we've spent the last few weeks swotting up on the lesser-known artists appearing on the eclectic bill, so that we can tell you who is worth buying a ticket for. Here are some of our favourite up-and-comers to look out for. 

Balming Tiger
Who are they?: Balming Tiger are a South Korean multi-national alternative K-pop collective consisting of rapper Omega Sapien, DJ Abyssm director San Yawn, music video directors Jan'Qui and Leesuho, singer-songwriters Sogumm, Wnjn, Mudd the Student, and editor Henson. The hip-hop single 'Sexy Nukim' with BTS's RM is a good entry point.
For fans of: BTS, NewJeans, So!YoON.
Village Underground. Wed Nov 8. 

CHAI
Who are they?: A sugary sweet experimental pop group blending elements of Tom Tom Club, Basement Jaxx and CSS to create punchy anthems inspired by female empowerment and redefining 'kawaii' culture. 
For fans of: Confidence Man, Kero Kero Benito, Kilo Kish.
Village Underground. Fri Nov 10. 

Crumb
Who are they?: Woozy psychedelic rock outfit from Brooklyn. Their lo-fi style has been described as 'slacker rock', as the band lean into a kind of 60s, loose jazz, freeform indie musical style when playing live. All very early King Gizz.
For fans of: Pond, Unknown Mortal Orchestra, Melody's Echo Chamber.
Hackney Church. Thu Nov 9. 
Debby Friday
Who are they?: Winner of the Polaris Music Prize (Canada's answer to the Mercury Prize) for her debut album, 'Good Luck', Toronto-based electronic musician based Debby Friday combines harsh industrial textures with glistening pop verses to create something that sounds effortlessly unique. 
For fans of: Lorraine James, Eartheater, COUCOU CHLOE
Roundhouse. Sat Nov 11.

George Riley
Who are they?: An experimental London musician signed to Vegyn's Plz Make it Ruins label, George Riley's voice will be familiar to anyone who listened to Anz's ultra-catchy hit 'You Could Be' back in 2021. Since then, she's garnered a cult following for her DIY, club-inflected R&B and collaborated with Hudson Mowhawke and Sampha.
For fans of: Little Dragon, John Glacier, Erika De Casier.
Roundhouse. Sat Nov 11.
Joanna Sternberg
Who are they?: Joanna Sternberg is an NYC-based singer, songwriter, visual artist and multi-instrumentalist best known for their intimate bedroom pop-style writing style. Their musical universe comes made up of idiosyncratic, tender folk tunes.
For fans of: Kimya Dawson, The Lemon Twigs, Indigo De Souza. 
Kings Place. Sat Nov 11.

Just Mustard
Who are they?: Oozing the coolness of old-school shoegaze acts like Slowdive or MBV, Just Mustard are a blistering rock group from Dundalk in County Louth, Ireland. In true Gaelic fashion, the band specialises in brooding, atmospheric soundscapes, with sparse spooky vocals. 
For fans of: Cocteau Twins, Gilla Band, The Murder Capital.
EartH Theatre. Nov 11.

Mavi
Who are they?: Washington DC-based rapper who first rose to prominence for his guest appearance on Earl Sweatshirt's EP Feet of Clay. His 2020 album 'Laughing so Hard, it Hurts', received a 'Best New Music' nod from Pitchfork for its razor-sharp rap flows in the style of Mobb Deep and MF DOOM.
For fans of: Billy Woods, Westside Gunn, The Alchemist.
Hackney Church. Thu Nov 9.
Nourished By Time
Who are they?: Baltimore-raised, London-based artist Marcus Brown aka Nourished by Time has a unique take on pop music. Toying with Depeche Mode-style synth-pop, uptempo 808s and freestyle rapping Brown creates a fizzing amalgamation of new and old influences.
For fans of: Channel Tres, Thundercat, Remi Wolf.
Colour Factory. Wed Nov 8.

SNÕÕPER
Who are they?: These Third Man Record signees are a prominent fixture in Tennessee's DIY punk scene. Best characterised by fast riffs, electrifying vocals and no-fucks-given stage antics (expect choreography and matching 'fits). 
For fans of: Devo, Be Your Own Pet, Sheer Mag.
Roundhouse. Fri Nov 10.

Wednesday
Who are they?: A country-rock five-piece documenting the forgotten corners of America. Informed by the likes of Lucinda Williams and Richard Buckner, Wednesday captures the fears of their upbringings through gnarly instrumentation and dark, semi-autobiographical storytelling. 
For fans of: Angel Olsen, Blondshell, Deerhoof.
EartH Hall. Sat Nov 11.
The best gigs, live shows and concerts in London in November
Diamonds, debauchery and dancing: an oral history of the Rivoli Ballroom