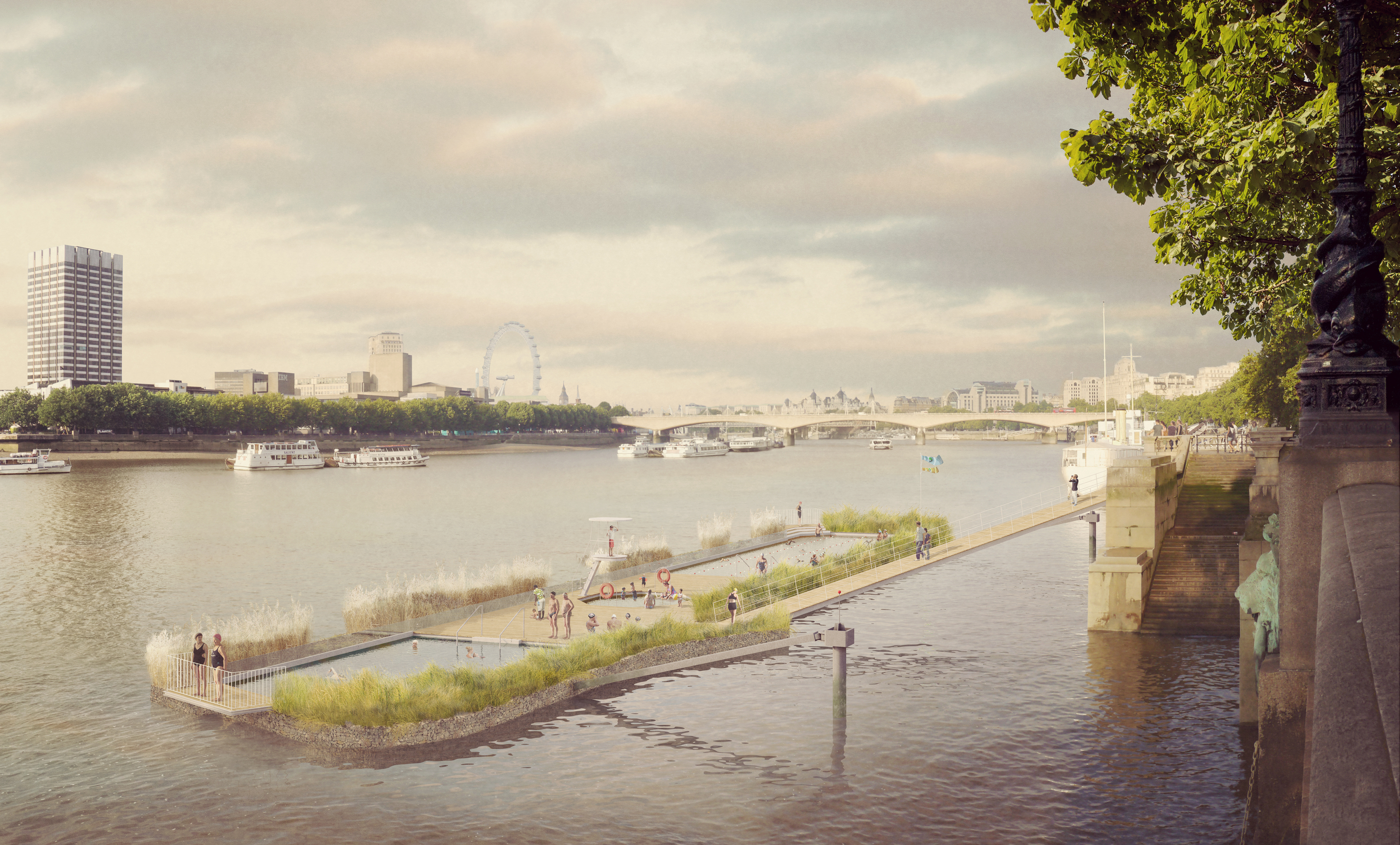 Summers in London are getting hotter and hotter (climate change, that you?), and with the heat rising, having access to urban swimming spots to cool off is becoming more essential. That's why one group of outdoor swimming aficionados are keen to build a floating lido on the Thames in Kingston. 
A project headed by Thames Baths, created by architecture firm Studio Octopi, wants to see London get its first floating swimming pool since 1875. The scheme could see a heated pool with saunas, hot tubs, a café and changing rooms come to the River Thames in Kingston. 
Despite endorsements from Swim England, The Outdoor Swimming Society and Tracey Emin, it's unclear whether this pool will ever come to fruition. In an Instagram post from March 2023, the organisation revealed it spoke with Kingston Council in 2021 about a floating pool in Kingston Riverside. 
'We had an initial discussion with Kingston Council and they were very keen,' Chris Romer-Lee, co-founder of Studio Octopi, said. 'They then decided against it and focused solely on their new leisure centre that was to replace The Kingfisher on Fairfield Road which closed in 2019.'
Kingston Council is currently in the midst of a controversial project to replace the borough's Kingfisher Leisure Centre. The leisure centre was knocked down last year but the council revealed in March it doesn't have enough money to finish the job – the replacement facility it approved is set to cost £79.5 million, much more than the £43.8 million allocated. 
'Kingstonians are left unable to swim,' Romer-Lee said. 'Studio Octopi proposes that they develop a temporary (although it could easily be permanent too) swimming facility in the river at Kingston Riverside. It could be a barge pool or it could simply be an area of the river that is cordoned off with pontoons to create a safe and monitored river water swimming facility.'
Kingston Council hasn't made it clear whether it wants to help fund the temporary river pool. A spokesperson for the council told MyLondon: 'We are committed to delivering a new swimming and leisure complex in the heart of Kingston town centre. We are currently working with our existing partners to explore further options for alternative or temporary swimming provision.
'Our current arrangements are still in place, with the Malden Centre in our borough and access to neighbouring boroughs pools in Merton, Sutton, Richmond, Elmbridge and Epsom and Ewell.
'The council needs to focus on how it spends the money it has, to help the borough meet financial pressures, as well as the ongoing impacts of the pandemic and the current cost of living crisis. Delivering a new complex represents the best value for money, and we are committed to delivering a swimming and leisure centre that includes facilities that residents have told us they need, within an affordable budget.'
Thames Baths is still holding out hope. 'The UK needs to catch up and get all configurations of these outdoor pools built and in the water,' Romer-Lee said. 'The nation wants to swim, and new swim sites are essential to ensure they do this safely.'
More outdoors: London is opening loads of secret gardens to the public this summer.
These are London's best outdoor swimming pools.