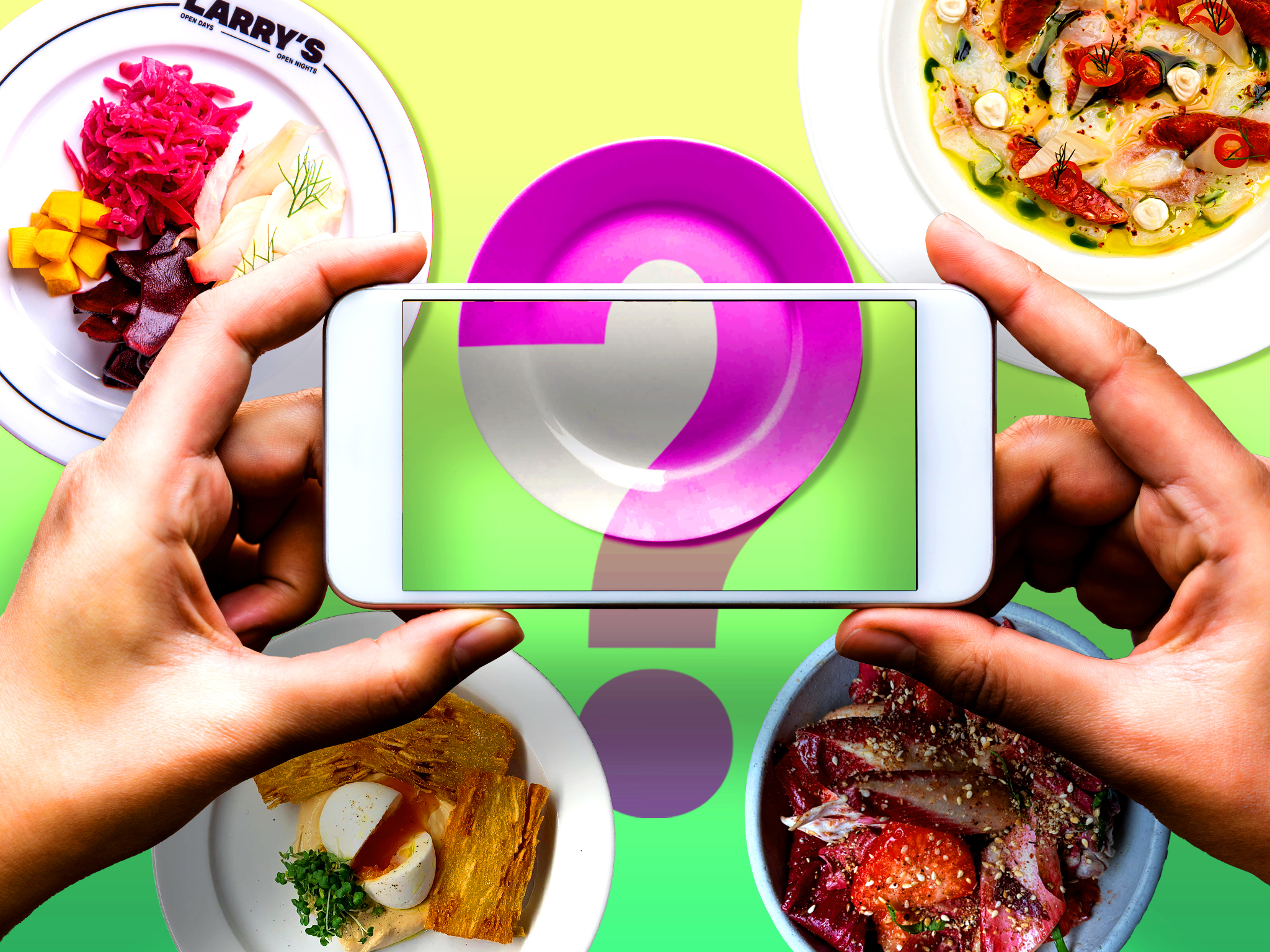 Picture it: you are sitting on a restaurant terrace drinking a cold glass of white wine. It's a balmy 26 degrees in London and you don't need a jacket, and are wearing sunglasses so you look really fit. You feel good. You are perusing a concise but varied menu and you are about to order a meal which will both satisfy and enrich you. But what are you going to order? What foods will define your summer dining experiences in 2023? 
When considering what the big dishes of sunny season might be, there are a few criteria that we need to take into account. First – seasonality: which fruits and vegetables thrive during the high season? But equally, is it light and airy enough to eat on a hot day? Secondly – how does it look? London restaurants are increasingly susceptible to the hype machine, largely fuelled by social media and photos of viral dishes that crop up online. The big hits of the summer then, will also be photogenic. And thirdly – and most importantly – is it properly delicious? The dishes that go stratospheric, after all, are those which stand up to demand. 
With these important yardsticks in mind, I have employed my knowledge as a deeply greedy individual to predict what you'll be ordering as you while away the hours (and your earnings) during the very best time of year, from fluffy roe to citrusy crudo.   
10) Perello olives
Now memed to within an inch of their lives, meaty, briney Perello olives are still a very nice offering for your mate's barbecue (moved indoors last minute due to unrelenting rain – "it'll still be so fun tho"). Sadly their 15 minutes as the hype food of the moment has passed as a result of social media overexposure. It was beautiful while it lasted. 
Where to eat it: Seek any shop with the word "provisions" (as opposed to like, "groceries") in the window and there ye shall find Perello.
9) Cull yaw
If there's a meat that has grabbed London restaurants by the lapels over the last few years, it's cull yaw, the brainchild of farmer Matt Chatfield. The idea is that ewes which would otherwise be culled are taken out to pasture on some rolling Cornish hills and given the five star treatment, resulting in a meat that is more complex in flavour than lamb. I hesitate to rank it higher because it has been A Thing for a while, but it'll continue to be a mainstay throughout summer, particularly as charcoal cooking szn looms closer.  
Where to eat it: The gravy-soaked comfort blanket otherwise known as the cull yaw crumpet at Blacklock is such a hit on Instagram that it has probably seared itself onto the backs of your eyes – and virality is virality for a reason. But my money is ultimately on the peppery, smoky cull yaw kofte at Mangal II, or even The Parakeet's mutton dish with fennel and tamarind.
8) Grilled lettuce and cabbage (hear me out alright)
You really would not think that halving a sweetheart lettuce or a hispi cabbage, oiling it up and chucking it on a grill would yield any particularly excellent results, but served with say, hazelnuts or hummus or ricotta, it's addictive, and as a bit of a leaf botherer (I just really like salads), I'm a huge fan. Like cull yaw, these dishes have made an impression on London restaurants over the past couple of summers, so they stay near the bottom of the list, but they're honestly among the best vegetarian starters you can hope for on a menu.
Where to eat it: For the good of your health I compel you to go to Bubala and order their radicchio with blood orange and Jerusalem artichoke crumb. 
7) A puff of whipped cod's roe
As summer inches closer, a soft cloud of whipped roe seems to be the dip of choice for any self-respecting crudité. If you really hit the London food silliness jackpot, you might even get it piped onto the plate or on top of a potato in one of those little wiggles that looks like a £50 candle from Liberty. The only reason roe isn't topping this list is because while it may be having a moment in the sun, it's a mainstay appetiser and ultimately pretty trend-resistant. 
Where to eat it: Smoked roe is of course a daily staple at St John, though the accompanying carbs might make it a bit heavy for the next few months. Western's Laundry have been serving theirs with seasonal veg such as asparagus.
6) Bagna cauda
'Anchovies, garlic, olive oil and a little butter' may sound like a sext from a chef, but it's actually just the ingredient list for bagna cauda, a fishy dishy that's popping up at a bunch of the city's best Mediterranean spots. Frequently served alongside lamb, it's bound to be a summer hit – comforting but crucially not weighty. 
Where to eat it: Expect to see it lots with pasta. Popham's E8 pasta outpost recently had it on alongside some sexy lamb cannelloni. 
5) Burnt Basque cheesecake
Cheesecake doesn't always scream "summer" (if you're me it usually screams "disastrous hangover fugue state in the Tesco Express dessert aisle") but a baked Basque cheesecake done right – buttery soft and somehow so delicate you can shove a wedge in even at the end of a meal – is a different thing entirely. That almost pastel de nata-esque crispy top and those curvy edges make it extra Insta-friendly, too. 
Where to eat it: There is only one answer and that is Brat, where the chefs bake their Basque cheesecake in the restaurant's superlative wood oven, and are responsible for ruining the lives of anyone who ever eats a slice of it, because from that moment on we will remember that we have known true bliss, and will as such curse every other, less Basque cheesecake-centric minute of our sorry existences. 
4) Literally just some radishes
Crunchy and cute, the radish is having a real renaissance, kind of like the Anne Hathaway of vegetables. Generally served as a simple starter with butter or roe – or, even better, pickled to cut through a creamy pasta main – they've been cropping up all over the shop and will likely continue throughout the summer.  
Where to eat it: Feel like Café Deco is always up to something with radishes. 
3) Seabream crudo
A good crudo – crisp but oily and indulgent too – is enough to bring tears to my eyes, and this year it appears that seabream is the belle of the ball, with restaurants favouring the fish's pretty pink colour (which between this and the radish thing, seems to be the shade of the season) and light flavour.
Where to eat it: Luca in Farringdon has a gorgeous bream plate which may well be the most hype-centric dish in the entire city: "Seabream crudo with scots pine, smoked cod's roe, blood orange and pickled fennel" hits about four different things on this list.
2) Stracciatella (but independently of burrata)
I love a burrata as much as the next person – what is there not to like about a ball of cheese that oozes what is essentially more cheese? – but it is admittedly boring to see it on every single menu in town. The pure, clean flavour, however, speaks for itself, so it's fun to see Stracciatella, the good stuff in the middle of the burrata, being used more creatively – on pizzas, in sandwiches, or even as a dip for the sickos among us. As the summer progresses, it'll almost certainly continue to emerge as the cheese to beat. 
Where to eat it: I am completely evangelistic about Dough Hands pizza – based at the Three Colts Tavern on Cambridge Heath Road – and their Flamin' Moe pizza was my conversion experience. Jackson Pollock-style lashings of milky Stracciatella pair beautifully with bright, spicy Calabrian chilli, and the whole thing is finished with tart, oily artichoke for good measure. 
1) The humble pickle plate
This is the summer of the pickle. Always a stellar pre-meal snack, and an excellent option for grazing while you sip an Aperol and pretend you're in Sicily instead of like, Hackney Wick, a pickle plate or little cup of Giardiniera – that is, pickles done the Italian (and therefore the best) way – is a lot more exciting than a bowl of olives, and usually pretty photo-friendly to boot. It also goes marvellously with the cheeky cigs you are definitely giving up by October. Bow to your new king.
Where to eat it: They're everywhere already and by July they'll be completely endemic. If you're after something truly tried and tested, look no further than the ever-changing but always-on Larry's Pickles option at Larry's in Peckham. For £6 you get a colourful, well-balanced plate of four different pickles – any combination of cabbage, beetroot, onion, fennel, carrot, cauliflower or whatever they feel like – with a satisfying zinginess guaranteed to smack you about your gorgeous, sunglasses-clad chops.