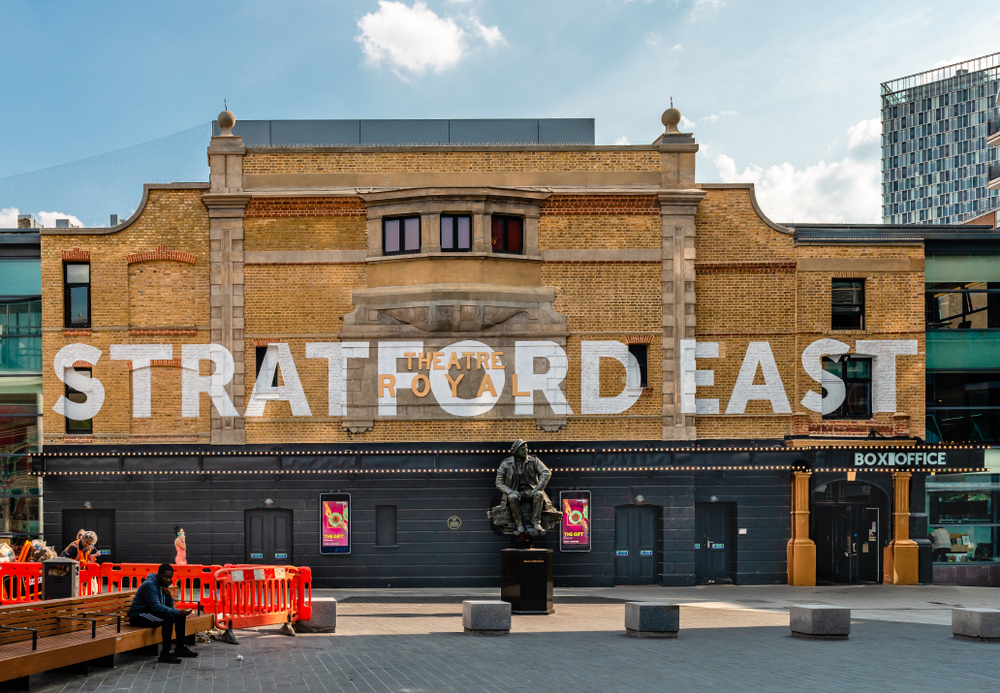 Over the last few days there has been considerable excitement in the Right-wing press over the fact that the upcoming play 'Tambo & Bones' at Theatre Royal Stratford East is having a 'Black Out' performance on July 5 – that is to say a one-off performance aimed at a Black or Black-identifying crowd.
Why are they doing this? And why has it got The Daily Telegraph, The Daily Mail, GB News et al suddenly circling like indignant vultures?
For starters, the very fact that there's a designated name tells us that this is not a new phenomenon. Black Out performances were pioneered on Broadway by the playwright Jeremy O Harris, and have been kicking around in London for a little while – notably at the Almeida Theatre, but there is, for instance, another one coming up at the Lyric Hammersmith's 'School Girls' on June 19 that seems to have attracted almost no ire, despite the fact it's happening before the 'Tambo & Bones' one and is exactly the same concept.
What is the point of them? Put simply, these are plays by Black playwrights that tell Black stories, but traditionally theatres tend to be very white spaces. Very crudely speaking, the Black Out nights are a drive to get Black audiences to the theatre, to put the play in front of the community the playwright was addressing when they write the play, and to simply experiment with the different audience dynamic.
Two very important points. One is that non-Black audiences aren't actually banned from these nights. The other, more crucially, is that the nights are simply single performances amid lengthy runs. Although the Telegraph story that started this all does eventually grudgingly divulge the information that the Black Out performance of 'Tambo & Bones' is but a single night, the information is buried deep in the article, and is in fact only related via quotes from Trevor Phillips – who was asked his opinion by the paper – and a statement made by TRSE itself. There is a strong sense that in coverage across the board that there is a concerted effort to exaggerate the scale of the Black Out nights and imply non-Black audiences simply aren't welcome at any point in these show's runs.
Let's be honest: this is, at heart, culture-wars bollocks from hack journalists entirely ignorant of how the arts work, who have failed to clock the existence of Black Out performances as a phenomenon up until this point, and who are wilfully misrepresenting the nights to rile up even a receptive readership. Tellingly, the Telegraph story had the headline 'White theatre-goers urged not to attend play aimed at Black audiences' – although audiences are typically white majority, the fact is that all non-Black ethnicities are encouraged to attend on a different night. The fact nobody seems bothered about the 'School Girls' Black Out night tells you what a confected outrage this is.
To be clear, Theatre Royal Stratford East would love you to come and see 'Tambo & Bones', a surreal satire by US playwright Dave Harris about the two eponymous characters' travels through three key points in African American history. If you're Black and think it would be neat to see a show on this subject with an all or mostly Black audience, the Black Out show could be for you. If you're not Black, or are but aren't fussed with the idea of a Black Out performance, then there are about 30 other dates you can attend. It's really not that complicated, and the fuss is absurd.
'Tambo & Bones' is at Theatre Royal Stratford East, Jun 16-Jul 15.
Read more: The top London theatre shows in London according to our critics.