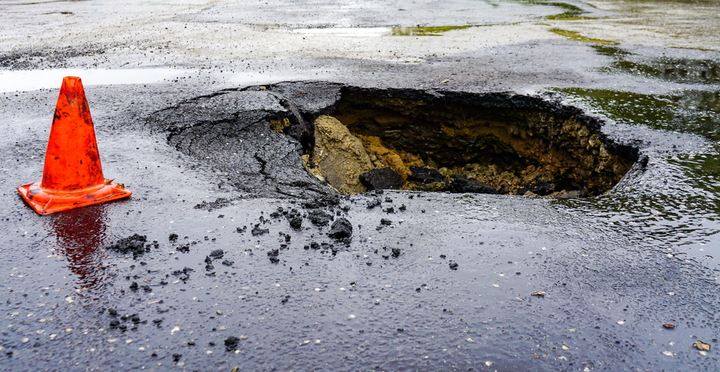 A vast sinkhole has opened up in a road in south London, consuming nearly half of the street and part of the curb. The sinkhole, which is roughly the size of a car, appeared next to a local cab office on Dunvegan Road in Eltham on the evening of Sunday September 9. 
Locals initially surrounded the hole with wheelie bins to avoid it claiming any victims, after a nearby postbox made a narrow escape. One resident joked on Facebook: 'I feel sorry for anyone that has posted important letters in there because they are not being collected anytime soon.'
Since Sunday, the makeshift bin-barricade has been replaced with metal fencing, after local authorities were called to the scene on Monday morning. A spokesperson for Greenwich Council has said that there are ongoing investigations as to the cause of the sinkhole. 
'The area will remain closed off and reassurance visits will be taking place with neighbouring businesses. The road is expected to be closed for at least a few weeks and diversions will be put in place,' they added.
Thankfully no one was hurt, although sympathy must be had for those whose Monday mornings were made even worse by the introduction of a massive hole to their front garden. 
Did you see that beloved south London cinema Peckhamplex is ditching its famously low prices?
Listen to Time Out's brilliant new podcast 'Love Thy Neighbourhood': episode six with Sophie Duker in Dalston is out now.
Stay in the loop: sign up for our free Time Out London newsletter for the best of the city, straight to your inbox.