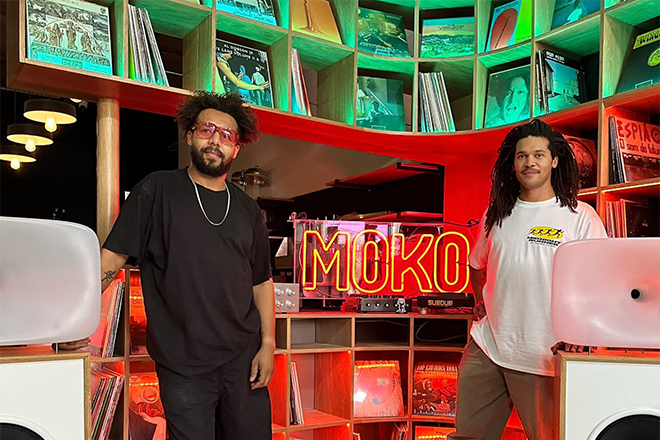 North London crate diggers and music-heads, you'll be pleased to hear that you'll no longer have to thug it out on the Overground to Peckham to go to a top-tier listening bar by DJs Bradley Zero and Nathanael Williams. The duo have opened Moko in Tottenham as a sister bar to the extremely successful Jumbi. 
The hi-fi bar opened on August 18 with a popping opening weekend. With a similar set-up to Jumbi, Moko has just one turntable, an extensive vinyl library and a top-tier sound system. It will also be serving food from the Afro-Caribbean diaspora with Sisterwoman Vegan as the chef in residence. Plus, it's got excellent cocktails, coffee and is always free entry. 
'For those in the know, the word MOKO is synonymous with JUMBI,' the duo explained in an Instagram post. 'Primarily known as a stilt walker character performed at carnival – the word traces its origins to West Africa. As an Orisha (God) of Retribution, Moko is the Ying to Jumbi's Yang – a character that exists in Caribbean folklore as a healer, a protector and a deity, in contrast to Jumbi's spirit – an archetypal trickster.'
They added: 'Much like our beloved Jumbi, we'll be shining a light on the sounds and flavours of the Afro-Caribbean diaspora in a contemporary setting with Audiophile sound courtesy of London-based bespoke audio studio Friendly Pressure.'
Moko is open from 10am until late every Tuesday to Saturday. 
Fabric is having a 30-hour birthday party in October.
Listen to Time Out's brilliant new podcast 'Love Thy Neighbourhood': episode six with Sophie Duker in Dalston is out now.
Stay in the loop: sign up for our free Time Out London newsletter for the best of the city, straight to your inbox.