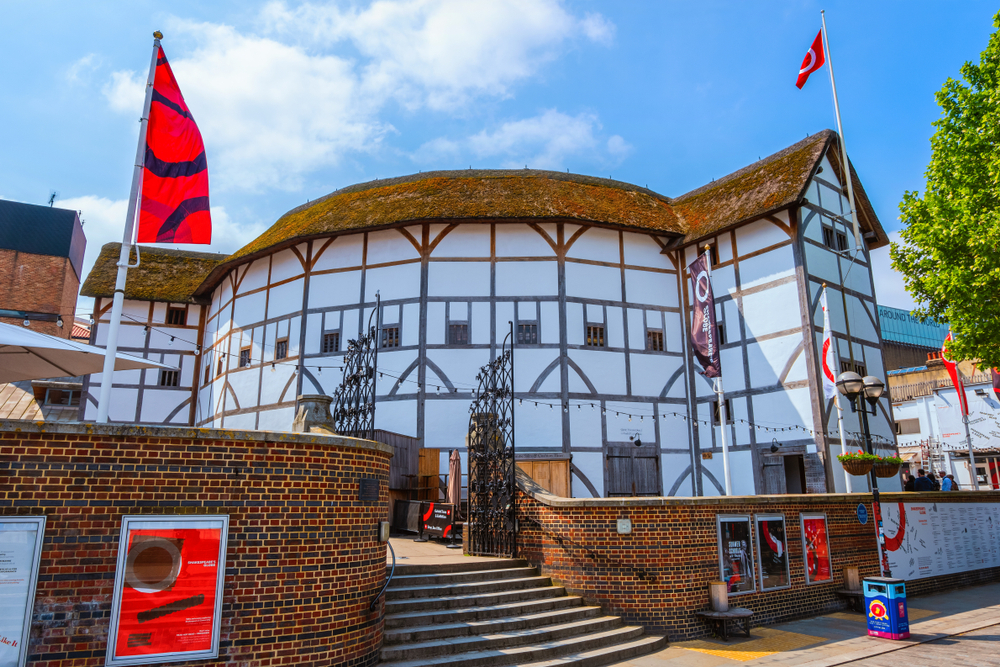 In days gone by, silk dresses, top hats and canes were de rigueur in London's theatres. Now, standards have slipped somewhat. Audience members routinely show up wearing bobbly trackies, sweaty flip flops and 'Wicked' t-shirts, no doubt horrifying and appalling the many ghosts who haunt the West End's playhouses. So thank god someone's finally made an effort.
Recently, an audience member at Shakespeare's Globe showed up in an elaborate blue latex gimp suit, complete with face mask and leather harness. The guy in question had opted for a bargainous £5 standing 'groundling' ticket, presumably because his get-up was too tight to publicly sit down in. And the response was… mixed.
At the time, the theatre staff seemed baffled but broadly okay with this unexpected apparition. 'Our only worry was that the patron might've overheated,' read the internal show report circulated that day. The theatre doesn't have a policy of banning theatregoers based on dress, unless their clothing features offensive slogans, which this outfit didn't. 
Most theatregoers were unfussed by the latex-clad Shakespeare fan, too. But one audience member wrote to the theatre to complain, saying: 'Why was he allowed to stay in a venue that caters for the general public including children? Even if a child doesn't know what a latex suit is or the sexual connotations, it's still a very scary sight and puts parents in a very uncomfortable position when it comes to explaining to their children what is going on.'
Since then, publications including the Telegraph and Daily Mail have called the Globe's policies into question.
Still, it's worth noting that although older kids could attend the show in question, 'The Comedy of Errors', it's very much a show targeted at adults. Sean Holmes's production of Shakespeare's seldom-staged play abounds with dark themes including staged violence, infidelity and demonic possession, all of which are arguably a bit more unsettling for young minds than a guy wearing a latex romper. 
Shakespeare's Globe has now said that it's reconsidering its policy around clothing. But it feels like this is a tough one to make rules around. If you ban clothing seen as sexualised, where do you draw the line? Do you also forbid corsets and spike heels, or take a cue from the Victorians and ban anyone showing a bit of ankle?
It's unclear what the moral of this story is. But let's hope it marks a return to people getting dressed up for the theatre, even if outfits that require several shakers of talcum powder to squeeze your way into are probably best avoided. 
These are the best Shakespeare plays to see in London right now.
Listen to 'Love Thy Neighbourhood', Time Out's brilliant new podcast.
Stay in the loop: sign up for our free Time Out London newsletter for the best of the city, straight to your inbox.