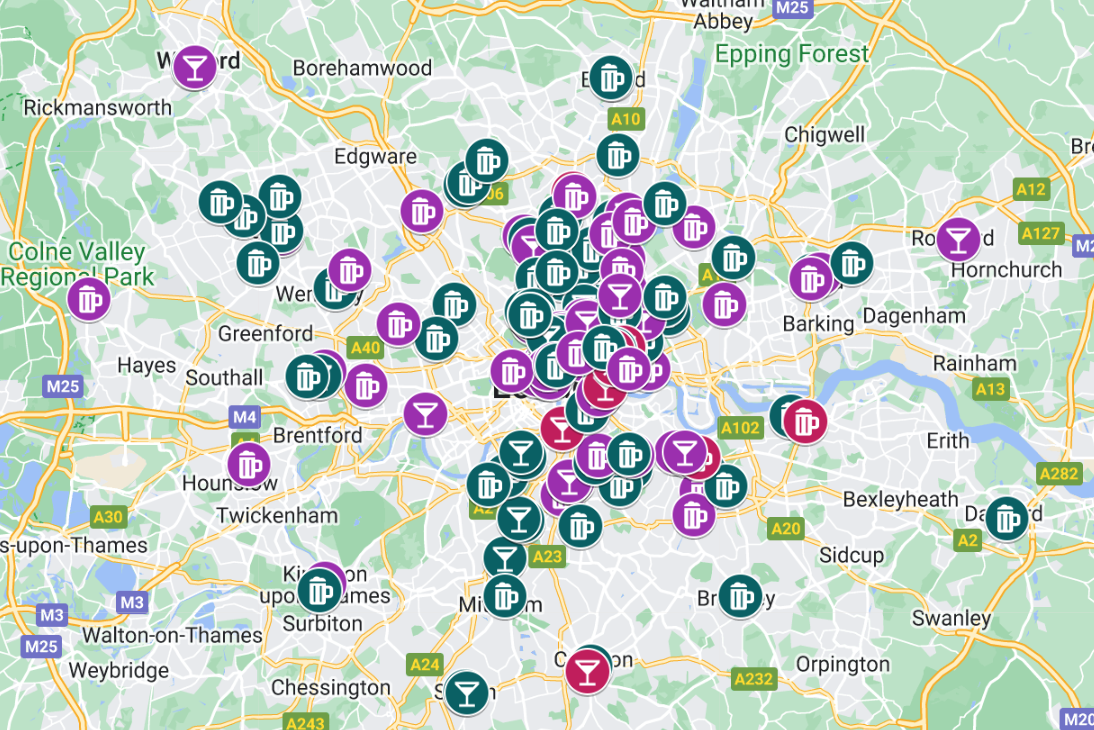 Getting a late-night drink in London is nigh-on impossible these days. Thankfully, one Good Samaritan has created a handy map of all the pubs and bars in London that are open into the wee hours. To qualify for the map, venues must be: open past 2am, free to enter and not a nightclub. 
Journalist James McIntosh, known on Twitter as Jimmy Mac, tweeted the map on Friday. 
He wrote: 'Here's where I'm currently at on the map of places to get a drink (non-club, for free) in London late (earliest closure 2am). I'll keep adding when I can be bothered to look! Up to 109.
'Things I've found: there's a lot of places open til 1am or 1.30am. It's good, but it's not quite right. Almost all of these places are only open late on Thurs – Sat. All in all, the late night assessment of London is: not as bad as people complain about, but could do better.'
Disappointingly, although London has roughly over 3,500 pubs, so far there are only 167 venues on the map open later than 2am. In late-night areas like Shoreditch, Soho and Dalston, there are a disheartening number of late-night drinking spots, with Shoreditch having six, Soho having seven and Dalston only four. For shame!
Earlier this year London's Night Tsar, Amy Lamé, received criticism for receiving a 40 percent pay rise since September 2021, from £83,169 a year pro-rata, to £116,925, despite a huge number of late-night venues in the capital closing. 
While the future of London's nightlife remains uncertain, we'll raise a glass to the few venues propping up the capital's late drinkers. The Lord's work. 
The demise of London nightlife: Why did the capital start going to bed so early?