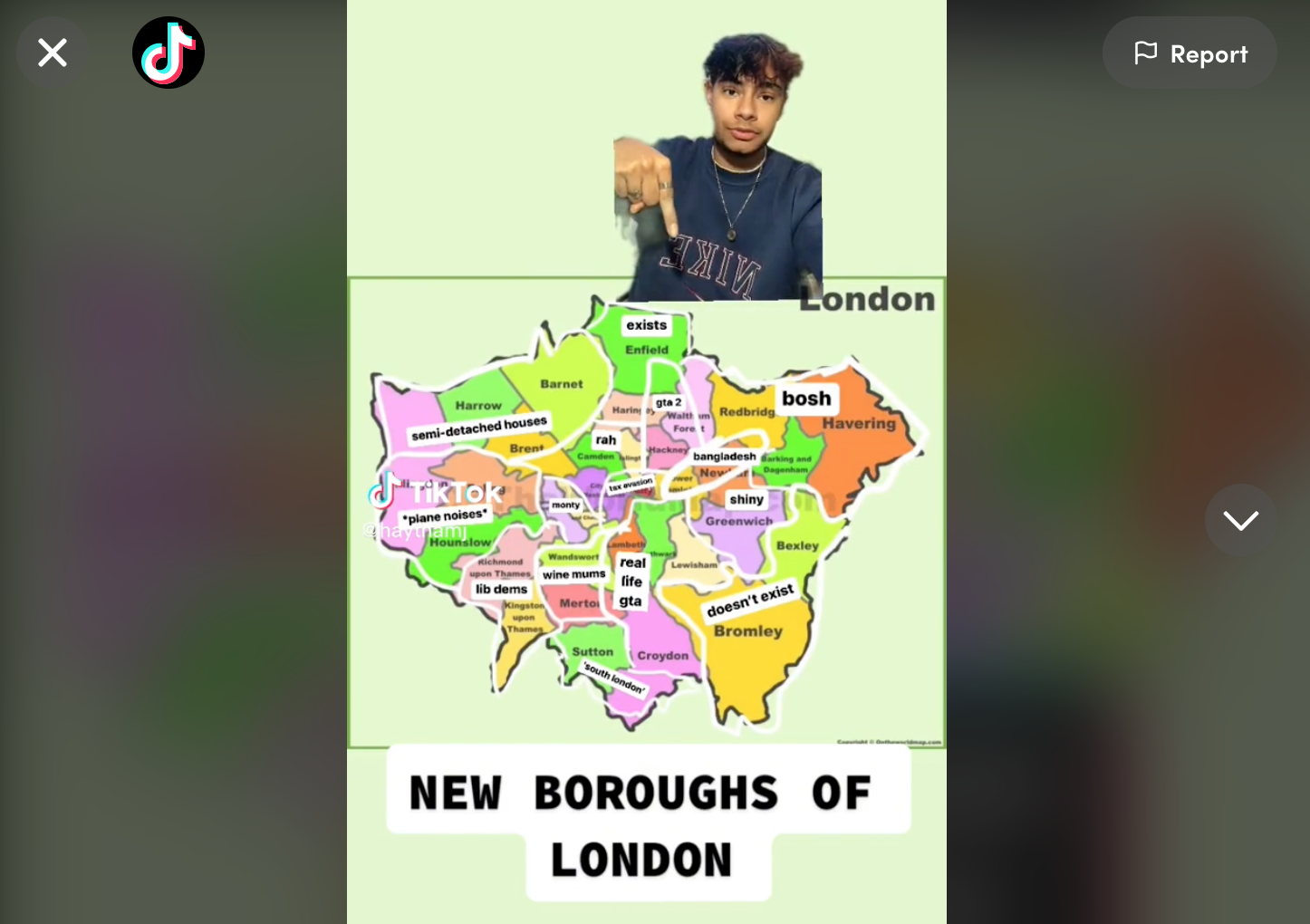 Should London get new boroughs that are more reflective of the kinds of people that live there? One TikTokker thinks so. Haytham (@haythamj) has made a map creating new boroughs for the capital, and some of them are hilarious. 
In the TikTok, which has had more than 440,000 views, Haytham announces his proposal for the 'New Boroughs of London'. 
The satirical video highlights the wealth disparity between different areas of London. Camden, Islington and Haringey are lumped together to become the 'London Borough of Rah', where according to Haytham all the residents live in 'three-storey terraced houses and have middle-class parents'. North-east London (Redbridge, Barking & Dagenham, and Havering), meanwhile, collectively become the 'Borough of Bosh', 'because everyone here voted for Brexit and still considers themselves part of Essex'. Ooh.
He renames the City of London 'Tax Evasion', because, according to him, it's full of 'white-collar criminals', while Greenwich and Stratford and Canary Wharf are now simply 'Shiny'. Not everyone agrees. One person comments: 'idk how Greenwich has snuck into Shiny but flattered nonetheless.'
Hammersmith & Fulham and Chelsea become the 'London Borough of Monty', 'because you probably know someone called Monty who wears Ralph Lauren to go to a pub called The Duck & Fox', Haytham says. He's not wrong. 
Richmond and Kingston are 'Lib Dems', and Hillingdon, Ealing and Hounslow are the 'London Borough of Plane Noises'. Wandsworth and Merton are now 'Wine Mums', because of the large number of yummy mummies partial to a glass of Whispering Angel, and he renames Tower Hamlets and Newham 'Bangladesh', because of the Bengali population (Haytham himself is of Asian heritage btw). 
Some of Haytham's new borough names are quite controversial, though. A huge swathe of south London – Croydon, Thornton Heath, Norbury, Mitcham, Tooting, Streatham, Brixton, Peckham, Camberwell, Deptford, Bermondsey – is rather cruelly dubbed the borough of 'Real Life GTA', with the TikTokker commenting that the area (ie, about a third of the city) 'can be interesting but [is] a bit unsafe'. Hackney and Waltham Forest are 'GTA 2', though one commenter points out that 'Rah is expanding into Hackney'. Yeah, no shit.
There is also a bit of a slap in the face for the south-east London boroughs of Bromley and Bexley, which Haytham blithely claims 'do not exist, and if they do we are giving them back to Kent'. Ouch. 
Got any better suggestions?
Tired of life in the London Borough of Rah? Why not move to London's greenest borough instead? 
All London primary-school kids will get free school meals for a year.