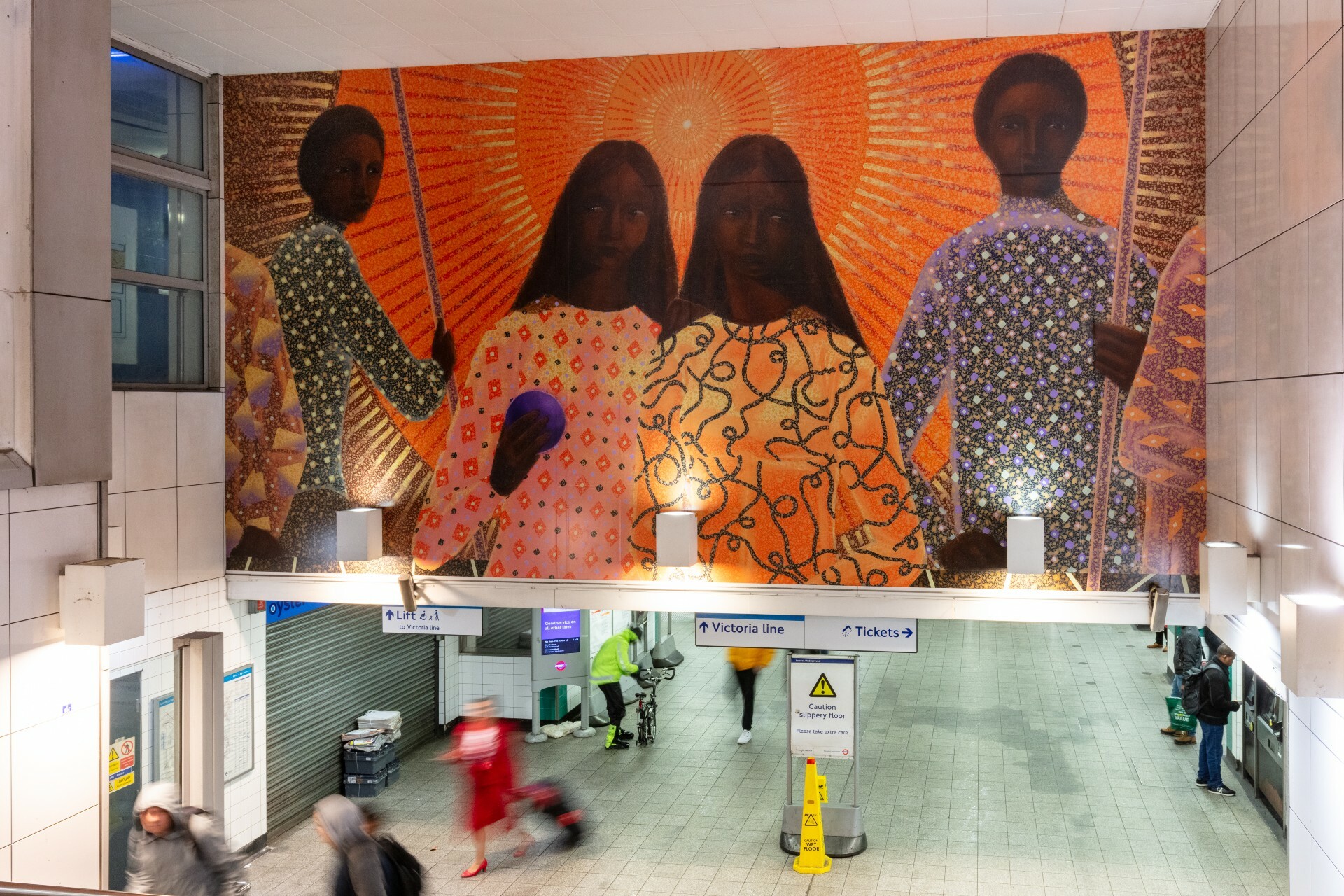 Who doesn't want to see a beautiful piece of art on their daily commute? Now Brixton locals will have a painting to brighten their day, as a massive new public artwork has been unveiled at Brixton tube station. 
'Rebirth of a Nation' by Italian artist Jem Perucchini depicts two women flanked by two men holding spears on either side. Behind the characters, a giant sun rises in the sky. The painting is an ode to Brixton's diversity as a melting pot of different cultures and ethnicities. Commissioned by Art on the Underground, the mural will be up in Brixton station for a year.
This is what the artwork is about, according to a statement from TfL: 'The composition is an allegorical vision in which the past, embodied by a female figure, and the future, her mirror image, meet. Flanked by two men holding spears, the women are distinguished by their sumptuously decorated clothes. 
'One clasps a purple orb; historically a symbol of sovereign power in painting iconography. The elaborately detailed fabrics are evocative of African wax cloth, a material interwoven with the skill, artistry and identities of the diverse African diaspora.'
From the David Bowie painting to the 'Big Splash' by Christine Thomas on Glenelg Road, Brixton is famous for its murals. Art on the Underground hopes to carry on this tradition of public artwork. 
Artist Jem Perucchini said: 'For me, Brixton represents a microcosm of London, a place where the community creates a local focus. The Underground station then acts as the main pivot between the centre and the periphery, the inside and the outside of the city.
'Working on this project has been very stimulating, not only for the opportunity to see my work reproduced in such a large format, but also because of its location in the heart of Brixton, visible by all its inhabitants and those who pass through it.'
Street art, tube art or just plain ol' art: Time Out has you covered. Start with the seven art exhibitions we can't wait to see this November, then dive into a claim that London is the best city in the world for street art, before finishing off spotting labyrinth artworks at tube stations. All kinds of art for all kinds of people!
Listen to Time Out's brilliant new podcast 'Love Thy Neighbourhood': episode 12 with Paul Feig in Mayfair is out now.
Stay in the loop: sign up for our free Time Out London newsletter for the best of the city, straight to your inbox.